Office of Research, Development, and Technology Fiscal Year 2004/2005 Performance Plan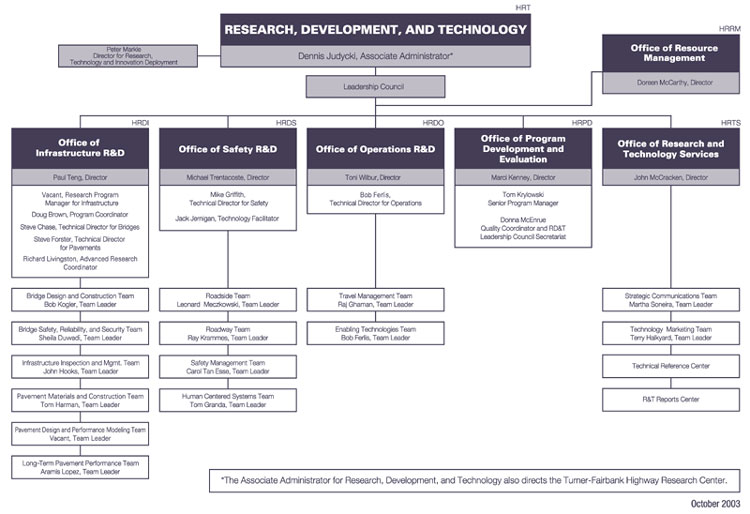 RD&T Organization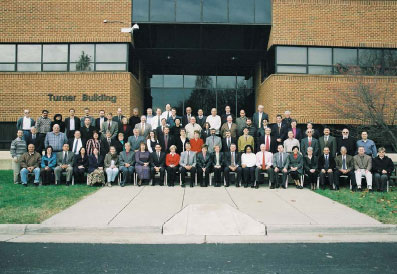 The Federal researchers and staff at TFHRC.
Infrastructure R&D
The Office of Infrastructure (HRDI) R&D is focused on improving the performance of highway infrastructure and significantly reducing associated long-term costs. Infrastructure research includes programs for asset management, structures, and pavements that develop information for better decisionmaking, build a workforce with greater knowledge and capabilities, deliver new technologies to enhance our ability to do the job, and provide the tools to deploy the advancements made. For asset management, areas of concentration include economic analysis systems, quality management, and pavement preservation. Structures emphasis areas are the bridge of the future, stewardship and management, and bridge safety, reliability, and security.
Key pavement areas include advanced design and analysis, quality systems for construction, and optimized surface characteristics for enhanced user satisfaction. HRDI also conducts advanced research to explore exciting new ideas for improving materials, systems, and technologies.
Operations R&D
The Office of Operations (HRDO) R&D conducts research to mitigate congestion and improve safety through better management and operation of the surface transportation system. The Travel Management Team produces a variety of hardware and software tools to analyze operational improvements, reduce congestion on our surface streets and freeways, and mitigate delays in work zones. The Enabling Technologies Team is developing infrastructure-based systems that will warn motorists of potential intersection collisions, promoting safety by developing decision-support tools for winter-weather maintenance, and supporting the development and use of safety-enabling technologies such as Dedicated Short-Range Communications and Nationwide Differential Global Positioning Systems (NDGPS).
Safety R&D
The mission of the Office of Safety (HRDS) R&D is to help reduce highway crashes and related fatalities and injuries by developing and implementing a program of nationally coordinated R&T safety innovations. The focus is on FHWA's priority highway safety-improvement objectives related to preventing and mitigating roadway departures, managing safety, improving intersections, and protecting pedestrians. HRDS R&D provides transportation officials and practitioners with improved understanding, information, and state-of-the-art tools so that they can make informed decisions regarding highway safety improvements. HRDS R&D also conducts advanced research to determine new ways to solve highway safety problems and challenges.
Program Development and Evaluation
The Office of Program Development and Evaluation (HRPD) champions the RD&T program and those it serves. This involves developing and executing policy, budget, program management, and evaluation tools to enable FHWA to carry out its R&T Program. HRPD is also the focal point for FHWA participation in cooperative research activities such as the National Cooperative Highway Research Program (NCHRP) and transportation pooled-fund studies, and active outreach to University Transportation Centers (UTC) and the small business community.
Resource Management
The Office of Resource Management (HRRM) provides critical management support services that contribute to RD&T's research and deployment of T&I activities. The HRRM staff provides advice, assistance, and support for financial management of R&T and General Operating Expenses funding; acquisition planning and contract administration for research programs and research support activities; human resource management and employee development; information technology support for research and business applications; accountable property management; TFHRC facilities management; emergency planning; FHWA continuity of operations support; and physical security.
Research and Technology Services
The Office of R&T Services (HRTS) leads in leveraging T&I deployment, one of the Agency's key business processes. HRTS also provides a variety of marketing and communication services agencywide, as well as within RD&T. These include planning and executing the FHWA-wide exhibit program; administration of the R&T Products Distribution Center; editing, publishing, and distributing RD&T research reports; administration of TFHRC Web pages; and publishing periodicals, such as Public Roads, that reach customers worldwide. In addition, HRTS supports the implementation of the CMP.
Director for Research, Technology & Innovation Deployment
The Director for Research, Technology & Innovation Deployment provides key support to the Associate Administrator for RD&T in the role of FHWA's R&T champion. In addition, the Director works with FHWA leadership to "raise-the-bar" for research and deployment of T&I, and facilitates the ongoing implementation of the CMP.
RD&T Quality Coordinator/Leadership Council Secretariat
The secretariat provides leadership for the Quality Program within RD&T, which includes coordinating annual Quality Self-Assessment activities. In addition, the secretariat actively utilizes the RD&T Leadership Council to address quality-management initiatives, such as developing and implementing the laboratory assessment program and developing and tracking Leadership Council Action Agenda initiatives.
RD&T Leadership Council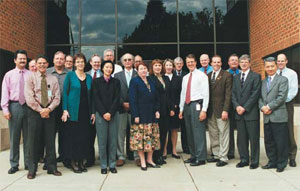 The RD&T Leadership Council
The mission of the RD&T Leadership Council is to continuously improve the RD&T organization and its achievement of FHWA's strategic goals. The Council works on a wide range of issues related to the effective management of TFHRC and serves in an advisory capacity to the RD&T Executive Committee (which consists of the Associate Administrator for RD&T, the Director for Research, Technology & Innovation Deployment, and the RD&T Office Directors).
Council Goals and Objectives
Develop priorities for innovative technologies and approaches to R&T.
Set a research agenda that meets customer requirements.
Conduct quality research that efficiently and effectively delivers products.
Deliver high-value work that is relevant to FHWA and USDOT missions.
Facilitate deployment of innovative products and services.
Effectively balance the cost, time, and risk of R&T projects managed by RD&T.
Support dissemination of best practices, solutions, and success stories.
Workgroups Reporting to the Leadership Council:
Performance Management.
Customer Survey.
Information Technology.
Communications.
Corporate Focus.