Technical Publications Catalog
PDF files can be viewed with the Acrobat® Reader®
Table of Contents
Introduction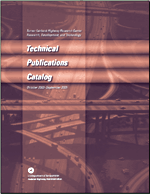 In 2003, Turner-Fairbank Highway Research Center (TFHRC) published the first comprehensive listing of our research documents. TheTechnical Publications Catalog, October 1998-September 2003, cataloged more than 300 publications generated from research at our facility. Now we are pleased to add theTechnical Publications Catalog,October 2003-September 2005 to that listing. Two new categories of information are included: Administration and Materials. Sixty new items-fact sheets, flyers, product briefs, reports, summaries, and TechBriefs-are free and available in print from our Federal Highway Administration Product Distribution Center and online at www.fhwa.dot.gov/publications/research/general/index.cfm.
Together, these two catalogs are indispensable transportation research resources for engineers, transportation specialists, policymakers, information specialists, and other interested groups. Readers can immediately access most publications online or order a copy from the source listed.
I hope you find this a useful addition to your reference library. Questions or comments about this publication can be directed to John McCracken at john.mccracken@fhwa.dot.gov or 202-493-3423.
Dennis C. Judycki
Associate Administrator
Research, Development, and Technology
Table of Contents