Turner-Fairbank Highway Research Center R&D Communication Reference Guide
APPENDIX L. FHWA LOGO
Use one of the following two FHWA logos on publications, Microsoft® PowerPoint presentations, and other communication products you prepare. These are the only two logos approved for use on FHWA publications.
The logo can be printed or depicted in any color, but the entire logo must be in the same color with the exception that the triskelion may be reproduced in DOT blue while the signature is printed in black. See under "Color Standards" in DOT Graphics Standards. You can enlarge or shrink the size of the logo, but you must keep the same design proportions shown below. (For example, do not move the triskelion symbol, enlarge the symbol, or reduce the size of the type.) Consult with HPA and HRTM.
The FHWA logos are available for download from the Research Publication Development Web page at http://www.fhwa.dot.gov/research/publishing/. If you have any questions on the use of the FHWA logo, please contact HRTM.



Figure 22. Illustration. This is the correct two-line version of the FHWA logo.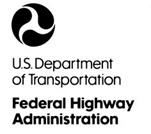 Figure 23. Illustration. This is the correct four-line version of the FHWA logo.