Framework for LTPP Forensic Investigations - Final
Appendix C - Guidelines for Trench Excavations
Guidelines for Trench Excavations
Trenches are suggested for all AC and AC/AC sections. Locations for trench excavation should be at station 0, 76m and 152 m. Dipstick measurements of transverse profile should be conducted prior to excavating the trench. Once completed, the surface bound layers should be sawed using care to prevent excess water from draining into the underlying materials. Dimensions of the excavation should include the edge of pavement to the centerline (or as close as safety allows) and approximately 1.2 m in width. In no case shall the trench be less than 1 meter in width.
On completion of saw cuts, portions of the AC layers should be carefully removed to expose the underlying base materials. Successive excavation, layer by layer is needed to allow for density and moisture testing of the unbound materials followed by bulk sampling. Once the excavation is advanced to subgrade an additional 0.3m of excavation is desired to provide samples and to expose the base/subgrade interface.
On completion of excavation the downstream trench face should be brushed clean to make possible identification of layer/lift interfaces. PK nails should be driven into the pavement at either end of the trench excavation on the downstream face. A string should be tied to the PK nails and pulled tight and level (no sag) to provide a reference line for measurements. Using the dipstick footpad spacing as a reference, measurements of the distances from the reference line to the interface of each layer/lift shall be recorded to the nearest 1 mm.
The following figures illustrate the trench location and concept of the measurement of layer thicknesses as described.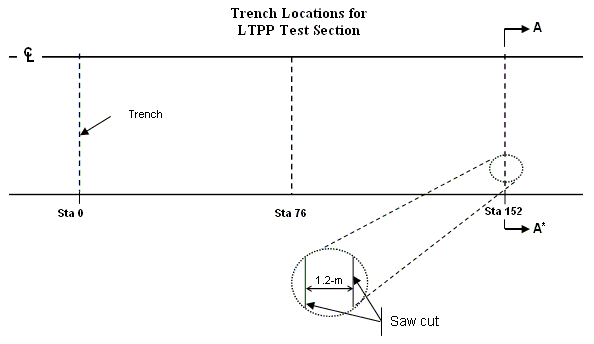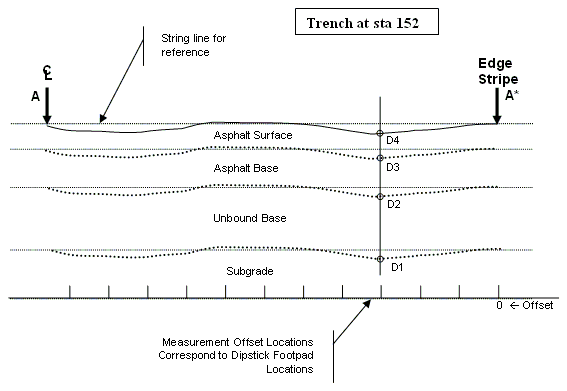 Distances (e.g. D1) are measured from the string line to the top of the layer. Layer numbers should correspond to the IMS layer number unless field conditions deviate from information contained in the database. Regardless, careful documentation of the layer description and measurements shall be made.
Example of Measurement Data Table


| | | | | | | | | |
| --- | --- | --- | --- | --- | --- | --- | --- | --- |
| Layer Number | 1 | 2 | 3 | 4 | 5 | 6 | 7 | 8 |
| Offset, m | | | | | | | | |
| 0 | D1 | D2 | D3 | D4 | | | | |
| .305 | | | | | | | | |
| .610 | | | | | | | | |
| .915 | | | | | | | | |
| ... | | | | | | | | |
| End (Centerline) | | | | | | | | |