Chapter 1. Introduction
Previous | Table of Contents | Next
The objective of this research, conducted under FHWA Contract DTFH61-96-C-00073, was to develop guidelines to provide pavement engineers and field and laboratory personnel with a systematic procedure for the identification, evaluation, treatment, and prevention of materials-related distresses (MRD) in portland cement concrete (PCC) pavements.
This report, Volume 3: Case Studies Using the Guidelines, presents the six case studies that were conducted as part of this study. The other two reports are:
Volume 1: Final Report
Volume 2: Guidelines Description and Use
Each of these in-service concrete pavements appeared to be exhibiting MRD, and were subjected to a coordinated series of field-testing and laboratory evaluation activities. In this way, the usefulness and applicability of the guidelines were evaluated under actual field conditions, thereby providing feedback on what areas of the guidelines worked well and what areas required modification or refinement. The results of these case studies were directly used to establish the final version of the guidelines as published in Volume 2: Guidelines Description and Use.
In this volume, the field and laboratory testing activities that were conducted under this project are presented. A general summary of the data collection and analysis procedures conducted on each pavement case study is provided. This is followed by a summary of the condition survey, field sampling, and laboratory analysis results obtained for each of the case studies, leading up to the identification of the most likely MRD type present in the pavement. Finally, remediation strategies for each pavement examined are presented.
The case studies have already been briefly introduced in Volume 1: Final Report. As described, two sets of test sites were established:
Primary Test Sites - Four test sites exhibiting MRD that are located in each Strategic Highway Reseach Program (SHRP) Long-Term Pavement Performance (LTPP) climatic region. Each of these pavement test sites are subjected to the full battery of field and laboratory tests.


Secondary Test Sites - Two test sites exhibiting MRD that provide an alternative site in a particular climatic region. These pavement test sites are subjected to the same level of field testing as the primary sites, but are subjected to less intensive laboratory testing.
The primary and secondary test sites included in the study are summarized in table 3-1. Again, the primary test sites represent each of the four SHRP LTPP climatic regions, and also include a range of other factors including age, pavement design, and type of distress manifestation. The secondary sites are included to provide additional sections for assessing the guidelines. The general location of these projects is shown in figure 3-1.
The case studies included in the study were subjected to a detailed field condition survey, and core samples were retrieved from prescribed locations for laboratory testing and evaluation. All of these activities were performed in accordance with the systematic procedures outlined in the guidelines.
Chapter 2 of this volume presents the primary case studies and chapter 3 presents the secondary case studies. Chapter 4 provides a brief conclusion. Due to the vast amount of data collected in the course of this study, it is not practical to present it all in printed format. Thus a web-based appendix is used to provide this detailed information.
Table 3-1. Primary and secondary test sites included in study.
State

Highway / City

Climatic
Region

Pavement
Design

Year
Built

Primary Sites

California

SR 58, Boron

Dry-Nonfreeze

230 mm JPCP
4.0-5.8-5.5-3.7-m joint spacing
No dowels

1971

Minnesota

TH 65, Mora

Wet-Freeze

200 mm JPCP
4.0-4.6-5.2-04.6-m joint spacing
No dowels

1989

North Carolina

I-440, Raleigh

Wet-Nonfreeze

200 mm JPCP
7.6-7.0-5.8-5.5 m joint spacing
32-mm dowels

1982

South Dakota

I-90, Spearfish

Dry-Freeze

200 mm JRCP
12.3-m joint spacing
25-mm dowels

1968

Secondary Sites

California

SR 14, Mojave

Dry-Nonfreeze

215 mm JPCP
3.7-4.0-5.8-5.5-m joint spacing
No dowels

1972

Iowa

SR 2, Nebraska City

Wet-Freeze

240 mm JPCP
6.1-m joint spacing
32-mm dowels

1986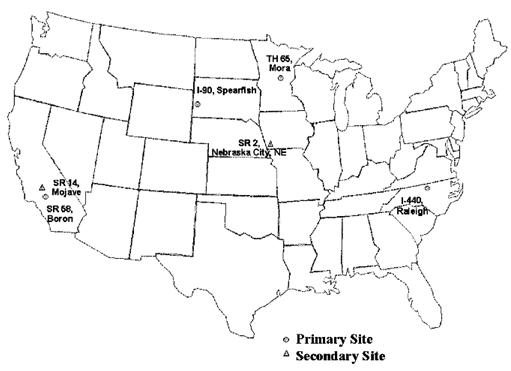 Figure 3-1. Genral location of projects included in study