Overall Program Presentation 1
PowerPoint Version (2,390 kb)
---
FHWA Long-Term Bridge Performance Program
Designated in the "SAFETEA-LU" surface transportation authorization legislation as a 20-year research effort to improve our knowledge of bridge performance

Funding is currently only authorized through FY-2009
---
Challenges!
---
FHWA's Perspective
1) Aging bridge population - performance poorly understood
2) Currently available data will not support desired performance assessments
3) LTBP Program is essential to understanding, improving bridge performance
LTBP program should,
a.) Focus on most common bridges
b.) Serve FHWA and stakeholder needs
c.) Not burden bridge owners with new requirements
d.) Encourage international cooperation

---
State DOTs' Perspective
1) Available road and bridge funds have leveled off or decreasing
2) Key material prices escalating beyond inflation rate
3) Traffic Volume and load demands growing rapidly
4) Demand and expectations from users of the system will continue to grow
5) Eliminating deficient bridges
LTBP program should,
a.) Help States meet challenges
b.) Set data protocols
c.) Focus on practical, useful data
d.) Take advantage of sensing technology

---
Research Community's Perspective
Availability and quality of data will affect the degree of uncertainty in assessing bridge performance, developing deterioration models and performing LCC analysis
Uncertainty in data is
Aleatory- that is the inherent randomness or variability in the data
Epistemic- that is the lack of sufficient knowledge or the inability to predict or estimate the desired data correctly
---
Bridge Performance
Define
Measure
National Consensus

Number of bridges needing work
Structural deficiencies, posting or sufficiency rating (uncertainties)
Deficiencies and load carrying capacity
Customer satisfaction
---
Challenges in Measuring Bridge Performance
It is not well defined and understood or documented
Relies too heavily on expert opinion and not on objective data
Based on significant assumption or generalization based on a very simplistic understanding of bridge behavior
Uncertainties

Subjectivity of current condition ratings
Lack of proper documentation (i.e., records of actions and costs)
Incomplete data (i.e., cost, maintenance)
Many hidden deterioration and damage escape visual inspection
---
---
Stewardship and Management
Quantitative Database
Better information
Sensor Technology (i.e., NDE, SHM)
Training and education
Deployment
Improved Bridge management
---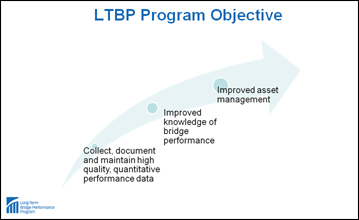 ---
Anticipated Impacts of the LTBP Program
Improved knowledge of bridge performance
Advances in deterioration and predictive models
Effective use of Life-Cycle Cost Analysis
Improved inspection/condition information thru NDE and SHM
Help foster the next generation of bridge and asset management systems
---
Vision
Detailed inspection, periodic objective evaluation and monitoring (Representative sample of bridges, excluding long-span bridges)
Instrument and continuously monitor
Forensic autopsies of decommissioned bridges
---
LTBP Team
Project Lead and Administrator

Center for Advanced Infrastructure and Transportation (CAIT)
Rutgers, The State University of New Jersey
Ali Maher, Ph.D., Principal Investigator

Principal Industry Partner

Parsons Brinckerhoff (PB)
Thomas A. Fisher, P.E., Program Manager
Andrew J. Foden, P.E., Ph.D., Deputy Program Manager

Academic Partners

Utah Transportation Center, Utah State University
Virginia Transportation Research Council
University of Virginia, Virginia Tech
Institute of Transportation Studies
University of California, Berkeley

Industry Partners

Siemens Corporate Research
Bridge Diagnostics, Inc. (BDI)
Advitam

Special Consultant
---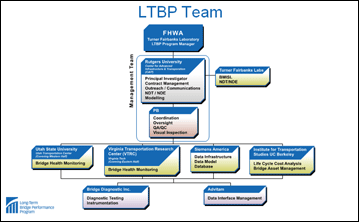 ---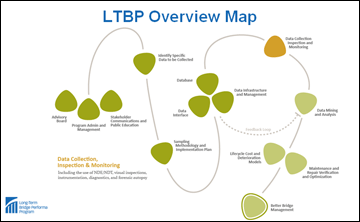 ---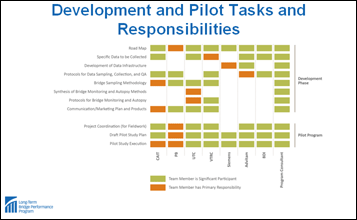 ---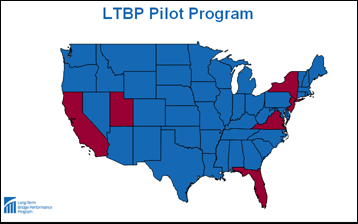 ---
Concluding Remarks
Current bridge performance assessments are based on subjective data and generalization
There is a broad consensus in the bridge community that the state-of-the-knowledge about bridge performance can and should be greatly improved
There is need for a quantitative bridge database
---
Concluding Remarks Continued....
Quantitative data and knowledge learned from the LTBP program could lead to

Better understanding of bridge performance
Improved knowledge of bridge deficiencies
Design and construction of bridge of the future
Improvements in the effectiveness of the NBI and PONTIS
Efficient management of highway systems
---
LTBP Program Web site
www.fhwa.dot.gov/research/tfhrc/programs/infrastructure/structures/ltbp/
Hamid Ghasemi, Ph.D., Program Manager
LTBP Program
Hamid.ghasemi@dot.gov
202-493-3042
Ali Maher, Ph.D., Principal Investigator
Mmaher@rci.rutgers.edu
---
Thank You!
---
QUESTIONS OR COMMENTS
PowerPoint files can be viewed with the PowerPoint Viewer