Methodologies to Measure and Quantify Transportation Management Center Benefits: Final Synthesis Report
4. Spatial and Temporal Data Structures
4.1 Data Capabilities of FMSs and Traffic Signal Systems
The following list describes a set of data collection, storage, and data manipulation capabilities that are common to most FMSs:
Collection and storage of traffic flow data: Data may come from point detector stations (in which case, archiving is generally performed at this level), from probe detectors, or from services that provide these data. Point detector data may consist of volume, speed, occupancy, and vehicle classification. Provision is usually made for the identification and correction of flawed and missing data. Probe data are comprised of travel time information between physical or virtual probe reading locations.
Collection and storage of incident management reports developed by the TMC: Some States provide this capability on a statewide basis.
Link data structures to provide for the agency's TMC functions: Functions include traffic condition map displays, ramp metering, incident management, and motorist information.
Time periods for data collection and archiving that are commonly employed by FMS are shown in table 8 .
Table 8. Data periods.
Data Period Description
Typical Period
Examples of Use
Discrete data element
Each event
Crash report, incident report, and equipment event or failure
Data sampling or collection period
20 s to
1 min
Traffic detector collection period for field detectors
Action periods
1 to
10 min
Data accumulation periods for TMC actions such as traffic map displays, data filter updates, system-wide ramp metering, incident management, automatic dynamic message sign (DMS) messaging, and system tuning
Common reporting and analysis interval
5 min,
15 min, 1 h
Studies of traffic patterns by TMC personnel and others
Daily reports
1 day
Daily data consolidations and planning
Annual reports
1 year
Performance evaluations and planning
An example of the general relationship between data uses and data characteristics is shown in table 9 .(12)
Table 9. Data uses and characteristics.
Type of Data Use
User
Data Used
Source
Long-term planning
PSRC
AADT volume
Washington State Department of Transportation (WSDOT) Annual Traffic Report(13)
Highway Performance Monitoring System VMT
WSDOT Data Office
24-h and peak volume counts
Ramp & Roadway Report(14)
24-h volume counts
City and County Tube Collections
WSDOT Planning Office
Volume counts
Annual Traffic Report(13)
Forecasted efficiency data
PSRC
Performance monitoring
PSRC
AADT volume
Annual Traffic Report(13)
24-h and peak volume counts
Ramp & Roadway
24-h volume counts
City and County Tube Collections
Long-range planning and project planning
WSDOT Transportation Data Office
AADT volumes
Annual Traffic Report(13)
Projected volume data
PSRC
Turning movements
Northwest Region Planning Office
Vehicle occupancy
Northwest Region Planning Office
Vehicle classification
Northwest Region Planning Office
Specific volume counts
Northwest Region Planning Office
Travel time and speed
Consultants
Transit use
Consultant
Pedestrian and bicycle counts
Consultants
Performance Monitoring
WSDOT Office Of Urban Mobility
Volume counts
Travel-Time Reporting and Integrated Performance System (TRIPS)
Incident data
TRIPS
Research
Washington State Transportation Center, Transportation Northwest, and the University of Washington Researchers
20 s, 1 min, 5 min, 15 min
WSDOT Transportation System Management Center
Volume counts and lane occupancy
Ramp & Roadway Report(14)
Peak volume counts
Annual Traffic Report(13)
AADT volumes
Automated data collection stations (ADCSs), autoscope
Speed
WSDOT Data Office
Vehicle classification
ADCS, autoscope
Vehicle occupancy
Washington State Transportation Center
Note: PRSC denotes the region's Metropolitan Planning Organization.
This project develops methodologies for employing FMS data to generate many of the evaluation measures described in table 6. Data collected every 5 min are the building blocks for freeway-based measures that develop or utilize travel time or delay. Figure 2 shows an example of a data aggregation structure for freeway point detector data.(15)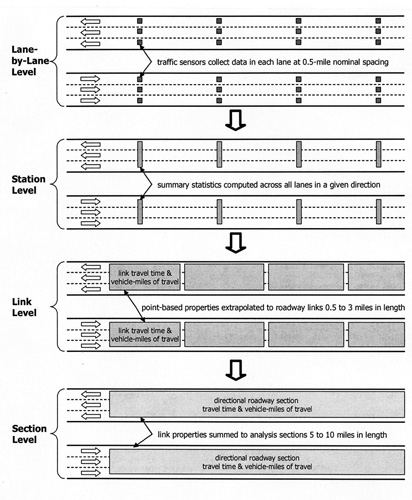 Figure 2. Illustration. Example of data aggregation structure.
Although the capability exists in traffic signal systems to collect and archive volume, occupancy, and speed data (at a particular location), other than some adaptive signal systems, traffic signal systems generally do not have the capability to provide data for the measures needed to obtain key parameters such as travel time and delay. Section 6 of this report describes some recently developed techniques that may be employed to provide these measures. To be consistent with independent volume measures such as automatic traffic recorders and manual count collections, a 15-min period is recommended as the basic surface street evaluation interval.
4.2 Spatial Requirements and Data Structures for Evaluation
A data structure concept is required to relate the data sources (e.g., detector data, crash reports, and incidents) to a construct that may be used for evaluation purposes. An example of a construct that might be used for evaluation purposes includes the following:
Links.

Freeway link: For each type of roadway service (e.g., general traffic, HOV, etc.), a link consists of a unidirectional roadway section between entry and exit points. In some cases, sublinks may be used to denote features such as service area entry and exit points or DMS locations.
Surface street link: In many cases, models used for signal timing purposes define links as the unidirectional roadway section between intersections on the arterial or in the grid network of interest. In some cases, the entire section between signalized intersections or between the intersection upstream of a signalized intersection and the next upstream signalized intersection may be defined as a link.

Signalized intersection: Signalized intersections are often evaluated on a stand- alone basis.
Route segment: A route segment is a set of links defined for evaluation purposes. A route may consist of a set of route segments.
Network: A network is a set of geographically bounded interconnected route segments and isolated intersections.
Corridor: A corridor is a subset of route segments that emphasizes directional travel patterns. Corridors often stress alternate route or alternate mode choices.
FMSs generally contain a software capability to provide a reference framework to relate detectors to the link structure for the freeway network. If the FMS does not have such a capability, the evaluation methodology must provide it. A reference system that is based on traffic flow entry and exit points is preferred for the following reasons:
It simplifies the evaluation methodology. Freeway volume is discontinuous at these points, and these volume changes often result in speed changes.
Evaluations are most meaningful when the evaluation boundaries are easily identifiable.
These boundaries are consistent with the way motorist information is usually provided.
Other traffic information systems often use standardized identification formats based on these boundaries. Traffic message channel codes are based on this concept and are commonly used by information service providers.(16)
An example of a reference system that meets this requirement is shown in figure 3 .
A link represents a section of the mainline between vehicle access or egress points. The concept of a domain is introduced in figure 3 to relate data from freeway surveillance stations to mainline links. Domains relate links and DMSs [2] to the roadway locations receiving information from a particular point detector station. As shown in the figure, each domain is related to a particular detector station. Domain boundaries are established at link nodes and at the DMS. Where a link encompasses more than one detector station, domain boundaries are used to separate the regions for which each detector station will be employed. Note that none of the detectors in figure 3 exist within the physical boundaries of domain 4; that domain obtains its information from detector station 4. Section 6 of this report discusses detector deployment requirements.
Figure 4 shows a similar diagram for probe-based surveillance. The asterisks identify locations for probe travel time measurements. These boundaries may be established by physical equipment locations (i.e., toll tag reader locations or locations of Bluetooth® readers) or may be virtual boundaries for other types of probe detection systems such as those based on a Global Positioning System (GPS). While it is sometimes possible to co-locate virtual or actual boundaries with link boundaries, this is not always the case. The probe-measured travel times are converted to speeds, and these speeds, in conjunction with link lengths, are used to estimate travel link travel times. Probe-based detection does not provide volume estimates, so supplementing these data with other information is required for the system-based measures required for benefit-cost analysis. In order to obtain system-wide delay and travel time measures with probe detection, at least one source of volume per link is required. Technologies for implementing probes and other sensors are discussed in section 6 of this report.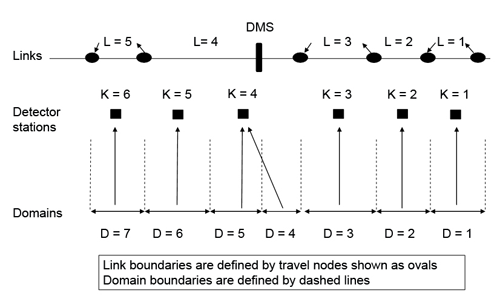 Figure 3. Illustration. Example of link, domain, and detector station relationships.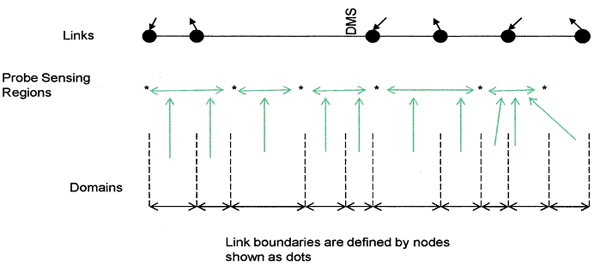 Figure 4. Illustration. Example of link, domain, and probe site relationships.
4.3 Temporal Relationships
For archiving purposes, FMS volume, speed, and occupancy data from point detectors may be stored at 5-min intervals and aggregated into 15-min and 1-h intervals, as in the Florida STEWARD system.(8) The 5- and 15-min intervals provide convenient processing intervals for many of the delay-related computations described in section 5 of this report. Building on these concepts, a useful methodology develops these measures using the spatial/temporal relationship shown in figure 5. The methodology described uses the domain concept as the basis for freeway mainline data accumulation (see figure 3 and figure 4).

Figure 5. Illustration. Data accumulation methodology.
Detector data are used to obtain these measures at the domain level for 5-min periods and are accumulated at the link level. The 15-min period at the link level is a convenient building block for many of the evaluation measures. The path to computing this level for the 15-min period is shown by the solid trace. The dashed traces show the paths to other spatial levels and time periods. Depending on the particular measure to be computed and the purpose (reports, etc.), the 15-min data may be aggregated by time according to the particular spatial relationship required for the purpose.
---
2 Although not strictly needed for the detector to link relationships, figure 3 includes DMS in the domain definitions to facilitate the implementation of messaging using a common reference frame.