Evaluation of Dynamic Speed Feedback Signs on Curves: A National Demonstration Project
CHAPTER 5. METHODOLOGY FOR SPEED AND VOLUME DATA COLLECTION
The goal of this project was to evaluate the reduction in speeds attributable to DSFS systems. Therefore, collection of traffic speed and volume data was integral to the project. An initial speed study using a radar gun was conducted during the first visit at each site as a preliminary step to ensure that a speeding problem existed. A full-scale before-and-after speed study was then conducted. Speed and volume data were collected at test sites only. Given the control sites were selected for use in only the crash analysis, no speed and/or volume data were collected at those sites after the initial site visit.
Pneumatic road tubes (or road tubes) and counters were used for the collection of speed and volume data. The research team had used the pneumatic road tubes and counters for numerous projects. The advantage of the road tubes is that they are fairly accurate, can collect individual vehicle speeds (allowing for spot-checking of the data), are relatively low cost, and can be placed without cutting the pavement. The team has also found that they are practical, given that other technologies, such as video, are more cumbersome, less accurate, or more expensive.
The counters used were Trax I automatic traffic recorders manufactured by JAMAR Technologies, Inc. The units can collect individual speeds, headways, vehicle class, and volume.
For each data collection period, the counters were set up to record time, vehicle speed, and vehicle class for individual vehicles. Other metrics, such as volume, headway, and average speed, can be calculated from these data. Given time on the counters can "drift," clocks were checked and reset each time they were used.
The CTRE team collected speed and volume data for all sites.
Speed and volume data were collected at each treatment location using the pneumatic road tubes. Data collected about 1 month before the sign installation is referred to as before data. Data were then collected about 1 month after the signs were installed, referred to as 1 month after. Data were collected again about 1 year and 2 years after sign installation (referred to as 12 months after and 24 months after, respectively).
Data were collected over a long period of time after installation of the signs so it could be determined whether the effectiveness of DSFS systems decreases over time as drivers habituate to the signs.
DATA COLLECTION PROTOCOL AND DATA QUALITY ASSURANCE
Speed and volume data were collected at three locations for each data collection period. The dynamic speed-activated feedback sign was placed near the PC for one direction of travel. Data were collected approximately 0.5 miles upstream of the PC, at the PC, and at the center of curve (CC), as shown in figure 44.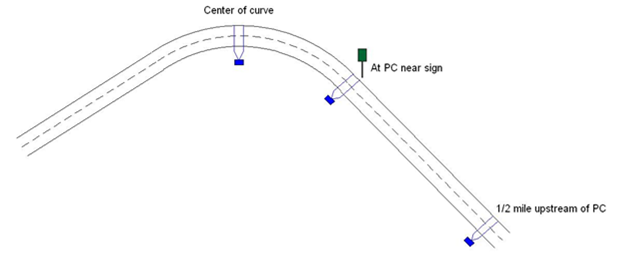 PC = Point of curvature
Figure 44. Illustration. Speed data collection locations at each site.
Signs were expected to affect driver behavior shortly upstream of and throughout the curve. As a result, the effectiveness of the signs was evaluated by the change in speed at the PC and at the CC. Speed data were collected 0.5 miles upstream of the signs to monitor fluctuations that may have occurred that were not related to the DSFS system, given drivers at the upstream location had not yet encountered the speed feedback signs. Data were collected at the upstream location to determine whether speeds increased or decreased independent of the signs.
Speed patterns can vary as a result of weather, time of year, and so forth, so the purpose of the upstream data collection locations was to measure any changes in speed that may have occurred independent of the sign installation. It was expected that drivers a 0.5 miles upstream of the curve would not be affected by the sign and would not adjust their behavior.
Although data are evaluated only in the direction of the sign, the road tubes are laid across both lanes of travel, and the counter records both directions of travel given it is not feasible to only lay road tubes across one lane.
In most cases, data were collected for at least 2 days (48 h) during the week (Monday through Friday). A data collection period of 48 h was selected to ensure that a large sample size would result; this would ensure that the data were normally distributed so that appropriate statistical tests, such as the t-test, could be applied. In addition, collection of data over 2 or more days might minimize any unusual occurrences for which the team was not able to control.
During data collection, the equipment was spot checked to determine whether any problems had occurred. Common problems include the pneumatic tubes being pulled up from the pavement, the tubes being damaged in some way, or the counters malfunctioning. Damage to the road tubes is typically caused by the tubes getting caught on a tire. On other team projects, the tubes were sometimes intentionally cut or removed.
Data were checked in the field during data collection to spot problems early, and the full data sets were checked when data collection was complete. Data were checked for the following situations, which, based on the team's experience, indicate problems with the counters:
Large number of low speeds (≤ 5 mph).
Large number of high speeds (90 mph and higher) (this usually indicates a problem with road tube layout).
Large number of vehicles with vehicle classification = 14 (class 14 vehicles are vehicles the counter cannot identify).
When problems were noted during data collection, the team typically fixed the problem while in the field and extended the data collection. In a few cases, the team made a return trip. In a very few cases, it was not realistic to do either of the above, and the data sample was for a period less than 48 h.
When the data collection period for a site was complete, the data were downloaded and checked. Data were usually collected for more than 48 h and then "trimmed" to exactly 48 h. In a few cases, less than 48 h of data were available, and the data were trimmed to 24 h. It was important to ensure that an even 24 h of data were represented because speeds can vary over different time periods during the day, and including portions of a day for one period and not another could bias the sample toward the over-represented period. Table 26 shows sample raw output from the JAMAR counters.
| Vehicle Number | Date | Time | Lane | Axles | Spec | Class | Length (inches) | Speed (mph) | Gap (s) |
| --- | --- | --- | --- | --- | --- | --- | --- | --- | --- |
| 1 | 5/25/2008 | 6:25:31 p.m. | 1 | 2 | 3 | 3 | 136 | 48 | 31 |
| 2 | 5/25/2008 | 6:25:32 p.m. | 1 | 2 | 3 | 3 | 124 | 48 | 1 |
| 3 | 5/25/2008 | 6:25:34 p.m. | 1 | 2 | 2 | 2 | 111 | 45 | 1 |
| 4 | 5/25/2008 | 6:25:37 p.m. | 2 | 2 | 2 | 2 | 108 | 57 | 37 |
| 5 | 5/25/2008 | 6:25:37 p.m. | 1 | 0 | 0 | 14 | 0 | 0 | 3 |
| 6 | 5/25/2008 | 6:25:45 p.m. | 1 | 2 | 2 | 2 | 101 | 33 | 7 |
| 7 | 5/25/2008 | 6:28:54 p.m. | 2 | 2 | 2 | 2 | 101 | 60 | 196 |
| 8 | 5/25/2008 | 6:28:58 p.m. | 2 | 2 | 3 | 3 | 126 | 59 | 4 |
| 9 | 5/25/2008 | 6:28:59 p.m. | 2 | 2 | 2 | 2 | 111 | 55 | 1 |
| 10 | 5/25/2008 | 6:29:06 p.m. | 2 | 4 | 18 | 8 | 418 | 58 | 6 |
Spec = Specification
After trimming the data file, data were sorted by direction (i.e., NB and SB). Average daily traffic (ADT) was calculated for each data collection period by dividing the number of vehicles in the trimmed dataset by the number of 24-h periods in the dataset. For instance, if 4,050 vehicles were recorded for a 48-h data collection period, ADT would be equal to 4,050/2 = 2,025 vpd.
Vehicles classified as 14 are vehicles that the counter could not classify. Class 14 vehicles were included in the count for ADT because vehicles actually present are recorded.
A number of speed metrics were then calculated for the direction of travel toward the sign. They include average speed, SD of speed, 50th percentile speed, 85th percentile speed, and number of vehicles traveling 5, 10, 15, or 20 mph over the posted or advisory speed limit. Frequently, a speed of 0 is associated with Class 14 vehicle. Vehicles where Class = 14 were removed from the dataset and not included in the speed metrics.