Human Factors Design Guidelines for Advanced Traveler Information Systems (ATIS)and Commercial Vehicle Operations (CVO)
CHAPTER 19: BACKGROUND OF THESE HUMAN FACTORS DESIGN GUIDELINES FOR ATIS/CVO
Significant advances in electronics and microcomputing during the past few decades have led to the feasibility of a functionally powerful, computer–based ATIS as part of the automotive environment. Although these systems range in functionality, they all have the goal of acquiring, analyzing, communicating, and presenting information to assist travelers in moving from a starting location to a desired destination. While systems under development or in production promise to improve travel safety, efficiency, and comfort, they represent a new frontier in ground transportation. This handbook is intended to address a growing information gap between the advanced and diverse status of automotive technologies such as ATIS devices, and the availability of human factors design criteria that can be used during the system design process. Specifically, the relationship between various ATIS design parameters and the driver's ability to effectively and comfortably use an ATIS––given variations in operating conditions, driving tasks, and driver demographics––has not been extensively studied. Most design guidelines for automotive displays have been derived from display design guidelines developed for military applications (e.g., MIL–STD–1472D). Such guidelines are often inappropriate when applied to automotive design situations, due to differences in user populations, user expectations, operator tasks, design constraints, design trade–offs, and user capabilities and limitations.
For example, the older driver presents a unique concern with regard to the design of automotive display systems. As individuals live longer and drive longer, a larger proportion of the driving population is age 65 or older. Experimental data indicate considerable differences between older and younger drivers with respect to sensory, cognitive, and psychomotor abilities. For instance, in the visual domain, older drivers are characterized by decreased accommodative ability, decreased acuity, decreased contrast sensitivity, increased glare sensitivity, and increased luminance requirements. Older drivers are at a particular disadvantage when attempting to use many modern display systems: their own abilities to use the systems have decreased, while the visual, information processing, and motor demands placed on them have increased. Wherever possible, design guidelines specifically aimed at the older driver have been included.
In summary, there is an urgent need for a clear, relevant, and well–referenced set of human factors design guidelines, for ATIS devices. This document summarizes human engineering data, guidelines, and principles, for use by creative designers, engineers and human factors practitioners during the ATIS design process. These summaries take the form of design guidelines for 75 distinct ATIS design parameters. These design guidelines are intended to: (1) be concise, (2) be unambiguous, (3) be traceable to specific references, where applicable, and (4) highlight implications for driver performance, where appropriate.
HOW THE DESIGN GUIDELINES WERE DEVELOPED
HOW THE DESIGN GUIDELINES WERE DEVELOPED
The Battelle Human Factors Transportation Center developed these design guidelines through a 5–year study conducted for the U.S. Federal Highway Administration. ATIS/CVO devices are intended to provide a wealth of real–time information to the driver, including route guidance to avoid congestion and minimize travel time, safety and warning notices, and identification of desired motorist services, such as how to get to the nearest service station. While ATIS and CVO systems offer great potential benefits, their effectiveness depends on driver acceptance of the new technology, the ability of the systems to integrate the information with other driving tasks, and the extent to which the systems conform to driver physical and cognitive limitations and capabilities.
There were three technical phases associated with this project: (1) an analytical phase, (2) an empirical phase, and (3) an integrative phase. Below, we summarize results from the completed analytical phase of the project, present results from the empirical phase, and discuss guideline development activities associated with the integrative phase.
Analytical Activities
During the analytical phase, seven tasks were performed.
Tasks Completed During the Analytical Phase.
Summary of Tasks
Literature Review
ATIS and CVO Development Objectives and Performance Requirements
ATIS and CVO Functional Description
Comparable System Analysis
Task Analysis of ATIS/CVO Functions
User Information Requirements
Development of Decision–Aiding Tools for System Design
The purpose of these tasks was to summarize the state of knowledge about human factors issues associated with ATIS/CVO systems and to lay the foundation for the empirical and integrative activities yet to come. Of the seven analytical tasks performed, four aided substantially in achieving the specific project goal of guideline development:
A literature review of human factors–related articles associated with ATIS and ATIS–related CVO systems.
A functional description of ATIS/CVO systems.
A comparable systems analysis of existing highway transportation and related non–highway transportation systems.
The development of decision–aiding tools for the designing of alternate systems.
The Literature Review
The main goal of the literature review was to identify the research gaps which needed to be filled in order to establish useful human factors guidelines and to assess existing guidelines to determine their applicability to ATIS systems. In order to gather the necessary literature, a mass mailing was performed to solicit articles, reports, and information from public and private sector organizations and individuals, numerous database searches were conducted, and advertisements were placed in the Human Factors Bulletin. In all, over 1,000 data sources were obtained and summarized with respect to a range of key topics relevant to the design of ATIS/CVO. In general, the information gathered during the literature review was instrumental in:
Providing a listing of human factors principles used to structure the development of preliminary guidelines.
Providing the necessary references used as "Key References" in the final guideline document.
The Functional Description
The goal of the functional description was to analyze the various functions that technology might perform in ATIS/CVO systems and to discuss whether or not the integration of some of the features would enhance or hinder drivers' abilities. In order to do this, five subsystems were determined which represent broad categories of ATIS/CVO functions. These subsystems include:
In–Vehicle Routing and Navigation Systems (IRANS).
In–Vehicle Motorist Services Information Systems (IMSIS).
In–Vehicle Safety Advisory and Warning Systems (IVSAWS).
In–Vehicle Signing Information Systems (ISIS).
CVO–specific functions.
After identifying the relationship between these subsystems, it was possible to indicate the potential conflicts and dependencies between them which might affect the ability of the ATIS/CVO system to achieve the ITS objectives of safety, efficiency, and enhanced mobility. Then, a more detailed analysis of the functional characteristics of each subsystem was done to show how they would combine to achieve the ITS goals and performance requirements. Other important applications of the functional description were: (1) identifying the information flows and decision–making processes implied by ATIS functions; (2) identifying the relative importance of different cognitive characteristics, to focus empirical data collection efforts; (3) identifying functional similarities of comparable systems; (4) cataloging human limits associated with similar technology; and (5) providing a possible framework for translating research findings into design guidelines which could easily be used by designers. Together, these applications of a functional description will facilitate the development of useful and usable ATIS/CVO systems.
The Comparable Systems Analysis
The goal of the comparable systems analysis was to analyze existing highway transportation and related nonhighway transportation systems to obtain lessons learned for the design and implementation of ATIS/CVO systems. A preliminary list of candidate systems was compiled from several sources and seven were selected based on several criteria, including: relevance to ATIS/CVO concepts, user time–sharing characteristics, technology level, system complexity, dynamics of information flow, level of implementation, and accessibility. Four of the systems selected (TravTek, University of Michigan Transportation Research Institute (UMTRI), Navmate, and Seattle Fire Department) were highway transportation systems, one (OmniTRACS) was a CVO system, one (Crew Station Research and Development Facility (CSRDF)) included advanced navigation technology for army aviation, and the seventh (Sikorsky) was an expert system for cognitive decision–aiding in helicopter mission replanning. An in–depth analysis was performed on each of the systems and the information obtained was compiled into a set of human factors "lessons learned." These lessons learned were then translated into 66 human factors design principles relevant to 13 different design issues. The table below gives some examples of specific design issues and an associated human factors design principle.
Examples of Design Issues and Associated Human Factors Design Principles.
| Design Issue | Human Factors Design Principle |
| --- | --- |
| In–Vehicle Display Design | Digital maps should be available to depict the user's current location, destination, and a recommended route, but such maps are not the preferred method for depicting route guidance. |
| User–System Interface | The driver should be given the option to reject a recommended route (for any reason, such as recent knowledge of road closure) and the system should calculate an alternate. |
| Driver Attention/Workload/Safety | While the vehicle is in motion, the interface design should reduce driver workload through restricted access to control functions, guidance screens rather than maps, and supplementary use of voice output with the visual display. |
Development of Decision–Aiding Tools for System Design
The goals of this task were: (1) to identify format alternatives for the presentation of information relating to applications of ATIS, and (2) to identify research issues which must be addressed in order to develop effective guidelines. To achieve these goals, the strategy of turning the current state of knowledge into tools applicable for ATIS design was developed. Among the tools initially developed were:
Trip status allocation (e.g., predrive, zero speed, or in transit).
Display format allocation (e.g., text, icon, graphics, or route map).
Display location (e.g., head–up or head–down).
Sensory modality allocation (e.g., visual, auditory, or visual and auditory).
The tools were generated by examining the existing empirical research and performing several different task analyses, function allocations, criticality assessments, and trade studies. The tools are in the form of flow diagrams and act as a guide to designers, suggesting trip status, display format, display location, and sensory modality for the presentation of each ATIS/CVO driver information requirement.
Part of the sensory modality design tool is shown in the figure below. As can be seen in the diagram, answering certain questions regarding the type of information to be presented leads you to a suggested method of presentation. In addition, each of the final design decisions is supported by empirical research.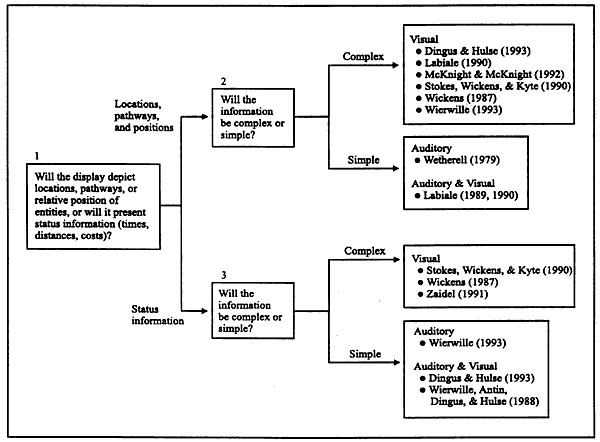 Each of the design tools is laid out in the same manner, to make it easy for designers, engineers and human factors professionals alike to make quick design decisions that are based on the most current and applicable empirical data available.
Summary of the Analytical Phase
Each of the tasks performed during the analytical portion of this research contributed directly to the development of useful design guidelines for ATIS/CVO. The literature review provided a large number of high quality references for each guideline. The functional description indicated critical interactions between subsystems and their functions which might interfere with the ITS objectives. And, the comparable system analysis and decision–aiding tools provided enough information to actually create numerous guidelines.
Empirical Activities
The first year of this research produced several working papers that suggested over 300 viable topics for human factors empirical research. By eliminating topics requiring more resources than available, candidate topics were reduced to a set of 91 candidate issues, which were organized into the following 11 categories:
Coordination of multiple ATIS functions.
Driver function and information requirements.
Reliability, timing, and priority of information.
Interface form and modality.
Timesharing, attention, and workload.
Effect of ATIS on driving performance.
Driver acceptance.
Navigation and route selection strategies.
Training and education.
Design and presentation of human factors design guidelines.
Research strategies and methods.
Eight human factors experts were asked to rate all issues on several criteria. The table below lists rating criteria drawn from three broad categories. The first set of criteria includes five categories used in the IVHS American Strategic Plan.
Rating Criteria.
IVHS America

Other

Methodology

Congestion
Safety
Mobility
Environment
Economic

Existing Data
Guidelines
Older Drivers
Younger Drivers

Cost
Time
Practicality
Generality
Suitability
The human factors experts, highly familiar with IVHS and ground transportation, provided the raw data. Six raters were drawn from key authors of the working papers (Dingus/University of Iowa; Kantowitz/Battelle; Landau/GM Hughes; Lee/Battelle; McCauley/Monterey Technologies; Wheeler/Battelle). In addition, two distinguished university faculty also completed the lengthy questionnaire (Professors Moray/University of Illinois and Triggs/Monas University). Since they did not participate in writing the working papers, it was hoped that their ratings would not reflect any possible biases potentially acquired by Battelle team members during the course of their intense collaboration on this project.
Each rating form contained 2,184 cells (91 issues H 24 criteria). Since the eight raters completed all cells, there are a total of 17,472 rating entries in the data set. A 5–point scale was used for ratings. Completing the rating form took approximately 8 hours. Raters were self–paced.
After the ratings were scored, raters were given three new lists of candidate issues to evaluate. List A contained the highest rated 16 issues for the entire data set, weighted as described later in this paper. List B contained the highest rated 16 issues based only on the data for the individual rater but using the same weighting scheme. Thus, eight unique List B forms were generated, one for each rater. List C contained a stratified random sample of 16 candidate issues with four issues drawn from each quartile, again with the same weighting scheme. Raters were told to treat each list independently and were not informed how the lists were created. For each list, raters were instructed to delete as many issues as they wished, if they believed a particular issue was either not important or not practical given resource limits of the project. They could also add one issue to each list.
A linear psychometric model was used to combine ratings into a single score for each rater. A sensitivity analysis was conducted to determine how different ratings for the criteria altered the relative performance of the research issues. The final weighted scale was successfully validated.
Those research issues considered to be most vital, and subsequently studied, include:
Driver acceptance.
The effect of inaccurate traffic information.
The ability to transition between ATIS functions.
Information display formats for ISIS and IVSAWS.
Commercial vehicle driver fatigue.
Commercial vehicle driver workload.
Driver response during unexpected situations.
The benefits of multimodal displays.
The use of HUDs for ATIS applications.
Driver performance under reduced visibility conditions when using ATIS.
The effects of ISIS and IVSAWS on driver behavior.
Driver Acceptance
While ATIS and CVO systems are intended to provide a wealth of real–time information to the driver, their effectiveness depends on driver acceptance of the new technology. Three separate but related experiments assessed both private and commercial drivers' acceptance of these technologies. In these studies, private and commercial drivers were introduced to an ATIS device through written and verbal descriptions, videotape, and Battelle's Route Guidance Simulator (RGS). Questionnaires, interviews, and performance measures revealed the following conclusions about driver acceptance of ATIS and CVO systems:
Private vehicle drivers use and benefit from accurate traffic information. Even information that is less than 100 percent accurate can be useful; however, inaccurate information that causes commuting delays may negatively affect drivers' trust in the ATIS.

Both local and long–haul commercial drivers place considerable value on ATIS functions that increase driver safety (i.e., hazard warning, road condition information, and automatic emergency aid requests). These functions should be included in any CVO system. Unwanted or even neutral features (i.e., on –line service directory) unnecessarily increase system complexity and reduce driver acceptance.
The Effect of Inaccurate Traffic Information
This research examines two important issues related to driver behavior and acceptance of this new technology: (1) What effect does route familiarity have on ATIS use and acceptance, and (2) how accurate does the presented information need to be for an ATIS to be accepted and considered useful? In order to examine these issues, a study conducted using the RGS looked at the effect of three levels of information accuracy (100 percent, 71 percent and 43 percent accurate) in both familiar and unfamiliar driving environments. Results showed the following:
Drivers have greater self–confidence when driving in familiar settings and will therefore be more critical of the ATIS advice, holding it to a higher standard of user acceptability. Commercial success for ATIS devices will be easier to accomplish in unfamiliar settings (e.g., for use in rental cars for visitors).

Though a system that was 100 percent accurate yielded the best driver performance and preference, systems that were only 71 percent accurate were still accepted and used. And, systems that were 43 percent accurate produced powerful decrements in performance and opinion.
The Ability to Transition Between ATIS Functions
The goal of this experiment was to examine the cognitive demands placed on the driver by the need to transition across ATIS functions. It was believed that interactions between the functions might sometimes inhibit and sometimes facilitate performance on associated cognitive tasks. In order to examine this hypothesis, transitions across six ATIS predrive functions were investigated. In half of the cases, the subsystem functions had a similar user interface and screen format. For the other half, the user interfaces and screen formats were different across subsystems. Results of the study indicated that:
Subjects experienced very little difficulty in using and transitioning across the various ATIS functions.

In terms of recognizing screens or, perhaps, maintaining an accurate mental model of the ATIS screens, there was an advantage (in terms of both speed and accuracy) to designing each ATIS function with a unique "look and feel."
Information Display Formats for ISIS and IVSAWS
A critical issue facing both ATIS designers and highway engineers is the concern that warning messages may go unheeded. The goal of this study was to examine a wide range of display design parameters (i.e., display modality, message style, and display location) on driver compliance with warnings and driving safety. The results indicated that:
The results also suggested that message style had more of an impact on driving safety than did the display modality used. An associated result indicated that:
Command messages (i.e., Slow Down) promote greater compliance, but they reduce safety and should therefore be reserved for situations where an immediate and rapid response is required to preserve driver safety. Otherwise a notification message style may be more appropriate (i.e., Speed Limit 25 mph).
CVO Driver Fatigue
The major objective of this study was to determine how fatigue impacts a CVO driver's ability to interact with complex in–vehicle systems. The two possibilities are that: (1) an ATIS might enhance driving performance by increasing arousal and reducing fatigue, or (2) an ATIS might decrease performance by overloading the driver under circumstances of fatigue. Results of a study addressing this issue found the former to be true:
Other interesting results of the study suggest that:
Increasing ATIS complexity can increase mental workload, thus decreasing driving performance. However, commercial drivers were able to operate an ATIS of moderate complexity with no apparent degradation in performance.

ATIS information that is relatively simple and is time–sensitive should be presented via the auditory modality; complex messages should be presented via the visual modality or through both visual and auditory modalities.
CVO Driver Workload
The intent of an ATIS/CVO system is to automate some of the tasks performed by the CVO driver (communicating with dispatch, checking gauges, documentation), thus reducing the overall workload level. However, the addition of these features and functions, which are to be completed while the driver is in transit, may actually increase the level of workload to dangerous levels. A study was conducted to examine these driver workload issues using both commercial truck and taxi drivers. The results of the study showed that, for truck drivers:
Minimize the level of interaction required by the system while driving by keeping the number of control manipulations to a minimum (less than four). The number of control activations has a greater effect on driver performance than the amount of information presented on the display.

Navigation and vehicle condition information was most useful.
For taxi drivers:
Minimize the amount of interaction required by an ATIS if the interaction is time–dependent. Drivers should be allowed to delay making control activations until they feel it is safe to do so.

Navigation and general communication information was most useful.
Driver Response During Unexpected Situations
A field experiment was conducted to investigate the benefits and detriments of using an IVIS when the driver is confronted with unexpected situations. The IVIS used in the present study included three in–vehicle subsystems: ISIS, IRANS, and IVSAWS. This research focused on five primary areas: (1) the inclusion of unexpected situations (specifically, external events and vehicle status warnings), (2) driver notification of these events and warnings via an IVSAWS, (3) situation awareness of the driver when confronted with unexpected situations, (4) the impact of IVIS display density on driver response to unexpected situations, and (5) older driver use of an IVIS when confronted with unexpected situations.
Three research questions were posed and investigated, each involving the use of an IVIS and response to unexpected situations: (1) Are there benefits for IVIS that incorporate ISIS, IRANS, and IVSAWS, (2) what impact does IVIS information density have on driver's behavior and performance, and (3) what impact does driver age have on system use and measures related to driver behavior and performance?
The following conclusions and recommendations were made from this field study:
Results indicated a clear benefit for drivers responding to external events and vehicle status warnings when using an IVIS.

Drivers are capable of safely switching attention from an IVIS to the forward roadway, while responding to an external event.

The grouping and layout of information is an important consideration for IVIS design; guidelines provided in other domains (e.g., HCI) are a useful supplement to ATIS/CVO guidelines.

Older drivers behave more cautiously when using an IVIS and responding to unexpected situations.

Limitations associated with older driver performance, such as longer response latency and more frequent navigation errors, may be reduced through the use of an optimally designed IVIS.

Auditory cues for alerts should allow user control of intensity.

Drivers should be allowed to select "low urgency" messages and alerting cues from a bank of options that cross modalities.
Benefits of Multimodal Displays
There were two objectives for this research. First, to what degree, and under which circumstances, are multimodal displays beneficial? Second, for circumstances where multimodal displays are not beneficial, which single modality results in best performance? These questions were addressed in two separate steps. In the first step, the optimum candidate information items for a multimodal display were analytically determined, and designs of the multimodal displays for presenting the information were conceived. In the second step, the effectiveness of multimodal displays was tested in a driving simulator experiment and compared to single–modality displays– –auditory or visual––for the information identified.
Four primary findings were determined:
For emergency response displays, the multimodal and the auditory displays resulted in faster reaction times than the visual display for detecting warning information, while information presented on the multimodal display resulted in fewer errors than the auditory display.

For navigation tasks, the multimodal display resulted in the best performance for both total correct turns and number of navigation–related errors.

For driving performance, the multimodal display generally resulted in better performance for both speed maintenance and safe driving behavior.

For subjective workload and preference ratings, the multimodal display and the auditory display received more preferable ratings than did the visual display.
Use of HUDs for ATIS Applications
To date, HUDs have been used primarily as secondary displays to provide drivers with status information such as speed, gauge information, and turn signal status. Such information is generally redundant with other HDD information and is considered to be noncritical; i.e., information that does not have direct or immediate safety implications. However, future applications of automotive HUDs may include collision avoidance system (CAS) warnings, night vision information, and navigation devices (Kaptein, 1994; Weintraub & Ensing, 1992). Thus, the HUD may be used as a primary display for the presentation of critical information requiring an immediate response by the driver.
The overall objective of this study was to investigate the use of a HUD for an ATIS device. Of particular importance are how display location and drivers' age interact to influence driver behavior. The Battelle High Fidelity Driving Simulator was used to conduct the study. Two navigation aids, a HDD and a HUD, were used to present messages to the subjects across three driving scenarios. Results from the study indicated that:
Older drivers committed more navigation errors than younger drivers.

There were no differences between the HUD and the HDD conditions with respect to navigation errors, collisions with external objects such as cars and balls bouncing in the street, or driver performance.
Driver Performance Under Reduced Visibility Conditions When Using ATIS
Recent technological innovations and the need for increased safety on the world's roads have led to the introduction of IVIS. These systems will provide navigation and advisory information to drivers while they are driving. One aspect of these systems, ISIS, would provide the warning, regulatory, and advisory information that is currently found on road signs. These systems may be of particular benefit when external elements, such as rain, snow, or night driving, reduce or eliminate the opportunity for drivers to detect road signs. This study attempts to determine what benefits, if any, are realized by drivers using this system.
In this study, 58 drivers operated an instrumented Oldsmobile Aurora under eight conditions. The eight conditions consisted of: a daylight–clear weather–ISIS condition, daylight–clear weather–no ISIS condition, a daylight–rain–ISIS condition, a daylight–rain–no ISIS condition, a night–clear weather–ISIS condition, a night–clear weather–no ISIS condition, a night–rain–ISIS condition, and a night–rain–no ISIS–condition. Younger drivers (18–30 years old) and older drivers (65 years or older) took part in this study.
The results indicated that:
Use of the ISIS display led to reduced speeds and greater reaction distances for all drivers.

Evidence was found that seems to indicate that older drivers may receive a greater benefit in complex, unfamiliar, or low visibility situations.

Evidence was also found that indicates that all drivers may receive a greater benefit at night for the complex or unfamiliar situations.

Subjectively, the majority of the drivers indicated that the ISIS display made them more aware of road sign information.
Effects of ISIS and IVSAWS on Driver Behavior
This study was designed to answer three research questions intended to provide information for the development of ATIS design guidelines. The three questions were: (1) Does message potency affect compliance rates to navigation, augmented signage, and safety and warning messages, (2) are advance notification messages that warn drivers of upcoming route guidance instructions helpful, and (3) do traffic density and roadway demands affect a driver's ability to utilize ATIS information? Participants drove an instrumented 1994 Saturn Station Wagon that was equipped with a prototype ATIS. A "Wizard of Oz" methodology was used whereby ATIS messages presented to the driver were controlled by an experimenter in the back seat. Four video cameras and an eye tracker were used to record driver behavior.
The results indicated that:
Latency did not differ as a function of information density. It was expected that presenting multiple messages within one minute might exceed drivers' ability to process information, and this may manifest in longer button press latencies. Contrary to our hypothesis, presenting two or even three messages within one minute did not appear to be too many, at least to the extent that it affected their "state of readiness" to receive a new message.

The number of large steering reversals in the "before message" window did not differ significantly from those recorded in the "during message" window. This suggests that the presentation of ATIS messages did not increase attentional or workload demands, at least to the extent that can be seen in an increase in large steering reversals.

As expected, drivers who received advanced notification of a turn were prepared to turn sooner (indicated by turn signal activation) after the onset of the actual navigation message (3.6 seconds) than those who did not receive advance notification (5.4 seconds). This suggests that the advance notification messages were used by drivers to help them prepare for upcoming turns.

In summary, compliance was higher to auditory/command messages than visual/notification messages. It is clear that urgent messages where a response from the driver is critical should be presented using the auditory/command format.
Summary of the Empirical Phase
In this subsection we have described the empirical phase of this project to develop a relevant and useful set of human factors design guidelines for ATIS/CVO. While ATIS and CVO systems offer great potential benefits to the driving public, their effectiveness depends on driver acceptance of the new technology, the ability of the system to integrate with other driving tasks, and the extent to which the systems conform to driver physical and cognitive limitations and capabilities. The findings from these studies will ensure that the ATIS and CVO systems conform to human limitations and capabilities, enhance driver acceptance, and promote highway safety.
Integrative Activities
The integrative phase of this project has included activities intended to address a number of critical issues in human factors design guideline development, such as: variability in the ATIS/CVO design community with respect to background and design tasks, variability in the amount of empirical data across design topics, and a lack of objective criteria for data source selection.
The User Requirements Analysis
In order to develop guidelines that are clear, relevant, and easy to use for the widest range of ATIS designers, a User Requirements Analysis was conducted to identify the ATIS design community's needs and desires for human factors guidelines information on ATIS/CVO. In this analysis, 30 members of the ATIS design community were interviewed by Battelle staff to identify their unique needs and preferences for ATIS human factors design guidelines. Participants in the User Requirements Analysis were obtained from some of the leading developers of ATIS devices in the United States, and included a range of designers with different educational backgrounds, technical expertise, and ATIS/CVO design responsibilities.
Topics that were covered during the 2–hour in–person interviews included:
Educational and technical background information on the interview participants.

Overview of their organization's design approach to ATIS/CVO devices.

Opportunities for human factors input into the ATIS design process.

Current human factors methodologies used by ATIS designers.

Present difficulties in applying human factors information to the design of ATIS.

Suggested solutions to these difficulties. Recommendations for desired ATIS/CVO human factors design topics.

Evaluations of alternative design guideline formats for ATIS/CVO topics.
With respect to areas of training and technical expertise, 25 percent of the interview participants were human factors researchers or practitioners, while 75 percent of the participants were electrical, industrial, mechanical, software, and system engineers with little or no human factors training.
All of the participants had some responsibility for the content and layout of ATIS/CVO devices, 86 percent of the participants were involved in conceptual and/or detailed design of ATIS/CVO devices, and 75 percent were involved in the test and evaluation of ATIS/CVO devices.
While 100 percent of the participants reported an urgent need for human factors design guidance in their ATIS/CVO design activities, only 45 percent of the participants reported that there was any human factors input to their current ATIS/CVO design efforts. This lack of human factors input to their design process was attributed to: (1) the absence of empirical human factors data on ATIS/CVO, (2) difficulties in understanding human factors data sources and in making cost–benefit trade–offs with human factors data, and (3) difficulties in obtaining human factors data in a timely fashion.
The results from the User Requirements Analysis have been used to determine the content, organization, and formats associated with this handbook. With respect to the content of this handbook, the consensus among ATIS/CVO designers was to: (1) include all ATIS functions but to focus on Routing and Navigation, (2) include guidelines on the selection and legibility of symbols or icons, as well as on the legibility of letters and numbers, and (3) limit the inclusion of design tools and human factors tutorials in the handbook.
Designers recommended that the handbook be organized: (1) by ATIS design topics, not by human factors engineering issues, (2) in a manner that facilitates rapid search and find activities of individual design guidelines, and (3) in a manner that supports future updates, revisions, and additions.
As for the format, i.e., the "look and feel" of individual design guidelines, ATIS/CVO designers expressed consistent preferences for guideline formats that: (1) are graphic based, with color and supporting text, (2) provide explicit design guidance, (3) include guidelines that are highlighted and prominent, (4) include text information that is brief, highly organized and tightly structured, (5) include a brief rationale for the guideline, as well as references used to develop the guideline, and (6) include a rating to indicate the relative contribution of empirical data and expert judgement to the development of the final guideline.
In addition, the ATIS/CVO designers made numerous comments that reflected their frustrations with using traditional human factors reference sources. They also provided suggestions for addressing these concerns and maximizing the utility and relevance of human factors design guidelines for ATIS/CVO. Examples of such comments included:
"Think about how people are going to use the information for formulating a solution."

"Transfer the data into something more applicable."

"Recommendations need to be more specific to our problems."

"It would be nice to see the information applied."

"A good summary of the findings is important; for example, what is the best way to show a turn is required, voice or graphically?"

"Guidelines need to be more applicable to a large number of situations."

"We are now designing systems within systems––very complex."
Comments such as these clearly reflect a desire for human factors design guidelines that can be directly applied to the day–to–day decisions that designers face, and they highlight two recurring problems with standard human factors reference sources, discussed below.
The first recurring problem with human factors reference sources is that most such materials are organized around human factors topics and not the system design topics that are particularly relevant to nonhuman factors professionals within the larger ATIS/CVO design community. For example, the chapters or sections within human factors reference sources frequently contain titles such as: Perception & Attention, Population Characteristics, Human Error, Cognitive Constraints, Workspace Design, and User–Computer Dialogues. In order to increase the utility of our guidelines, particularly for the ATIS designer without a degree or background in human factors, we have organized the guidelines in this handbook around ATIS/CVO–specific topics such as: Trip Planning, Dynamic Route Selection, Route Guidance, Immediate Hazard Warning, Road Condition Information, and CVO Functions.
The second problem is that most human factors reference sources consistently present individual design guidelines as isolated, independent design parameters. Thus, in making day–to–day design decisions when using traditional handbooks, designers are frequently forced to look up, cross reference, and then integrate a host of individual design principles in order to address a specific design question. This handbook has organized groups of related human factors information into integrated guideline clusters. For example, for a given design guideline topic such as "Presentation of Route Guidance Information," the guideline addresses an integrated set of specific design issues such as: What information elements should be presented, should an auditory or a visual display be used, when should the information be presented to the driver, and what should the display look like? Such an approach provides a number of distinct advantages to users, including: reducing search and retrieval times, reducing cross–referencing requirements, increasing awareness of related design topics, increasing relevance of individual guidelines, and increasing the overall utility of this handbook.
Development of Individual Guidelines
To a great extent, the process of formulating the design guidelines was topic–specific. This was because the wide variety of ATIS parameters covered, as well as the nonuniformity of data sources relevant to each topic, precluded any precise and invariant design guideline development process.
For the most part, however, the data sources considered relevant to a particular design guideline were subjected to an integrative review and analysis in order to arrive at the final design guideline. In general, an integrative review summarizes previous research by aggregating the results of a number of similar studies. With respect to individual ATIS design parameters, this means that the results or recommendations from this project's findings, as well as other selected data sources, were compared, contrasted, and perhaps combined. In particular, judgments regarding the quality (i.e., rigor and validity) and applicability (i.e., the extent to which a data source could be generalized to the automotive display design environment) of the data sources were made at this time. If the goals and research methods associated with different data sources were similar, relatively consistent results or recommendations provided strong direction for the formulation of the design guidelines. However, with inconsistent methods and/or results, the goals, theoretical orientations, methods, and results of data sources were given more detailed consideration.
Analytical activities in the design guideline formulation process included categorizing, ordering, manipulating, and summarizing. Inputs to these activities included not only the results of the integrative review described above, but also considerations such as: (1) the limitations and constraints associated with each design guideline, (2) the automotive environment and typically encountered driving conditions, and (3) trade–offs between the usefulness and precision of the design guidelines. The analytical component of the design guideline development process, then, was the method by which the more "objective" inputs (integrative review, quality, applicability) were combined with more "subjective" inputs (parameter–specific considerations, expert judgment) to formulate the final design guideline. Some of the analysis and reasoning associated with these activities is explained in the Supporting Rationale section of each design guideline.
FHWA-RD-98-057