Table of Contents
Arkansas Bridges the Gap between Functionality and Aesthetics
Paper Highlights Unique Testing Method and Wins International Accolades
Chaos Theory Contributes to Safer Bridges
Waterborne Bridge Paints Show Improved Performance
ALF Gets New Driving Directions
FHWA Champions the Use of Waste Materials
Winter Road Maintenance System May Enhance Road Management
European Study Provides Illumination
NHI-URITC Training Partnership
TECHNOLOGY INNOVATION
---
Arkansas Bridges the Gap between Functionality and Aesthetics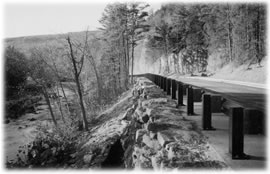 A natural retaining wall features stones quarried from the surrounding areas, allowing the natural view of the Mulberry River in Arkansas to remain undisturbed.
Recently, the Arkansas State Highway and Department of Transportation (AHDT) took on the expansion of a one-lane bridge over the Mulberry River in the Ozark National Forest. In the spirit of Frank Lloyd Wright, their challenge was to improve the quality of the road and bridge without disturbing the beauty of the vista. They faced constraints presented by local residents and environmental commitments of maintaining the unique physical relationship of the sheer bluffs near the river, the natural scenery of the Mulberry Valley, and the scenic experience this provides for viewing from the river and road. These stipulations posed some real issues for creating the retaining wall, drainage system, and visual design of the road improvements located between the river and the natural bluff. The answer was a stone's throw away.
To the FHWA's Eastern Federal Lands Highway Division (EFLHD), the U.S. Department of Agriculture's Forest Service (FS) and AHDT, the solution was natural. They chose to construct a rock retaining wall, made with native stone, and quarried a half-mile from the construction site. Using local stone to build the structure was lower in cost than some traditional systems, and was much cheaper than a masonry face. It would also enable the wall to fit in with the natural surroundings.
The team chose a mechanically stabilized earth (MSE) wall system, using geogrid reinforcements for the taller walls, covered by the locally quarried stone. It required no special equipment or labor, and provided more flexibility without distress. They widened the existing gravel road to two travel lanes with shoulders; constructed a bridge over Indian Creek; developed drainage improvements; and designed functional, yet aesthetic, retaining walls for the project.
Native stone provided an additional advantage-natural water drainage. Concrete would have enabled water to seep into the walls when the Mulberry River flooded, causing a buildup of hydrostatic pressure through water retention. Retaining walls are now free-draining, eliminating the need for a human-engineered drainage system.
Keith Wong keith.wong@fhwa.dot.gov
INFRASTRUCTURE
---
Paper Highlights Unique Testing Method and Wins International Accolades
First identified by the Pennsylvania Department of Transportation (PennDOT), a pavement-cracking problem stumped experts as they tried to find the underlying cause for the premature transverse cracking of a jointed concrete pavement. Even though the pavement had an anticipated design life of more than 20 years, it started cracking after only seven (7) years. PennDOT hoped to identify the problem and prevent it from happening again, because long-term, the solution could possibly save them millions of transportation dollars. After several failed attempts at finding the underlying problem, they turned to the Federal Highway Administration (FHWA) for answers.
Working together, the FHWA's Office of Pavement Technology, and the Pavement Surface Analysis Laboratory found a new way for testing pavement slabs-using existing technology for a different application. The ensuing FHWA paper, "Measurement and Analysis of Slab Curvature in JCP Pavements Using Profiling Technology," received the Elton J. Yoder "Best Paper" award, sponsored by the International Society for Concrete Pavements at their 7th annual convention in September 2001.
The problem began when Interstate 80 in Pennsylvania started experiencing premature transverse cracking of a jointed concrete pavement. The main hypothesis presented by the FHWA team was that individual slab deformation related to temperature curling, moisture warping, and built-in curvature were the culprits for the cracked slabs. The next question was how would they test the premise?
The FHWA team tried the Profile and Rut Measurement Device (PRORUT), a vehicle-based system that measures the longitudinal profile and rutting of roadways at higher speeds using lasers and an accelerometer. This was the first time they had applied this technology to measuring individual pavement slabs. To adapt the technology for this new use, the team developed a complex set of pattern recognition algorithms that would identify joints, faulting, cracks, and other features that may have interfered with the computation of the slab curvature.
After taking samples, the FHWA team determined that their hypothesis was correct-the slabs were indeed curving because of temperature, loads, and moisture. This research could help identify better construction procedures for minimizing as-built deformations, which could lead to a longer slab life and lower maintenance costs. Not only did the team discover that they were able to measure individual slabs using laser-based profiling equipment, but this technology might open up numerous research possibilities and applications in the future.
Mark Swanlund (202) 366-1323 mark.swanlund@fhwa.dot.gov
Chaos Theory Contributes to Safer Bridges
Linear Dynamics Modal Analysis (LDMA) was the conventional method for analyzing the structural condition of a bridge, by measuring changes in the natural vibration frequencies generated by random traffic loading. Researchers later found that it was not sensitive enough to detect damage before it became a severe problem. The search for a new method was underway; one, which would help reduce long-term maintenance costs, lengthen the life of a bridge and reduce possible risk and safety concerns. The answer? Chaos.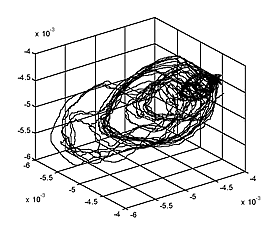 Dynamics of System in New 3D Phase Space
Working with Dr. Shuang Jin, a National Academy of Sciences postdoctoral fellow, the Federal Highway Administration (FHWA) Office of Infrastructure Research and Development (R&D) developed a new way for testing structural damage in bridges. By applying the Chaos Theory, R&D hopes to increase the accuracy of detecting structural problems, before they become major issues.
Chaos Theory relates to systems in motion-where behavior is neither purely deterministic nor purely random in nature-and it includes the movements of atoms up to the movements of entire solar systems. The theory states that characteristic motion patterns resemble loops or orbits when plotted in an appropriate set of coordinates, known as a phase space (see figure). From these chaotic patterns, it is possible to extract parameters called, "Lyapunov exponents," which when applied to bridge vibration data, might be used to identify structural damage.
To test the Chaos Theory, it is necessary to obtain actual vibration data from a real bridge outfitted with a large set of sensors spaced throughout the structure. While currently this type of large-scale sensor network isn't feasible, it soon will be through the development of Bragg fiber-optic sensors. For now, the FHWA researchers employ applied computational structural mechanics for generating a data set to test the Chaos Theory. It involves the use of advanced finite element code, LS-DYNA, software originally developed at the Lawrence Livermore National Laboratory, to create a "virtual bridge" computer model.
Using the specifications outlined by the American Association of State Highway and Transportation Officials (AASHTO) for a standard highway bridge span, R&D "built" a full, nonlinear, 3-D virtual bridge featuring a two-lane span 39.6 m long and 11.3 m wide, with four (4) steel girders and a concrete deck. This virtual bridge contains minute details such as stiffeners, cross-frames and roller bearings. To generate a vibration data set, R&D applied synthesized ambient traffic loading to the virtual bridge, using stochastic models and simulated vehicle time histories.
Data sets were obtained for the bridge in both undamaged and damaged conditions for analysis. By using the Chaos Theory to analyze the information, R&D found that the Lyapunov exponents reliably located the structural damage on the bridge. These results were presented at a National Science Foundation (NSF)-sponsored workshop on structural health monitoring held at Stanford University in September. The data set is now available as a benchmark for testing other algorithms and for detecting bridge damage. In addition, the virtual bridge can be readily adapted to model other loadings or damage states for further studies.
Richard A. Livingston (202) 493-3063 dick.livingston@fhwa.dot.gov
Waterborne Bridge Paints Show Improved Performance
Waterborne steel bridge coatings are currently used by only a handful of States. Although users claim a good overall experience with waterborne paints, the general view has been that waterborne coatings do not perform nearly as well as their solvent-containing alternatives. The interest and focus continues to be on waterborne paints, because their properties include low toxicity; easy clean-up and waste disposal; and lower volatile organic compound (VOC) content. With the renewed possibility of regulators in California and the Northeastern States lowering VOC levels, waterborne coatings might become an attractive alternative in the future.
Federal Highway Administration (FHWA) recently conducted a study to examine the performance of the new generation of waterborne coatings using accelerated laboratory and marine exterior exposure testing. This testing exposed steel test panels, coated with 10 separate commercial waterborne formulations, to 3,000 hours of cyclic salt, moisture, freeze and ultraviolet contact in the laboratory (modified ASTM D5894). A duplicate set of test panels was exposed on test racks at a seaside exposure site on the coast of New Jersey for two years. Among the test coatings were five (5) waterborne acrylics, four (4) waterborne epoxies, one (1) waterborne polyurethane, and three (3) solvent-borne, zinc-rich control coatings.
Coating conditions of zinc-rich, waterborne acrylic, and waterborne epoxy systems after two years of salt-rich outdoor exposure.
As a group, the test results showed that the waterborne acrylic coatings had an average corrosion and undercutting (at an intentional defect on the test panel) of 4.2 mm. This compares favorably to the results of similar testing performed several years ago, which showed undercutting of 7.0 mm for a separate group of generically-similar waterborne acrylic formulations. Although these coatings did not outperform the zinc-rich control coatings, the performance improvement is significant because the waterborne results are competitive with those of the best performing solvent-borne barrier coating systems (e.g., epoxy and polyurethane) tested by FHWA over the past several years.
As a group, the waterborne epoxy coatings did not fare as well as the waterborne acrylics. These coatings featured an average undercutting of 7.0 mm. The tested waterborne polyurethane coating also failed to meet the performance of the acrylics. Even though the values of the measured performances differ, these same trends were also seen in the two-year outdoor exposure tests.
An additional part of the study focused on defining the specific paint composition factors (e.g., types of pigments, etc.), which affect the paint performance. A complete write-up of this portion of the study was published in the proceedings to the Society for Protective Coatings Annual Meeting, Atlanta, 2001. A full research report will be published by FHWA this summer.
Shuang-Ling Chong (202) 493-3081 shuang-ling.chong@fhwa.dot.gov
ALF Gets New Driving Directions
As existing research studies and applications complete their test drives on the Accelerated Loading Facility (ALF) and Pavement Test Lanes (PTF), the new year heralds in new research opportunities for the machines. Recently, the Federal Highway Administration (FHWA) needed to determine, select, and prioritize which of the many research applications would use the services in the near future.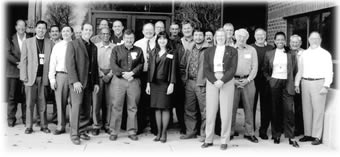 Representatives from FHWA, State highway agencies, academia, and private industry to formulate the next ALF experiments.
On November 7th and 8th, representatives from the FHWA, 10 State highway agencies, the asphalt industry, and academia participated in a workshop at the Turner-Fairbank Highway Research Center (TFHRC). Their goal was to formulate the objectives and research approach for the next experiment using FHWA's full-scale PTF, which includes 12 pavement-testing lanes, and two (2) ALF machines.
Participants formulated an experiment that will focus on validating changes proposed to the Superpave binder specifications. These changes encompass polymer-modified asphalts, and an early, rapid tryout of the performance models being introduced in the 2002 Pavement Design Guide. The new experiment is slated as a pooled-fund study, and input received at the workshop will lay the foundation for the work plan. A pooled-fund solicitation and the new work plan were sent to all State highway administrations (SHAs) in December 2001. In Spring 2002, FHWA researchers expect to begin construction of the new ALF test sections.
Katherine Petros 202) 493-3154 katherine.petros@fhwa.dot.gov
FHWA Champions the Use of Waste Materials
Many different materials-crumb rubber, concrete, asphalt, foundry sands, dredge materials, coal combustion products, and glass-are possible transportation recycling candidates. The challenge is in selecting the reuse items to research; stretching limited research resources; prioritizing the items which will provide the greatest benefit and return on investment; and getting the word out to the community.
To meet this challenge, the Federal Highway Administration (FHWA) chose to partner with a number of internal and external organizations to encourage the use of recycled materials in the highway environment, and to advance research that could develop new or better uses for recycled materials. Their partnership with the Recycled Materials Resource Center (RMRC)-a national research and outreach organization based at the University of New Hampshire-led to an International Conference on the Beneficial Use of Recycled Materials in Transportation Applications, November 13th through 15th in Arlington, VA. Conference attendees explored ways that materials from existing roads and industrial waste materials might be reused in future highway projects.
FHWA's own recycling team recently completed a proposed FHWA recycling policy, which clarifies its longstanding support for the appropriate use of recycled materials in highway applications. In addition, the recycling team will partner with a number of States to conduct a series of nationwide state-of-the-practice reviews. These reviews will focus on high-priority opportunities for using recycled materials in transportation projects, with an emphasis on dispelling myths and eliminating unnecessary barriers to recycling. Based on input from external sources, as well as the results of an informal survey of FHWA Division Offices, the team selected recycled concrete (RC) as the topic for the first state-of-the-practice review.
The use of recycled materials might not be appropriate for every project; however, the recycling team recommends that it be considered at the earliest possible stages of every project, especially from the financial, engineering, and environmental aspects. To get the word out, the team plans to provide a "tool kit," which outlines recycling information resources; a recycling training course; and a cadre of speakers to discuss recycling at regional, national, and international conferences. For additional information, contact:
Jason Harrington (202) 366-1576 k.jason.harrington@fhwa.dot.gov
OPERATIONS
---
Winter Road Maintenance System May Enhance Road Management
Managing roads and traffic during winter emergencies can be difficult. Weather conditions change so quickly that traffic and roadway managers sometimes find themselves reacting to situations that have already changed or that they were unable to anticipate. Currently, several road weather technologies exist at national laboratories that can aid State and local weather and traffic managers; however, these new technologies are neither integrated nor tailored to support weather-based road maintenance decisions.
To solve these problems and other problems affecting winter road maintenance decisions, the Federal Highway Administration (FHWA) is leading the development of the Winter Maintenance Decision Support System (MDSS)-a computer system that integrates existing road and weather data sources into one functional platform.
The MDSS will make existing winter weather and road information open, integrated, and understandable, allowing traffic and road managers to better maintain roads during winter emergencies. The system will also anticipate changes in winter conditions, and provide a decision support tool that recommends the best course of action for road maintenance. Upon completion, the MDSS will enable traffic managers to effectively coordinate snow-removal, emergency response, and rescue vehicles. It will also enable managers to be proactive in clearing or closing roads for greater safety.
Slated for a multi-year study, the first phase of the MDSS project concluded in fiscal year (FY) 2001. It was dedicated to working with six national labs-the Cold Regions Research and Engineering Laboratory (CRREL), the National Center for Atmospheric Research (NCAR), the Massachusetts Institute of Technology - Lincoln Laboratory (MIT/LL), the National Severe Storms Laboratory (NSSL), Environmental Technology Laboratory (ETL), and the Forecast Systems Laboratory (FSL)-in developing a prototype MDSS.
The focus of the work being conducted in Phase II is to develop and demonstrate a functional prototype MDSS. MDSS researchers also hope to evaluate the operation of selected components of the prototype. The MDSS researchers met recently in Boulder, CO, where they selected four States-Minnesota, Utah, New Hampshire, and Washington-to help evaluate the prototype graphical user-interface (GUI); in 2002, they plan to continue monitoring the design of the GUI and system-user interactions with it. Over the course of the next few years, FHWA will build off this work, aiding in the implementation of the MDSS in an operating environment among State Departments of Transportation and the private sector.
An internal review of the MDSS project will be held in April to determine the progress and merits of continuing the project toward completion.
Rudy Persaud (202) 493-3391 rudy.persaud@fhwa.dot.gov
INTERNATIONAL
---
European Study Provides Illumination
As vehicular travel increases in large urban areas throughout the world, nighttime journeys are also on the rise with nighttime drivers experiencing reduced visibility. Road crashes at night are disproportionately high in number and severity, and the fatality rate for nighttime crashes in the United States is three times that of the daytime figure, when weighted for kilometers traveled. In their efforts to find possible lighting solutions, the transportation industry is extending their reach to include technologies and practices in the international transportation communities.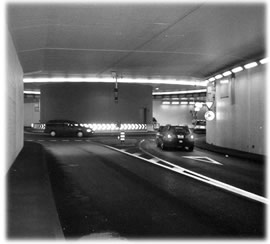 An underground tunnel and roundabout in Switzerland are lit with electronically ballasted dimmable fluorescents on the walls.
Representatives from the Federal Highway Administration (FHWA), State Departments of Transportation (DOTs), and the private sector performed a cooperative study of cutting-edge research and technologies in highway and roadway lighting systems of Europe. The FHWA Office of International Programs' report, "European Road Lighting Technologies," features information about visibility design; luminance design; pavement reflection factors; tunnels; counter-beam versus pro-beam lighting; high-mast lights and signs; roundabouts; and safety. Based on findings from a European tour, the panel developed specific recommendations for the roadway lighting and safety communities in the United States, now contained within European Road Lighting Technologies.
The team included representatives from FHWA, private industry and DOT members from the

following States: Wisconsin, Texas, Alabama, and Pennsylvania. The panel traveled to five European countries including Finland, Switzerland, France, Belgium, and the Netherlands, where they observed innovative lighting practices and identified applications, which could be implemented in the United States. Of particular interest were small target visibility (STV) and luminance design techniques.
To obtain a copy of this report, or for more information, please contact the FHWA Office of International Programs, at 202-366-9636. You can also visit the Office of International Program's Web site, at www.international.fhwa.dot.gov.
Hana Maier (202) 366-9636 international@fhwa.dot.gov
TRAINING
---
NHI-URITC Training Partnership
On December 10, 2001, the National Highway Institute (NHI) and the University of Rhode Island Transportation Center (URITC) signed a partnership agreement to improve training assessment and delivery to New England States. With the support of the Rhode Island Department of Transportation, the FHWA Division Office in Rhode Island and the FHWA Eastern Resource Center, this partnership calls for URITC's annual assessment of regional training needs and delivery of NHI courses using its campus facilities.
The new partnership creates a win-win-win solution for enhancing customer training. In New England, it offers the States a means to access NHI training, without the financial and logistical burden of hosting NHI courses; it expands URITC's training and education services in the northeast region; and it facilitates NHI's marketing and training delivery efforts in the region and provides access to the university's training facilities.
Scheduling is currently underway for URITC to host NHI's courses on "Highway Program Financing," "Public Involvement in the Transportation Decision-Making Process," "Fundamentals and Abatement of Highway Traffic Noise," and "NEPA and Transportation Decision Making" in the coming months.
Kyung Kyu Lim