Guide for Heat-Straightening of Damaged Steel Bridge Members
Chapter 1: Introduction
Damage caused by overload, vehicle impact, handling, earthquake, or fire is a perennial problem associated with steel bridge structures. For almost half a century, heat-straightening techniques have been applied to bends and distortions in order to restore the original shape of steel elements. A few craftsmen, who have years of experience with heat straightening, perform the technique in the field with varying degrees of success. Some of these experts have mastered heat straightening, but the process is still considered more of an art than a science.
The ability to repair damaged structural steel members in place, often without the need for temporary shoring, has generated interest in heat straightening from the engineering profession. However, engineers have had to rely primarily on their own judgment and the advice of experienced technicians in applying heat-straightening techniques. Two key questions have often been raised: Do heat-straightening procedures exist which do not compromise the structural integrity of the steel? And if so, how can such repairs be engineered to ensure adequate safety of the repaired structure, both during and after repair? The primary goal of this guide is to answer these two questions.
This guide is intended for a general audience ranging from heat-straightening practitioner, to contractor, to inspector, and to bridge engineer.
1.1 History of Heat Straightening
The origins of heat straightening can be traced to the early days of welding. Steel fabricators observed how the heat from welding caused distortion in regular patterns. Some of these individuals began to experiment with ways to reverse this distortion by heating the steel in specific patterns to counteract the initial distortion. With experience, some of these technicians developed skills at not only removing weld distortion, but repairing other damage as well. These heating procedures developed as an art form passed from one practitioner to the next.
During this period, the use of curved steel members gained popularity for both practical and aesthetic reasons. Primary examples include horizontally curved bridge girders and camber to compensate for vertical curve and dead load deflections. Heat curving techniques were developed for these applications. While many of the heating techniques are similar to those used in heat straightening, there are distinctions between the two. Heat curving is typically performed on undamaged steel, usually in the controlled environment of the fabrication shop, and the typical radius of curvature for heat-curved members is quite large, meaning that the curvature is usually very gradual. On the other hand, heat straightening is used on damaged steel in which the yield stress has been exceeded, and often excessively, well into the strain-hardening range. Most heat straightening is conducted in the field, under highly variable weather conditions, and often with the members at least partially loaded. These differences mean that techniques and criteria for heat straightening may sometimes differ substantially from those of heat curving.
The earliest written information found was traced to Joseph Holt who defined some of the basic concepts of heat straightening in an unpublished manuscript in 1938. Over the years since, more publications began to appear which tended to be more qualitative than quantitative in nature.
Well into the 1980's, the use of heat straightening was so little understood that one-half the States did not allow heat-straightening repair of bridges (Shanafelt and Horn, 1984). At that time there were reasons why heat-straightening repair had not been widely accepted. First, the basic mechanism of heat-straightening was not well-understood in that the effects of both external restraints (jacking) and internal restraints (redundancy) were considered to be of minor concern rather than fundamental to the broad application of the process. Second, as a result of not identifying the importance of these parameters, there had been little documentation of the behavior of vee heated plates subjected to varying degrees of constraint and even less on rolled shapes. Third, while a fair amount of research indicated that most material properties are relatively unaffected by heat straightening, two important aspects had been overlooked: the influence of strain aging on ductility; and residual stress distribution. Finally, the research information available was predicated almost entirely on laboratory studies of simple elements. The reported field investigations were qualitative rather than quantitative and thus could not serve as a building block for validating heat straightening. A literature review of the technical material available through the late 1980's is available (Avent, 1989). Because of these voids in heat-straightening research, it was indeed true that the artesian practicing the trade was much more important than the engineer. Consequently, heat-straightening repair was often not considered on engineered structures.
In recent years, considerable research has been conducted to quantify the heat-straightening process. The technical data presented here represent a comprehensive evaluation of the heat-straightening process. A scientific basis is provided which will enable an engineering evaluation of heat-straightening repairs. In turn, the methodology for conducting actual repairs is also presented.
In the past, heat straightening has been more art than science. While the fundamental principles and basic methodology will be presented here, heat straightening is a skill requiring practice and experience. The proper placement and sequencing of heats combined with control of the heating temperature and jacking forces distinguishes the expert practitioner.
1.2 Typical Types of Damage
The focus of this guide is on repairing damage to members of steel bridge structures. However, the principals are applicable to any type of steel structure. Damage to steel bridge members may result from a variety of causes. Among the more frequent are: vehicle impact, uncontrolled distortion during construction, fire, and earthquake. While damage in structures may appear random, certain patterns and characteristics are distinguishable. A convenient way to classify damage is to define the four fundamental damage patterns, although typical accidents often include a combination of these types. The fundamental damage categories are:
1.2.1 Category S
This type refers to damage as a result of bending about the "strong" or major axis. For rolled or built-up shapes, the web element is bent about its strong axis with one flange element in compression and one in tension. In addition to plastic deformation, the compression flange and web will sometimes exhibit local buckling due to the high compressive stresses. A typical example is shown in Figure 1.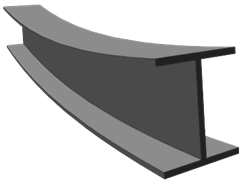 Figure 1. Graphic illustration of Category S damage.
1.2.2 Category W
This category refers to damage as a result of bending about the "weak" or minor axis. For rolled or built-up I-shapes the neutral axis is usually within, or near, the web. Consequently, the web may not yield or deform into the inelastic range. If neither is laterally restrained, the flange elements are bent about their strong axes and usually exhibit classical flexural yield patterns. Typical examples are shown in Figure 2.
1.2.3 Category T
This type refers to damage as a result of torsion or twisting about the longitudinal axis of a member. For rolled or built-up shapes, if neither is laterally braced, the flange elements tend to exhibit flexural plastic deformation in opposite directions. The web is often stressed at levels below yield. If one flange is constrained (such as the case of a composite bridge girder), then the unconstrained flange element is subjected to plastic deformation and yielding may also occur in the web. Examples are shown in Figure 3.
1.2.4 Category L
This category includes damage that is localized in nature. Local flange or web buckles, web crippling and damage at bracing locations, and bends or crimps in plate elements of a cross section typify this behavior. An example is shown in Figure 4.
1.3 Classification Use
The importance of this classification system is that well-defined heating patterns can be established for each category. Once these patterns are understood, they can be used in combination for damage that includes multiple categories.
1.4 Objectives of This Guide
The goals of this manual are to:
Describe and quantify the fundamentals of the heat straightening process.
Address specific methods for repairing the basic damage categories.
Provide guidelines for repairing more complex combinations of the basic damage categories.
Provide detailed technical research data for engineers and scientists.
Provide guidelines for conducting and supervising heat-straightening repairs.
Provide model specifications for conducting heat-straightening repairs.
(a) Category W damage on a built-up double channel truss member. The damage was caused by a log falling from a truck on a bridge in North Louisiana.
(b) Category W damage to main girders during construction of a Louisiana bridge.
Figure 2. Examples of Category W damage.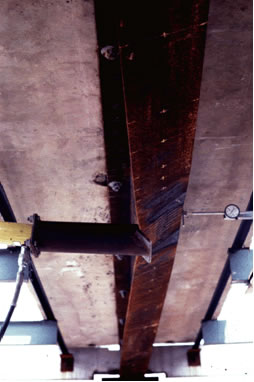 (a) Category T damage to a composite wide flange beam. Damage was induced by a jack as part of an experimental program.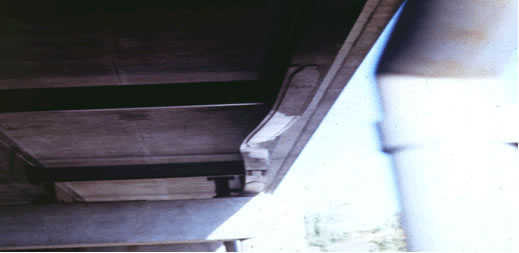 (b) Category T damage on a composite bridge girder impacted by an over-height vehicle in Wisconsin.
Figure 3. Examples of Category T damage.

Figure 4. Category L damage showing flange buckles on wind bracing on Mississippi River Bridge in Greenville, MS.