Transportation Asset Management Case Studies
The Ohio Experience
Introduction
A comprehensive, fully integrated Transportation Asset Management System weaves together information on all asset inventories, condition and performance databases, and alternative investment options.
Source: FHWA Asset Management Primer
Dayton Ohio, home to the Wright Brothers and the birthplace of aviation, provides inspiration to the reconstruction of the I-70 & I-75 interchange.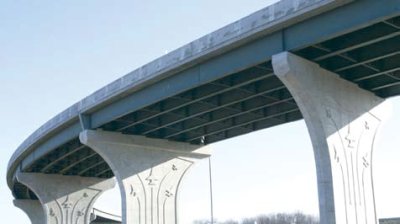 Note from the Director
The challenges facing the transportation sector today are numerous. Many of our Nation's highways are aging and in need of rehabilitation. Congestion is increasing at an alarming rate. Consumers are asking for - and expecting - to be kept abreast of how DOTs are managing their assets and planning for the future even as increasing demands and limited funds increase the complexity of those tasks.
One tool that is proving invaluable in addressing these issues is Transportation Asset Management (TAM). TAM is a strategic approach that strives to provide the best return for each dollar invested by maximizing system performance, improving customer satisfaction, and minimizing life-cycle costs.
TAM endeavors vary from State to State and include efforts in the areas of data integration; economics in asset management; the utilization of Highway Economic Requirements System - State Version (HERS-ST); life-cycle cost analysis (LCCA); preservation; and pavement and bridge management, among others.
Because we at FHWA believe that transportation agencies work more efficiently when information on one another's successes is shared, the Office of Asset Management is continuing its series of TAM case study reports begun in 2002. I trust that this case study will help you meet the increasingly complex challenges confronting your agency today.
Julius "Butch" Wlaschin
Director, Office of Asset Management
Note to the Reader
The TAM case study series is the result of partnering between State departments of transportation and the Federal Highway Administration's (FHWA's) Office of Asset Management. FHWA provides the forum, and the States furnish the details of their experiences with asset management.
For each case study, FHWA representatives interview State transportation staff and compile the information, and the State approves the resulting material. Thus, the case study reports rely on the agencies' own assessment of their experience. Readers should note that the reported results may not be reproducible in other organizations.
Rehabilitating existing roads while maintaining increasingly high levels of traffic requires innovative solutions such as night paving.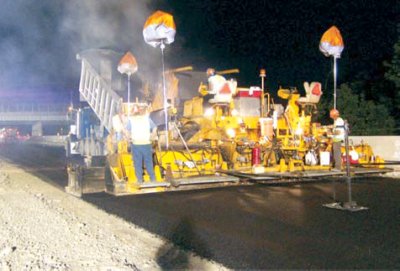 Executive Summary
In 1879 Cleveland became the world's first city to be lighted electrically when Charles Brush set up arc lights on the city streets. From that day forward, the Buckeye State, as Ohio is called, has worked to promote diversity and innovation and has become a leader in agricultural production and a number of industrial/commercial ventures.
And innovation is not limited to the private sector. The Ohio Department of Transportation (ODOT) has demonstrated its commitment to this concept by stepping out of the shadows and reengineering itself in order to provide the citizens of Ohio with the best return on their investment.
The task was a daunting one. By the mid-1990s, ODOT had 7,800 employees; agency operating costs rising at an average rate of 5.7 percent; and 24.68 percent of its multi-lane pavement in need of immediate rehabilitation. The Interstate construction boom had ended, and the organization's centralized structure was not conducive to asset management.
After a thorough self-assessment, ODOT began a reengineering process that would breathe new life into the organization. VISION 2000, as ODOT management called it, was a groundbreaking philosophy for the department. It said that an agency must continually reexamine itself in order to achieve excellence and meet the demands of its customers.
Based on that philosophy, ODOT redefined its mission, values, and goals. The agency decentralized, organizing all operations under three core functions; giving the districts authority over their own project budgets; and making the Central Office responsible for policy and guidance. It worked with the Ohio General Assembly to establish the Transportation Review Advisory Council (TRAC) and provide a more objective means for selecting new capacity projects. With this framework in place, ODOT turned its focus to its project-delivery and data warehousing systems, developing cutting-edge programs for managing system assets more effectively. Finally, ODOT developed an Organizational Performance Index (OPI) that tied accountability to performance at all levels of the organization, empowering employees, making asset management a team effort, and establishing ODOT as a nationally recognized leader in the field of innovation.