Transportation Asset Management Case Studies
The Ohio Experience
What's Next?
ODOT continues the work begun under VISION 2000 with the advent of new strategic initiatives and performance measures each biennium.
One of the more exciting initiatives underway is a public safety project from the statewide GIS group to develop a location-based response system that will connect local road inventories with the 911 emergency response system.
ODOT is providing guidance and support for this interagency initiative, which is gathering data utilizing ODOT's 14-digit naming convention. The system not only gathers basic roadway GPS information but also includes each discrete address location to facilitate routing of emergency vehicles. Once the data is collected, the road inventories will be integrated into ODOT's Base Transportation Referencing System. From there lessons learned from safety analysis and asset management can be shared with local agencies on their systems as well.
This is a best practice in the Nation, Evans says, and one of many that the department hopes to be involved with.
A wall along I-75 incorporates scale images of the Wright Brothers' historic flight.
The length and elevation of the flight match the original 1903 milestone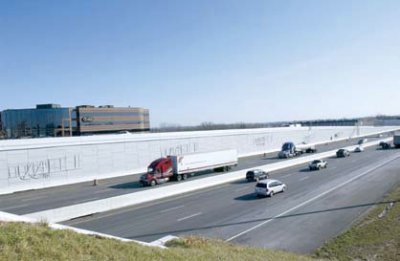 Additional information is available from the following:
Leonard Evans
Transportation Systems Administrator
ODOT
614-466-8993
leonard.evans@dot.state.oh.us
Francine Shaw-Whitson
Transportation Manager and Leader, Evaluation & Economic Investment Team
FHWA, Office of Asset Management
202-366-8028
fshaw-whitson@dot.gov
Photography Credit
Photos courtesy of the Ohio Department of Transportation.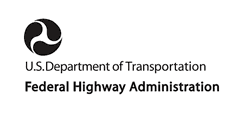 Office of Asset Management
Federal Highway Administration
U.S. Department of Transportation
1200 New Jersey Avenue, SE
Washington, DC 20590

Telephone: (202) 366-0392
Fax: 202-366-9981
https://www.fhwa.dot.gov/infrastructure/asstmgmt
FHWA-IF-07-029