ACTT III - The Third Year Report of the Accelerated Construction Technology Transfer Program
ACTT Now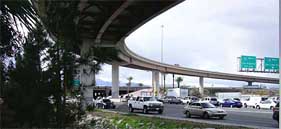 "With the growing demand for faster solutions to transportation
problems, the transfer of ideas among DOTs and the engineering
community will be increasingly employed to meet this demand...
Knowledge and experience must be spread much faster."
Jack Lettiere, Former AASHTO President
and Commissioner, New Jersey DOT
The past year has been one of change and uncertainty for those involved in the transportation arena.
Undoubtedly, the biggest news this year was that President George W. Bush signed the Safe, Accountable, Flexible, Efficient Transportation Equity Act: A Legacy for Users (SAFETEA-LU) into law on August 10, 2005. SAFETEA-LU authorizes the Federal surface transportation programs for highways, highway safety and transit for 2005-2009.
This year also saw the South ravaged by Hurricane Katrina and, to a lesser extent, Hurricanes Rita and Wilma. In light of the new transportation funding levels and the much-needed emergency relief allocations for rebuilding hurricane-damaged infrastructure, programs such as ACTT will play an even more prominent role in saving time and money and reducing motorist inconvenience nationwide.
This is evidenced by the fact that ACTT is being incorporated into the project development process from coast to coast: several States, including New Jersey, California, Illinois and Iowa, have held multiple ACTT sessions, and Ohio has three planned for the upcoming year. What's more, accelerated construction practices now reach deep into the transportation community nationwide, as highlighted in AASHTO's Accelerating Project Delivery: It's About Time, available online. Familiarity breeds demand - ACTT's time has come.
The ACTT concept was originated by the Transportation Research Board (TRB) in conjunction with FHWA and the Technology Implementation Group (TIG) of the American Association of State Highway and Transportation Officials (AASHTO). Following the completion of two pilot workshops, one in Indiana and one in Pennsylvania, the originating task force, A5T60, passed the concept off to FHWA and TIG to continue the effort. They have done so by coordinating a series of ACTT workshops around the country, with several more pending in 2006. The October 2005 FHWA ACTT Implementation Memorandum and accompanying "How To" Guide offer step-by-step guidance for States adopting ACTT as standard practice.
The ACTT process is successful because no one person or organization serves as the driving force: Accelerated Construction Technology Transfer is a collaborative effort in the truest sense of the word. It works because it brings together public- and private-sector experts from across the country in a setting that encourages flexibility and innovation. As the chart on page five shows, the program is applicable to projects of all sizes and timeframes.
Workshops at a Glance
| State | Project Cost | Project Construction Timeframe |
| --- | --- | --- |
| Georgia | $90 Million | 6 Years |
| Rhode Island | $30-$40 Million | 5-6 Years |
| Utah | $235 Million | 3 Years |
| Nevada | $550 Million | To Begin 2008 |
| Oregon | $35-$45 Million | To Begin 2010 |
| New York State Thruway Authority | $155 Million | 7 Years |
| Iowa* (I-80 / I-29 / I-480) | N/A | 10 Years |
| Wisconsin | Report in Progress | 7 Years |
| Iowa / Illinois | Report in Progress | To Be Determined |
* The Iowa DOT also hosted an abbreviated workshop in Boone and Madison Counties in February 2005. No report was issued for that workshop.
For more information, please visit https://www.fhwa.dot.gov/construction/accelerated/.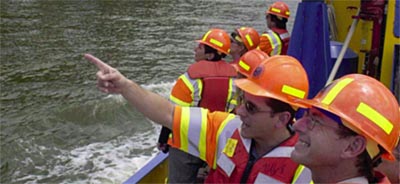 Inside a Workshop
With an increasing number of highway construction projects underway nationwide, State departments of transportation are looking for innovative ways to reduce construction time and traffic congestion and to "Get In, Stay In (and get it done right), Get Out and Stay Out." The ACTT program helps owner agencies achieve these goals by bringing national transportation experts to the planning table.
A structured workshop is the centerpiece of the ACTT process. Once a State indicates that it wishes to host a workshop for a specific project, it must identify the project timeline, goals and sets of skills required to meet particular challenges. Using this information, the State invites national experts to their workshop for two days of intense brainstorming and discussion. At the end of those two days, each skill set provides counsel on innovative ways to accelerate construction, reduce project costs and minimize impacts to the community.
For more information and for reports detailing the recommendations of completed ACTT workshops, visit https://www.fhwa.dot.gov/construction/accelerated/.