Highway Quality Compendium
Advancing the Future of Concrete Pavement Technology
Pore water is extracted from a mortar sample as part of CPTP's research into incompatible concrete materials.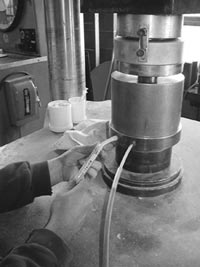 After 5 years of research into improved technologies and methodologies for concrete pavement construction, the Federal Highway Administration's (FHWA) Concrete Pavement Technology Program (CPTP) continues to provide valuable new tools for transportation engineers and planners.
More than 30 research projects centered around 6 focus areas have been initiated under CPTP. These focus areas are: advanced pavement design, improved concrete materials, improved construction processes, repair and rehabilitation, workforce training, and enhanced user satisfaction.
One of the new products resulting from the CPTP research is the Guide for Curing of Portland Cement Concrete Pavements (Publication No. FHWA-RD-02-099). The guide was developed to help pavement engineers anticipate and correct potential curing problems associated with specific concrete materials properties, mixture proportions, and job site conditions. It looks at the many variables that influence the curing process and recommends steps to evaluate and control concrete moisture and temperature under different conditions. The guide is available from the National Technical Information Service at 800-553-6847 or 703-605-6000 (email: info@ntis.gov; Web: www.ntis.gov). The publication will also soon be available online at www.fhwa.dot.gov/pavement/pub_listing.cfm.
Also being developed are test protocols to aid highway agencies in identifying potential problems caused by material incompatibility before concrete is placed. These difficulties can include early stiffening, air entrainment problems, loss of workability, lower than expected strength and durability, and unexpected cracking at early ages. "In recent years, some cases of early-age problems and premature deterioration have resulted from use of incompatible concrete materials," says Shiraz Tayabji of Construction Technology Laboratories, Inc. (CTLGroup), and a member of the CPTP Implementation Team. "As concrete mixture proportions become more complex, the likelihood of incompatibility among materials increases with the number of ingredients added to the mix. The problem is compounded because not much has been known about the factors that lead to incompatibility, and tests have been lacking to determine the susceptibility of materials combinations to distress mechanisms," notes Tayabji. The new test protocols and compatibility guidelines will be available later this year. They will enable material suppliers, concrete producers, and users to:
Identify combinations that adversely affect the early-age properties of concrete,
Evaluate the uniformity of individual materials from the same source, and
Optimize combinations for improved early-age performance.
Looking at the future, CPTP has developed a Long-Term Plan for Concrete Pavement Research and Technology (Publication No. FHWA-HRT-05-047). This 7- to 10-year Concrete Pavement Road Map incorporates input from more than 100 stakeholders across the country. It combines 250 research problem statements into 12 research tracks, including "Long-Life Concrete Pavements," "High-Speed Rehabilitation and Construction," and "Performance-Based Mix Design System." According to Tayabji, the Road Map will set the direction and agenda for concrete pavement technology improvements over the next decade. "The Road Map is grand in vision, but very practical in the manner that it addresses the technological gaps that need solutions. The implementation of the plan, based on strong partnering between public agencies and industry, will revolutionize the way we do pavement research in the United States," he says. The plan is available online at www.fhwa.dot.gov/pavement/pccp/pubs/05047/index.cfm. A two-volume report with details on the plan will be published shortly and will be posted online at www.fhwa.dot.gov/pavement/pub_listing.cfm.
Highway agencies and Local/Tribal Technical Assistance Programs can call upon CPTP for state-of-the-practice presentations and workshops on advanced concrete pavement technologies. Presentations can be arranged upon request for State, regional, and industry-sponsored workshops; onsite training sessions; and conferences (see sidebar). The specific topics to be featured and the format and length of the workshops can be tailored to meet the needs of each State or local area. Many of the products developed through CPTP are also available for field demonstration and CPTP-developed and validated test equipment is available to highway agencies on a loan basis from FHWA.
For more information on CPTP products and implementation activities, or to schedule a workshop/presentation or field demonstration in your State or region, contact Sam Tyson at FHWA, 202-366-1326 (email: sam.tyson@fhwa.dot.gov), or Shiraz Tayabji at CTLGroup, 410-997-0400 (email: stayabji@ctlgroup.com). CPTP information is also available online at www.fhwa.dot.gov/pavement/concrete/.
CPTP Presentation Topics
Long-Life Portland Cement Concrete (PCC) Design Features
Rapid Repair and Rehabilitation
Best Practices for Concrete Pavement Construction
Design, Construction, and Repair of Whitetopping
High-Performance Concrete Mixtures for Pavements
Pavement Texturing Recommendations for PCC Pavements
Measuring Pavement Smoothness for Acceptance on Concrete Pavements
Construction Management Tools
Concrete Durability Issues
Optimizing Pavement Joint Details
The CPTP Program
CPTP Workshops
Concrete Pavement Best Practices
Optimizing Paving Materials and Mix Design
Best Practices for Concrete Pavement Construction
Best Practices for Thin and Ultrathin Whitetopping
Reprinted from Focus, August 2005.