Innovation in Vertical and Horizontal Construction: Lessons for the Transportation Industry
3. Findings
As noted in Chapter 1, one of the initial objectives of the project was to examine the process of innovation and understand the way innovation occurs in the vertical construction world, and to identify features that may be transferred to horizontal construction in order to help achieve advances and enhanced performance in the design and construction of highway infrastructure.
In the course of the three Scan meetings, visits, and extensive discussions, the process of innovation was not formally addressed, but there were numerous opportunities to observe its features and aspects as they relate to vertical construction. A number of individual innovative approaches were discussed at length. The discussions clearly showed that the drivers for introducing innovative technologies, materials, systems and processes in the vertical construction industry are largely related to the profit motive. This typically translates into the need to generate the most revenue out of a site or the need to deliver projects faster, which in turn allows developers/owners to take advantage of market opportunities and to generate revenue earlier. This motivation has led the vertical construction industry to introduce, experiment with, and adopt new technologies, new materials, new forms of procurement and contracting, new flexibility, new patterns of distribution of tasks and responsibilities, new forms of collaboration, and new forms of incentives.
Time and again, this has been contrasted with the typical motivation of the owner in the highway construction industry which is to be a good custodian of the public funds, leading to the prevailing legal framework that requires the decomposition of the project delivery process into design, bid, and build phases, and the awarding of the contract to the lowest bidder. Two other characteristics of the public sector are the absence of visible rewards, and the risk aversion that stems from the liability associated using new materials, technologies, and approaches. In the vertical construction industry the means and methods are left to the contractor. In the horizontal construction industry, the contracts specifications are typically prescriptive.
Beyond this private sector-public sector divide, the Scan Team identified technologies, processes, and procedures the vertical construction industry has adopted to facilitate greater efficiency and productivity in designing and constructing buildings, and that are likely to have similar benefits for the horizontal construction industry. Some are technological innovations, others relate to the project delivery process, and still others are about the way people relate to projects.
The great majority of recent technological innovations that have been adopted in the vertical construction arena have also been used, when appropriate, in the design and construction of highways. Examples of such individual technological innovations include: high performance steel and concrete; high durability concrete; composites materials; concrete, admixtures, and form systems that allow removal of forms and progress of construction in greatly reduced time; a variety of energy dissipation devices that enable structures to resist extreme events; embedded sensors for real time concrete strength evaluation; scissor lifts; and GPS and laser technology for control of construction equipment. The most striking finding of the Scan may well be the fact that most of the innovative ideas with potential benefits for the design and construction of highways are not about individual technologies but about the project delivery process and associated issues.
The sections that follow present a synthesis of the Scan Team findings where each of the innovative ideas ("nuggets") identified is described, its benefits are outlined, and any implementation issues are noted.
3.1 Use of 3-D Models
3-D modeling software can be used to model accurately and in complete detail any construction project. A 3-D model is a tool that defines and communicates the architect's design vision to the various stakeholders. It centralizes the building process in a unique digital document that can be used for all phases of design, procurement, construction, and operation. Its many benefits include the following:
Owners who often have difficulty visualizing a proposed design from 2-D blueprints can now view in 3-D all aspects of the design, request changes, and see those changes made.
Engineers from various disciplines can provide their individual design components to the model, and potential conflict areas can be identified and resolved well before the project is under construction.
Structural elements can be designed, analyzed, and detailed for fabrication directly and seamlessly from the 3-D model.
3-D modeling also facilitates constructability reviews, the objective of which is to identify problems before they are encountered on site.
Errors during the construction phase due to the workers' inability to read (visualize) the plans are reduced, improving the likelihood that the final product will actually be what the architect and engineers designed.
One notable example of 3-D modeling is the structural frame of the new Soldier Field1 in Chicago. Thornton-Tomasetti performed the main structural analysis for the stadium framing with SAP2000 (Computers and Structures, Inc.) for 3-D analysis. To accelerate the steel fabrication and erection process, Thornton-Tomasetti used Xsteel 3-D-modeling software (Tekla Corporation) to produce a full-size, annotated computerized model. Once the model was created, piece drawings for fabrication and general-arrangement drawings were produced automatically. Generating 3-D models for each of the stadium's four quadrants, Thornton-Tomasetti was able to prepare documentation for the steel beams, beam sizes, member forces and camber required for each beam and column. Steel fabricator Hirchfeld Steel Co. Inc. used these 3-D models to complete the connection detailing, prepare shop drawings, and operate the computer-controlled machines used to cut and punch the steel. As an added benefit, the 3-D geometry of the steel work was available to Permasteelisa Cladding Technologies, facilitating the design and assembly of the stadium's non-rectilinear panelized cladding system. Permasteelisa utilizes the 3-D modeling program CATIA in the design and production of its cladding systems.
As mentioned above, a major benefit of using 3-D digital representations of construction projects is the ability to communicate graphical project information to all. In addition to these visualization benefits, 3-D digital representations of construction projects can be used at all stages of the life of the project: preliminary design; detailed project design, including geometry definition, structural analysis, and quantity take-off; constructability review; estimating; bidding; construction; definition of detailed scope of work for specialty subcontractors; fabrication; documentation of change orders and as-built project; commissioning; operation and maintenance; retrofit and modifications; and demolition. Such 3-D digital representations of construction projects can help detect conflicts, interferences, and incompatibilities at an early stage, achieve improved tolerances and quality, and reduce change orders and rework. They serve all the stakeholders involved throughout the life of a project and facilitate cooperation among them. For that reason, the use of 3-D model representations for construction projects carries the promise of delivering the benefits of interoperability, including the elimination of multiple data entry phases and costly errors and incompatibilities they may introduce. Furthermore, such 3-D models have the ability to accurately represent complex geometries, and provide a library of reusable components and modules which could streamline the design of projects involving prefabrication.
Several implementation issues need to be addressed when one considers using 3-D modeling in the design and construction of highways. First, the state transportation agencies need the necessary software and hardware infrastructure for these models. It should be noted that platforms exist which allow full visualization and annotation of 3-D models without requiring that the full-fledged graphics application be present on the computer. Next, it is necessary that all state transportation agencies personnel involved in the review of the design, the bidding process, the construction, and the operations and maintenance of highway projects be trained on the use of these tools. The same goes for designers, estimators, contractors, subcontractors, and all field personnel. Finally, the issue of ownership of the 3-D model needs to be clearly settled, the current trend being that ownership of the model rests with the project owner.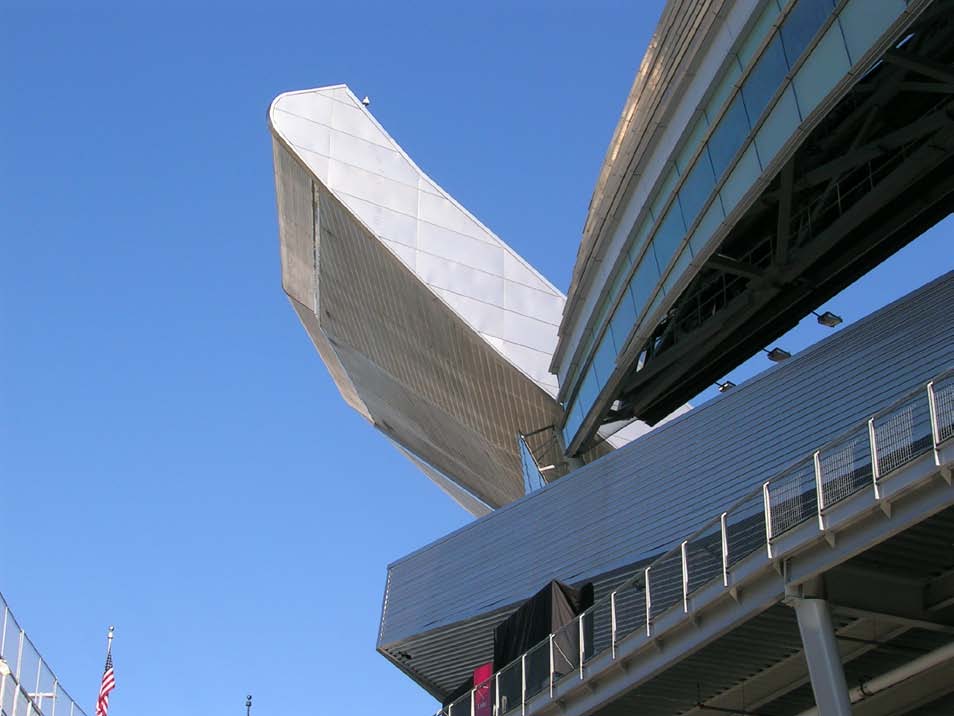 Cantilevered seating, Soldier Field Stadium
3.2 Use of 4-D Models
The 4-D computer modeling process integrates 3-D modeling with the fourth dimension - time - to improve communication, coordination, planning, and execution of construction projects. The 4-D software in effect generates a sequence of configurations of the project representing its status through time, as determined from the schedule and the 3-D model, thus creating an animation of the construction process. In the vertical construction industry, 4-D software is being used on both remodeling and new building projects.
An example cited during the meeting is the Project 4-D software2 by Common Point Technologies used on several hospital rehabilitation projects in California and on the new Walt Disney Concert Hall. The advantage of this 4-D software is that it is compatible with most scheduling software. On the hospital projects, 4-D modeling helped the CM team explain proposed construction sequences and communicate several "what if" scenario alternatives to hospital administrators and staff, as well as to construction field personnel. This assuaged one hospital administrator's fears that the renovation activities would completely disrupt her health care operations. The 4-D model showed where and when - by actual calendar date - each ward and individual rooms were scheduled for renovations to minimize disruptions to specific hospital operations. On the new Walt Disney Concert Hall project, 4-D modeling identified a potential conflict between steel erection and the future installation of a large HVAC unit.
The benefits of using such 4-D software are many. 4-D modeling allows communicating actual construction sequences. It helps in detecting problems due to the geometry. For example, if a piece of equipment is to be installed at a given time, the configuration of the partially constructed project at that time must be such that it is actually possible to bring the equipment in. More generally, 4-D software can help detect constructability problems, interferences among trades or subcontractors, and interference between moving equipment (e.g. cranes) and on-going activities. Anticipating and addressing such problems contributes to safety on the construction site, and enhances coordination among subcontractors and between the owner's operations and construction. 4-D software can show when different portions of a project, such as lanes in a highway project, or rooms or offices in a building project are in or out of service. It can therefore help detect situations where the construction sequence conflicts with desired operational characteristics. Furthermore, simulation of changed conditions (e.g. weather) is straightforward.
Currently, highway contractors on most construction contracts are using scheduling software to plan, track, and control the construction activities. These schedules could be easily integrated with a 3-D design to produce a 4-D model for highway projects. Some potential benefits of including the time element are: analyzing traffic control sequencing/detour impacts during peak traffic periods such as tourist seasons, special events, etc; determining weather impacts on specific construction activities; and identifying and tracking schedule impacts due to multiple subcontractors.
In order to expand the use of 4-D modeling in the horizontal construction industry, it is necessary for the industry to first embrace the use of 3-D design modeling.
3.3 Web-based Project Management Systems
Web-based project management (PM) systems use project collaboration software to provide access for all parties (design consultants, contractors, subcontractors, managers, et al.) on a large construction project to a secure, project-specific website or collaboration space in order to conduct all daily project management/administration activities. Requests for Information (RFI), material submittals, and other PM information can be directed to the applicable decision makers, and an audit trail of their decisions can be obtained. Invoices can be submitted, reviewed, and processed. Correspondence is exchanged and archived.
The Scan Team was briefed3 on the use of a web-based project management system on the Chicago Transit Authority's (CTA) 5-year $2.1 billion Capital Improvement Program (CIP). The key software features needed to support the program goals were identified and the capabilities of one such system, the Citadon™ ProjectNet® Docs solution, were demonstrated. The Application Service Provider (ASP) approach minimized implementation time and contained costs. As an ASP, Citadon provides and runs the project management software on their servers, provides the data storage, manages server and software maintenance and upgrades, and handles data backup and disaster recovery. All users access the software and data via the Internet. The system provides "private" areas on the website for collaboration between general contractors and their subcontractors, as well as between design consultants and sub-consultants. The system provides benefits to all users. The system provides access, accountability, and an audit trail.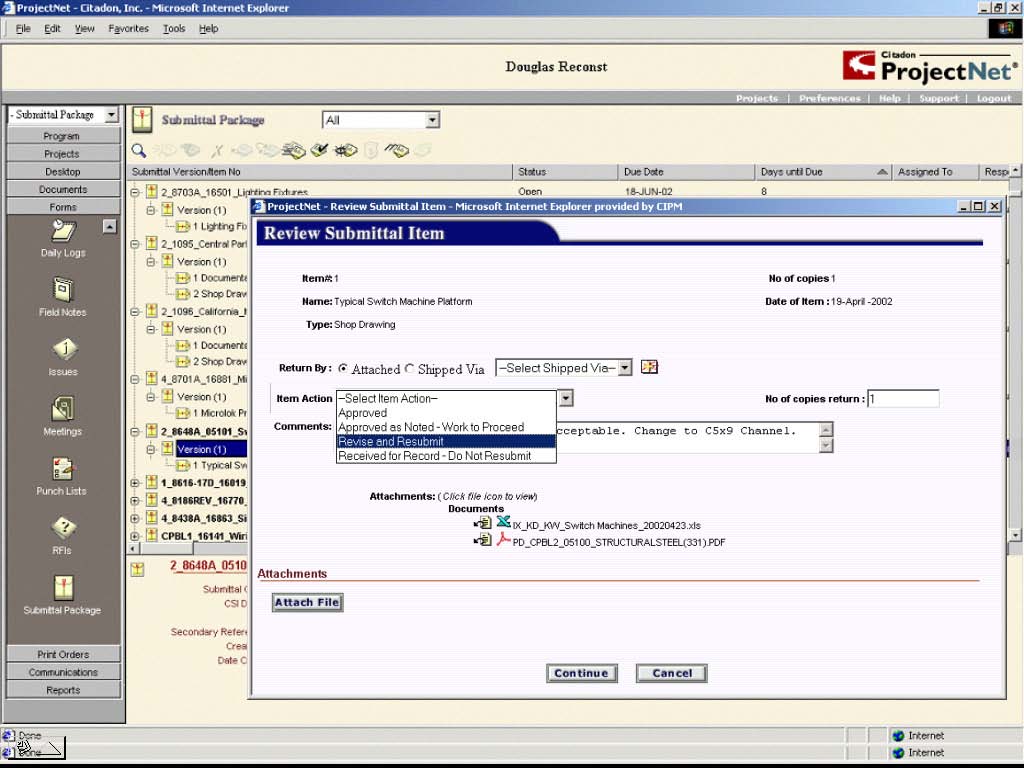 Sample screen of a web-based project management software (Courtesy Kristine Fallon)
As a result, the CTA CIP is realizing quantifiable benefits of increased productivity and reduced cycle times. CTA senior technical personnel are processing two-and-a-half times as many RFI's per business day per person and responding 18% faster using the web-based system. In addition, the system contributed to the ISO 9001-2000 registration for the CTA quality management system for engineering and construction operations. The Illinois Road and Transportation Builders Association is encouraging other transportation agencies within the state to adopt the CTA system and approach.
The main benefits of such systems are increased productivity, reduced cycle time, and elimination of multiple iterations of the work process for project management, for RFI processing, and for invoice submittal, processing, and payment operations, by allowing the members of a geographically distributed group to interact as if they were co-located. The use of web-based communications provides immediate access to accurate and complete project status.
Similar web-based project management systems are being used on several highway mega-projects. Parsons, Brinckerhoff, Quade and Douglas, Inc. used ProjectSolve in the reconstruction and widening of 23 miles of Interstate 10 (Katy Freeway) in Houston, Texas. Turner Construction Company uses a customized version of the software Prolog - dubbed "Turner Talk" - in the construction of the Miami Intermodal Center at the Miami International Airport.
The costs associated with implementing and managing web-based project management systems on both vertical and horizontal construction projects currently limit their use to large multi-contract long term projects. An article in the October 11, 2004 issue of Engineering News Record concerning web-based collaboration software noted that adoption is still far from universal and is most applicable to high-value, long duration projects that stress collaboration. Also, it is probable that Internet service requirements and availability limitations currently preclude its use on rural projects.
The use of web-based project management systems will likely increase with the next generation of such systems that are being developed by several vendors. They are expected to be less costly to implement, to require less training, and to be suitable for medium-sized vertical and horizontal construction projects. Actual use will require access to reliable high-speed Internet service.
3.4 Early Contractor Involvement
As vertical construction is typically developer-driven and cost (as related to time to completion date and future profit potential, i.e., when the revenue stream can begin) is usually the most important element to the developer, building developers usually assemble and bring the full team together at an early stage in the project. This allows contractors and material suppliers to assist in suggesting and evaluating design, finish, and construction process alternatives, and in reviewing the design for constructability and completeness. This also allows the developer to benefit from the contractor's knowledge of current and projected market and pricing conditions, including labor, material, and equipment availability.
One of the reasons that this approach is effective in the vertical construction industry is that there are generally no restrictions on the pre-assembly of a project team, including identifying preferred and qualified short-list bidders for various services. Such early involvement is almost required in order to ensure a successful Design/Build approach to project contracting, as the owner and designer must be able to review and approve drawings for constructability and completeness much earlier than in the typical Design-Bid-Build process.
This approach provides many benefits: it takes advantage of the contractor's technical and market knowledge, which contributes to reduced cost and risk and enhanced project quality, and it removes most major reasons for future claims. A recent Construction Industry Institute study reported on at the meeting has shown the benefits of early collaboration.
The concept of early contractor involvement is "potentially adoptable" in the design and construction of highways. Some safeguards will be required in order to ensure that the bid process remains "clean", and that proprietary ideas and concepts can not be adopted by others as a result of open discussions regarding alternatives solutions. Such safeguards have already been demonstrated to work in practice both within the vertical construction industry and in some State highway projects.
3.5 Risk and Reward
Risk and reward can be very high in the vertical construction market. Very tall buildings and those that push the envelope of previous practice bring even greater risk and reward. Pressure is put on the schedule by the desire of the developer to start collecting rent, or by the developer's fear of market evaporation. Also, the developer typically desires to extract the maximum revenue from a piece of land. Sometimes, the desire to break records or to make an aesthetics statement - which bring their share of financial rewards - will be a driving factor. All these factors tend to lead to a high degree of innovation in vertical construction sector.
It is important to understand the relationship between innovation and risk and reward. In essence, all innovation carries risk. However, innovation also carries a chance of being very beneficial, in which case it is rewarded. In the vertical world, innovation can be the difference between success and failure, and the vertical industry appears to thrive on innovation.
Most vertical construction follows a Design/Build process. The owner/developer hires a team to design and build the project. The contractor enters the project without a completed design, accepts the project with many unknowns, and is therefore at risk. Budgets and time schedules are established, and the construction team must work and innovate in order to build the project on time and within budget. Saving time or money typically results in reward for the contractor.
This concept was a prominent theme on many of the vertical projects involving innovation. Examples included: innovative construction sequences (top-down erection of a steel frame in Boston, and up/up construction of the Westin Kuala Lumpur, which essentially involves starting the building's structure at two locations - at the bottom of the garage and at the ground floor level, once the excavation and foundation system are finished - and then progressing simultaneously upward); wind tunnel testing on a series of scale models that differed slightly from each other in order to minimize building forces on Burdj Dubai, the tallest building in the world; using the "phantom equity" concept (bonus based on the company's stock performance) to motivate and create a sense of ownership among the members of the design and construction team; and using innovative contracting such as negotiated guaranteed maximum price with a shared savings clause to align the interests of the owner with those of the contractor'
The degree of flexibility allowed by the contracting rules has a major influence on innovation. There are currently several contracting methods and provisions that allow innovation at the risk of the contractor. One such method, Design/Build, is currently being used in many state highway agencies.
Another approach that can facilitate innovation is construction value engineering (VE) which is currently allowed in most states. Value engineering allows the contractor to deviate from the plans and/or specifications in order to save cost. If the state approves the VE proposal, the cost savings is then split between the owner and the contractor. One of the shortcomings of the way construction value engineering proposals are currently handled is that it only allows the successful bidder to be innovative after the project is awarded. If all bidders were allowed to offer VE proposals at the time of the bid, all bidders would have a chance to propose innovation. Opening the construction VE process to include proposals at the time of the bid could provide more opportunities for innovation. Awarding the contract based on the lowest cost innovative response would provide the owner the maximum cost savings.
An alternative bid is similar to bidding VE proposals, but could also provide additional flexibility and innovation. Some, but not all, contracts have provisions for alternate bids such as asphalt versus concrete paving or steel versus concrete bridges. States could open the bidding process to accept bid proposals that not only suggest these types of alternatives, but also changes in the terms and conditions of the contract. Appropriate clauses must, however, be found to ensure that the alternate solution proposed is equivalent to the original project specification in terms of performance as measured in terms of quality, capacity, durability, and safety.
3.6 Process Flexibility and Opportunity for Innovation
As stated previously, vertical construction is mostly developer-driven and associated with profit motivation. The private sector procurement and contracting approaches offer a great deal of flexibility, which in turn provides many opportunities for innovation, streamlining, and alternate solutions, all of which can result in cost and time savings.
Design/Build is used extensively in the vertical world for these reasons. Other vertical construction approaches also can provide these same opportunities. The Guaranteed Maximum Price (GMP) concept is a good example of this. As Harry Walder (Walsh Construction) said at the Chicago Scan meeting, 'Fixed fee, fixed insurance cost, fixed general conditions, short-listing process - There is no incentive for me to do anything but to be up-front and honest and make the job a total and complete success'. The GMP concept allows a contractor to be brought in early in the development of a project and have valuable input into the design. Constructability, value engineering, and process economies, all become part of the development process in a way that simply cannot be done in the Design-Bid-Build world.
A critical element that needs to be addressed to provide incentive for innovation is the need to have appropriate risk sharing mechanisms. Contingency pools where a shared savings of the contingency is available could help temper this risk. On high risk items (utility relocations for example) the work involved can be included in a contingency pool and, if the contractor can provide innovative approaches to utility relocation that expedite the process and yet save cost, the contractor could share in the savings of the contingency.
The vast majority of highway construction projects follow very traditional Design-Bid-Build processes. Inherent in this traditional system is a very rigid approach that often limits opportunity for contractor innovation. Currently, many highway agencies are experimenting with other contracting options that do allow for greater flexibility. These include the Design/Build procurement process, opportunities for bid alternates, and other alternative contracting mechanisms.
While there are significant differences between the private sector and governmental agencies in terms of how they operate, there are approaches to providing flexibility and opportunity for innovation that can be taken from the vertical construction industry and used, with minimal modification in certain circumstances, in the highway construction industry.
Many elements of Design/Build, for instance, can be integrated into traditional Design-Bid-Build to provide some of the same benefits. For instance, pre-bid conferences with individual contractors with confidential questions are being utilized in Design/Build, and are used extensively in the vertical construction world. Highway agencies need to find a way to allow contractors to ask questions about innovation to ensure that their ideas will be accepted, without fear that they will be given to all other contractors bidding on a particular project.
3.7 Ownership of Process - Roles and Responsibilities
With alternative project delivery systems frequently used in vertical construction such as Design/Build and Construction Manager at Risk, project teams are typically formed early in the process to work together to meet project goals. The contractor's input is provided throughout the design process. The designer's responsibility is to the contractor as well as the owner. Specialty contractors and material suppliers can be brought early into the process as well. Owner representatives starting with a project manager with "cradle to grave" responsibility have more accountability and motivation for ownership of the project. In the ideal situation, the entire team works together from design through construction to meet project goals.
Design/Build contractors take on responsibilities for interface management and for quality that owners or their consultants have in a traditional Design-Bid-Build system. The Design/Build contractor becomes the integrator of the project, including the design of all systems and all the phases of construction, and has the responsibility for a quality end product, along with the documentation of the entire process.
Under these circumstances, all the members of the project team have the opportunity throughout the life of the project to provide input, to suggest improvements, to introduce innovations, and to contribute to the solution of unanticipated problems. Each team member has a stake in the successful completion of the project. These factors lead to the creation of a sense of commitment to, and pride in, the project, accomplishment, and ownership of the process.
This is to be contrasted with the traditional Design-Bid-Build project delivery system, where the process is segmented in phases, with well-defined actors responsible for each phase. This is typically a hand-off system where each group specializes in its part of the process or phase, completes it, and hands off the project to the specialists for the next phase. While this system provides owners with the maximum control of their project and may limit risk, it isn't conducive to the development of a sense of ownership by the project participants.
The approach typically used in vertical construction provides numerous benefits, both to the project and to the project participants. The project (and therefore the owner) benefits from the knowledge, experience, expertise, ingenuity, and insight of all the project team members. Designers, contractors, specialty contractors, and owner's representatives all feel responsible for the success of the entire project, not just of one of its phases. Attitudes change, cooperation is increased, decisions are made faster, and adversarial relationships tend to vanish. Change orders, claims, and rework tend to diminish. These factors all contribute to gains in terms of cost, schedule, and quality.
During the meetings with the leaders from the vertical construction industry, numerous examples demonstrating successful outcomes of this approach were presented and discussed.
Widespread implementation of this approach is strongly related to the issue of project delivery system. When regulations allow alternate project delivery systems such as Design/Build, implementation of this approach can be straightforward.
Partial implementation is possible even with restrictive regulations. For example, instead of the hand-off arrangement typically used in horizontal construction, the owner can use an approach that is closer to the "cradle to grave" model. It starts with the assignment of a project manager who is responsible for the project through all of its phases. For larger projects, additional members can be added to the project manager's team. Specialists for different phases, such as design and construction, can be given larger roles to provide review and input throughout the life of the project. Also, integrated teams can be developed, mixing owner's staff and consultants. Project team members can also be assigned from different departments of the owner's organization. These steps can be taken to enhance ownership of the process without changing from a traditional Design-Bid-Build contracting approach. Many owners have already implemented such steps and/or alternative project delivery contracting systems.
3.8 Aesthetics
The vertical construction world invests considerable money and effort in addressing aesthetics, especially in the private sector. Generally, developers have found a significant economic value to aesthetics. Aesthetic enhancement of a structure results in higher revenue through rents or sale, and the marketplace has a determining influence on aesthetics. Sometimes aesthetics are meant to create a "monument" for a wealthy individual or business.
Over the years, aesthetics have focused on styles which change: classical designs, skyscrapers, and now the flowing Gehry designs. In recent years for large public projects, naming rights have been sold to generate additional revenue. The desire to sell naming rights provides incentive to add aesthetic values if this results in greater naming rights revenue. Artwork is often included in public buildings, sometimes as a percentage of project costs (set-asides for the "arts" required by some jurisdictions).
Vertical construction projects are typically implemented by a team of discipline specialists. The most successful projects include a team of financial, architectural, engineering, and operating and maintenance specialists. The architectural partner is responsible for aesthetics and provides the training and talent required for this objective.
The benefits of incorporating aesthetics in designs are many. Incorporating aesthetics in designs increases the attractiveness, the desirability, and the economic value of projects, and can serve to establish the identity of a district or city, and represent a statement of its spirit. Furthermore, much of the aesthetics features of most projects can be enjoyed by the general public, and aesthetics thus contributes to the quality of life.
The profit test to measure aesthetic improvement is lacking in public horizontal construction. However, since we are dealing with the same population in the horizontal world and the vertical world, it is likely that aesthetic enhancements to roads and bridges are valued by the taxpaying public, our investors and "owners." In some cases aesthetic enhancements may take the form of a monumental bridge or parkway. More often it is good design labeled as "context sensitive," "lies easily on the land," "streetscaping," or "landscaping" achieved through public involvement.
Incorporation of aesthetics in highway construction is practiced to some extent. In the public horizontal construction world the test is not profit but political and public acceptability. With the strong pressure to minimize taxes, if aesthetics spending is not valued by public, there will be objections, and this will soon be reflected back to public decisions, especially in the very visible and accountable local government world. For privately funded highway projects, developers will certainly consider whether aesthetic enhancements result in greater profits. For example, most toll roads are attractively landscaped and maintained to help attract paying users. Naturalizing right-of-way and medians - e.g., wildflowers - provides "aesthetics" and also minimizes maintenance/mowing needs.
Implementation of this concept in horizontal construction can become more widespread if ideas such as those listed below are considered:
Recognize that aesthetic enhancements add value to horizontal projects and design accordingly.
Identify appropriate "monument" and "gateway" projects and develop accordingly. Not every horizontal project should be a "monument" or "gateway," just as every building is not an icon.
Include architects, landscape architects and artists on horizontal project teams for significant projects. Their expertise should be included throughout the project development cycle, not just at the end.
Organize design competitions.
Seek opportunities to include aesthetics in environmental mitigation features. For example, wetlands can have natural, flowing shapes. Holding ponds can include landscaped paths where appropriate. Some historic preservation projects can include public access and education.
Seek simple, "form-follows-function", "lies-easily-on-the-land" solutions for all projects. This can add aesthetic value to small as well as large projects.
Solicit public involvement in projects. Community-sensitive design needs to be attractive to the citizens, not only artists and experts. Ties to local interest and historic themes can be effective.
Include art in projects and expand on the concept of applying some project funds to art. A recent engineering company advertisement refers to "Creating Bridges as Art." In Minneapolis, each of the recently constructed Hiawatha Light Rail Line stations included dedicated funds for art. The result has been well received by the public.
Consider privatizing some projects -- this will automatically include a marketplace test for aesthetics.
Rather than legislate aesthetics, which may work in some cases but could also result in wasted funds, inappropriate designs, and added-on decorative features that provide little real aesthetic value, there is a need to initiate studies to identify what works and why, and to share these ideas and encourage their use through example and incentive.
3.9 Marketing and Communications
The success of many projects depends on funding and public support, which in turn often depends on how communication with the public, the elected officials, the decision makers, and the media is handled.
The experiences and recommendations of the vertical construction industry with regard to communication and marketing tend to validate and reinforce the lessons learned from the greatest successes (and failures) in highway construction. Specifically, proactive communications with the public can be vitally important to the overall success of highly visible and/or controversial projects. The recommendations offered addressed the following broad themes:
Establishing and maintaining credibility.
Communicating the value of the project.
Ensuring that media coverage is more help than hindrance.
Avoiding mission expansion (scope creep).
Building a sense of pride and ownership.
With regard to credibility, the need for truthfulness, particularly for project costs, was stressed. One speaker put it quite succinctly, stating that "sucker budgets" result in lost credibility. It was also recommended that agencies capitalize on the image of the engineer as trustworthy, credible, and honest.
With regard to communicating the value of the project, speakers stressed the benefits of using 3-D and 4-D models to capture the imagination of the public by helping them to visualize both the end product, and progress toward achieving it. Representatives of the Los Angeles Unified School District cited the importance of communicating the social cost of inaction to make the point that not going forward with a project or delays in going forward with a project will have consequences that are more intolerable than the costs of timely pursuit.
With regard to the media, it was noted that it is wise to avoid attracting too much media attention. When dealing with the media, speakers noted that it is essential to:
Always control the message.
Get your story across as accurately as possible.
Know how to get out the proper message.
Be open and forthright.
Tell the truth.
Use media to your advantage.
Anticipate controversy.
Speakers cited the need to be aware of the potential for individuals and special interest groups to "hijack" a project to advance unrelated agendas, and to avoid scope or mission creep. To guard against this, they cited the need to be aware of the agendas of people and interest groups with whom you must interact, and the importance of learning to say no.
The importance of building a sense of pride and ownership among those involved in and affected by the project was cited by several speakers. To achieve this, speakers advocated being strong self-advocates as well as measures to recognize and give credit to the "unsung heroes" of construction projects. A photo documentary of steel workers constructing the Disney Concert Hall is perhaps the ultimate example of such an effort.4
Virtually all of the communication and marketing practices that were discussed are applicable to highway construction, and many are already used to one degree or another. Communications and marketing campaigns have been undertaken to build or maintain good will in affected communities and encourage transportation choices - such as the use of mass transportation or alternate routes - that will reduce congestion around the construction project. For example Indiana's Hyperfix project, which involved full closure of the I-65/I-70 interchange in the heart of Indianapolis, featured an extensive public relations campaign, including the project signature name and logo, a comprehensive web site, extensive community outreach, multiple media releases and events with media kits, and rest stop displays. Similarly, the high profile project to construct the new Woodrow Wilson Bridge in the Washington D.C. metropolitan area includes an extensive communication and community outreach program, including a project website (http://www.wilsonbridge.com/).
The ideas with the greatest potential for increased use are those pertaining to communicating the value of projects, and building a sense of pride and ownership. In these areas, there is merit in considering expanded use of 3-D and 4-D models, more extensive efforts to communicate the value of highway projects, and particularly the social cost of not pursuing them in a timely fashion, and greater efforts to honor the highway construction workforce. These practices could be especially useful to agencies engaged in highly visible projects where a significant faction of the affected community is opposed to the project. By helping the community visualize the end result of the project and understand that the social cost of delaying or abandoning a project is unacceptable, the highway agency may gain support that will facilitate project completion.
Implementation of enhanced practices to communicate the value of highway projects could be pursued by working with the owners of a small number of high profile/high controversy highway projects - Maryland's proposed Inter-County Connector, for example - to demonstrate the practices.
Highway agencies could implement the idea of honoring the highway construction workforce through awards for quality and by having their public affairs office provide and promote appropriate stories - a day in the life of the construction worker, for example - to the media.

Walt Disney Concert Hall
3.10 Project Management and Project Delivery Systems
The use of Design/Build project delivery is predominant in the vertical industry, which truly promotes excellent team work for the designer and the contractor. In vertical construction the contracting mechanism for retaining the project manager varies. It can take the form of "project manager for a fee" or "construction manager at risk", and some large owners have their own project management team.
The project manager retained for a fee generally acts as the owner's representative and works closely with the Design/Build team throughout the project. He/she makes most of the technical decisions with the owner's consent and gives guidance and recommendations to the owner on financial issues. The owner generally makes all decisions related to the functionality and financial aspects of the project. The project manager prepares project requirements for the owner, negotiates or bids the Design/Build contract, and manages the contract throughout the life of the project.
The construction manager at risk (CMR) bids or negotiates a contract with the owner with a guaranteed maximum price. The CMR assumes all of the risks and potentially also reaps significant benefits (higher profits). The CMR either partially performs the work and subcontracts out the remainder, or fully subcontracts out all work and just manages that of subcontractors to deliver the project. Normally, the designer (architect) works directly for the owner but also works with the Construction Manager to come up with cost effective solutions. In some instances (Turnkey Projects) the designer works for the Construction Manager.
Due to the relatively short life span of vertical industry projects, the project management team rarely changes. This provides better management continuity and knowledge of the project, including decisions and commitments.
Striking examples of successful projects using such contractual arrangements were presented during the Chicago meeting, with teams using the most advanced project management techniques and risk management concepts.
Speakers indicated that such practice obviously lends itself to cost effective solutions and speedy project delivery. With the Design/Build project delivery system, project management is not only efficient but very effective since the designer and the constructor have an on-going dialogue at every step of the way. Managing the project from the conceptual stage through completion of construction by a Design/Build team customizes the solution to the constructor's construction practices, and provides opportunities to introduce innovations and to substantially reduce costs and project delivery time.
For horizontal construction, even though numerous state, local, and semi-private agencies (owners) are practicing a variety of project management and contracting concepts, the majority of them practice the "Design-Bid-Build" and "award to the lowest bidder" concepts. The project management teams in most instances are different for the design and construction phases of the project. During the design phase of the project, the design team prepares contract documents to ensure that most contractors can bid and construct the project. The design is based upon common construction practices, which can stifle innovation, except for the items within the designed details and concepts depicted in the contract documents (specifications, plans and other requirements).
During the last couple of decades several agencies have made significant strides to move towards "innovative contracting" concepts from alternate design by contractors to Design/Build, in order to provide cost effective projects and substantially reduce project delivery time.
The ability to implement the concept of a project management team in charge of a project from beginning to end clearly depends on the project delivery system used. Project management practices may be enhanced as a result of the implementation of practices such as:
Maintain project management continuity throughout the project; i.e. from project requirements (scoping) through the completion and commissioning of the project.
Use web-based project management tools
Adopt either "Construction Manager at Risk" or "Construction Manager as General Contractor" as additional tools for project management and delivery.
Minimize project documentation by requiring documentation of end decisions or end results rather than documentation of all means and methods or other non-productive details, in order to minimize project management efforts.
Adopt the practice of risk-based project management and inspection, instead of managing and inspecting everything with the same thoroughness. Give all responsibility of quality control to contractors and manage/inspect products through quality assurance programs.
3.11 Removing Barriers to Innovation
In the vertical world, the reputation of delivering a good product on time is a key factor for selecting contractors. Contractors that have a bad performance reputation aren't invited to bid on the project. Innovative contractors are valued for the potential they bring to a project to save money and/or time and for their ability of being creative in bringing about other qualities such as aesthetics or function. Contractors work to develop a relationship of trust so that they will be invited to submit a proposal on the next project.
The majority of vertical projects are done on a Design/Build basis without the same type of detailed contract plans and specifications that are typical in highway construction. As a result, the practice of strict adherence to plans and specifications that dominates highway construction is not common in the vertical world. In many cases, the owner decides the maximum price and duration, and the designer/contractor work to satisfy the needs of the owner. Innovation that saves money and/or time or enhances quality is welcomed.
Because public funds are being spent in highway construction, projects are generally awarded based on lowest bid. The role of the State DOT in managing the contract is to hold the contractor to the plans and specifications and not let the contractor manipulate the contract to his advantage. The relationship can almost be classified as one of distrust. There is therefore little incentive for the State transportation agencies to allow innovation on the part of the contractor.
Because highway owners have a public safety responsibility, highways must be built to accepted standards in order to provide the associated level of safety. Deviation from the standard is perceived in some cases as lowering the safety of the facility, and there is always concern that any innovation that deviates from the accepted standards may have safety consequences. The engineer's personal and professional liability is at risk when something outside of the accepted standard is tried. The innovation must be proven to be safer or at least as safe in order to be accepted. The process of proving the safety of a product or technology that has never been tried before can be complicated and time consuming, and may therefore discourage innovation.
The typical fragmentation of the design process in the highway construction world is another barrier to innovation. Many individuals and agencies have a part in the overall project. They represent different areas of expertise or authority and responsibility, and are looking out primarily for their individual interests, and not the interests of the project as a whole.
There are many barriers to innovation within typical transportation agencies. Many of these barriers are related to concerns over risk. These barriers include:
Fear of not following precedent, which could result in potential court action if something goes wrong.
Approval of new ideas, products, or processes may be slow due to the bureaucratic nature of municipal, State and Federal organizations.
Specifications are strict due to problems with past contractors.
Fear of failure for safety reasons.
Concern, as stewards of taxpayer's money, that taxpayers will be left "holding the bag" for contractor's failed innovation attempts.
Organizational resistance due to cultural issues ("we have never done it that way before").
Small contractors are less likely to be interested in large scale attempts to provide innovation - large contractors tend to be more open to warranties, alternative contracting approaches, etc - as risk can be shared over a wider range of projects.
Contractors, in general, are very good at project specific innovation but seem resistant to process change. It may threaten the "old way of doing business that brought us our success."
Leadership does not always provide a culture, particularly in government agencies, where innovation is rewarded and "smart" failures go unpunished.
One of the first things that may be required to overcome the institutional barriers to innovation is a change in organizational attitude. The prevailing attitude is one of risk avoidance. Avoiding or at least minimizing risk to the owner is the focus of the design engineer, and thus explains the detailed nature of contract plans and specifications. Contractors are also interested in risk avoidance. Many plan details, specifications and pay items are the result of contractor input, given to avoid risk.
One idea for overcoming barriers is to provide an incentive for innovation. Incentives and disincentives are already used on some highway construction contracts usually in the form of added pay for finishing early, or payment penalty for finishing late. Vertical construction contractors prefer incentives or shared savings over disincentives. Disincentives occur after the damage is done. The money doesn't solve any problem: it is just punitive. Value engineering is one method already employed that can provide shared saving as a result of contractor innovation. The Port Authority of New York and New Jersey used a risk pool for Terminal 4 at the John F. Kennedy Airport in order to cover unknowns and overruns, with the stipulation that anything unspent would be shared equally between the owner and the contractor. This provided a strong incentive to find ways to save money.

Structure of Terminal 4 at the John F. Kennedy Airport
3.12 Streamlining
As mentioned earlier, the vertical construction industry utilizes streamlining for a number of design and construction related activities. Streamlining design documents into construction documents to bypass shop drawings saves a number of hours and potential errors. For the purpose of commissioning, the vertical industry often uses the practice of bringing on board during the construction phase the professional who will perform the operations and maintenance activities after completion. This ensures efficient service and appropriate knowledge for the post-construction phase through the warranty period.
Streamlining techniques are also used for insurance coverage. One policy is written to cover everything in the project, thereby grouping all items into one insurer's policy.
Such streamlining often yields substantial cost and schedule reductions, and quality enhancements.
The highway construction industry is also continuously seeking better and more efficient methods of design and construction. The term streamlining itself has not always been used for documented advances, although there has been a strong push for efficient methods in accommodating environmental requirements. The number of streamlined activities in horizontal construction is large and growing, and this report may contribute towards more. The three streamlining ideas outlined above clearly have the potential of benefiting the horizontal construction world in the areas of construction-ready design documents, commissioning, and all-inclusive insurance policies.
3.13 Procurement
Time and profit guide the procurement process in vertical construction projects. There is an overriding concern that delays or market variability may affect the economics of a project before completion. Efficient construction is the mantra in the vertical world and applies to both the costs of construction and its duration. The procurement of architectural, design, and construction services are more varied and interrelated than for horizontal construction. However, the selection process is less constrained by laws because of the near absence of public or government involvement. The owner, who is generally not a government agency, has more freedom and discretion in forming agreements with the providers of architectural, design, and construction services.
As noted earlier, Design/Build or Construction Manager at Risk procurement is predominantly used in vertical construction. In some cases, the concept of a shared risk pool is used. Numerous benefits results from such a flexible approach:
Existence of a motivation to introduce innovation.
Existence of sufficient flexibility to implement alternative solutions and value engineering.
Possibility of streamlining the design and construction process in areas such as construction-ready design documents and all-inclusive insurance.
Creation of conditions that allow ownership of process.
Improved communication among the members of the Design/Build team, including the possibility of early contractor involvement, which allows taking advantage of the contractor's knowledge and insight for constructability review and other project-related issues.
Reduction of change orders, claims, and rework.
Reduction (or even disappearance) of adversarial relationships among the Design/Build team members.
Creation of the conditions for cost effective solutions and speedy project delivery, including fast-tracking (i.e. construction of a portion of the project before the design of subsequent portions is finalized).
In highway projects, the procurement of design and construction services is predominantly achieved via Design-Bid-Build and uses two distinct contracts. The procurement of design services uses a qualifications-based selection process. The owner, who is typically a government agency, determines the best design consultant based on qualifications. The price of the contract is then negotiated after selection. The procurement of construction services is overwhelmingly accomplished via the low bid method. Because most roadways are owned or operated by federal, state or local governments, their choice of procurement methodologies is dictated by law, which usually stipulates award of the contract to the lowest bidder.
The exception to this rule in some states is Design/Build projects, where the design and construction portions of a project are combined into one contract. This option is exercised primarily to speed the construction of the project or to place the risks on the contractor.
As noted in previous sections, the public horizontal construction world tends to be risk-averse, mainly because of concerns for public safety and for liability. Also, it seems that the premium put on timely or early completion of highway projects may not be as high as in the vertical construction world, since the corresponding benefits to the highway users do not appear in the balance sheet.
While a number of states have introduced ways to implement Design/Build and other alternate project delivery systems, the fraction of projects using such procurement methods is still small. In view of the compelling and substantial benefits the use of such procurement methods can accrue, it seems worthwhile to promote a wider implementation of these more flexible and more nimble procurement methods. One approach would be to document that the interests of the tax paying public are well served by these approaches, that the public gets a better value for its money, that no additional risk is taken on by the state transportation agency, and that the safety of the public is in no way compromised.
3.14 Life-cycle Considerations
The durability and long-term viability of building projects is extremely important to owners. In the vertical industry, initial costs are important but life-cycle costs are equally important, and life cycle considerations are built into the business model. The owner has discretion in spending additional money during construction if the decision pays for itself over the life of the building. Innovative materials and processes that increase value and potential rental income or reduce future operating costs (for example through increased energy efficiency) are constantly sought out, and their implementation is rapid. Value is easily quantified by comparing initial cost to cost of maintenance, operation, and possible/potential increased revenue for owner.
In horizontal construction projects life-cycle costs are often considered, especially on larger, high-visibility projects. Prescriptive construction specifications are standardized and intended to ensure long-term durability. Life-cycle costing involves a multi-disciplined approach where designers work with material experts, construction engineers and maintenance personnel. Most decisions with regard to life-cycle costs are made during planning and design. An important factor in life-cycle cost decision-making is the institutional knowledge of the designers and owners involved in horizontal projects.
In order to get more widespread acceptance of life-cycle cost innovations in highway construction, it will be imperative to establish a sound economic rationale for decision-making. The horizontal construction industry should be encouraged to consider proven innovations from other construction industries if there is a potential for reduced life-cycle costs and no risk to durability. There is significant potential for life-cycle cost improvements, especially in the area of defining and placing realistic costs on indirect, but very real costs such as user delays, traffic interruption, accidents on detours, and the like. Implementation could come from the establishment of guidelines and recommendations by leadership entities such as the FHWA and AASHTO.
3.15 Insurance Impacts
Vertical construction projects typically require a thorough risk management review and a frank assessment of options for risk mitigation on a continuing basis. Insurance coverage and loss control activity are planned and pre-selected elements of risk mitigation. Owners must take into consideration the potential for removing incentives to good loss control practices by removing the participating firms' responsibility for providing their own insurance. For some firms it is a hallmark of their own internal strategy to manage loss control well in order to obtain advantages in premium pricing. There are also as many risk management issues for off-site activity as for on-site, given the adoption of pre-manufacturing and modularizing techniques (especially for buildings), with just-in-time delivery; and many of these off-site activities present loss control challenges. These factors may be disincentives to adoption of an owner-controlled insurance program (OCIP) approach. Icon facilities, ranging from very high rise buildings to stadiums, to regional transportation terminals, to shopping centers, present special risk management challenges because of the need to address malevolent attack risks, in addition to the array of natural and technological hazards. All owners of such projects are looking for a clearer identification of the role of government in underwriting such risks.
In highway construction, design consultants and construction contractors provide their own insurance, although the extent of coverage is specified (as minimums) in the contracts by the procuring government agency. On large projects, or programs of projects, transportation agencies are drawing from experiences with 'wrap up' insurance, or OCIP which have been evolving for 30 years in special transportation projects or in non-transportation projects. The drivers for adoption of such programs are usually two: cost savings, and removal of a potential barrier to collaboration, especially during the planning and design phases. The types of coverage elected for these OCIP arrangements vary, but almost always comprise general liability, professional liability (commonly, 'errors and omissions') for the professional services firms, workers compensation for the construction companies and site services providers, builders risk for the construction companies.
All of the vertical construction industry lessons listed above apply to the highway and bridge owners, especially those with large or mega-projects, or high-profile bridge projects. There is no 'one size fits all' for OCIP or for risk management driving the configuration of insurance coverage. It is essential to perform risk management, and to continually assess the changing risk profile of major projects.
---