Construction FHWA Sponsored Web Based Training Courses (WBT) with Highway Industry Associations
Courses were developed in partnership with Associations to provide training that is targeting enhancing the knowledge of the construction contractor's workers and their equipment operators to provide them the knowledge on how to properly use their equipment for construction and preserving our nation's highways.
Courses are free to take and are available at any time on-line.
American Concrete Pavement Association (ACPA)
Best Practices for Constructing Smooth Concrete Pavements - This course covers how to construct smooth concrete pavements. By defining roughness to why smooth pavements are important. This training covers smoothness measurement, the "10 commandments" of smooth paving, and quality control methods.
Best Practices for Handling Aggregates for Concrete Paving - This training covers basics of aggregates; acceptance criteria; tips and techniques for configuring a concrete plant site; stockpile management best practices; proper handling between stockpiles and concrete plants; and what can go wrong if poor techniques are used.
Proper use of stringless paving technology: This course provides participants with an overview of the technology, and then, explains how stringless paving works; what the contractor's equipment operators and crew as well as what the agency field personnel need to know; and recommends best practices for working with stringless paving technology in order to yield a quality concrete pavement
Safety on concrete pavement construction sites: This course was developed specifically for training anyone about safety concerns while being on a construction site.
Register for the courses at: http://acpa.scholarlab.com/. Enter coupon code: Pavement1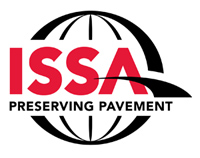 International Slurry Surfacing Association (ISSA)
How to Construct High Quality Slurry Seal and Micro Surfacing Treatments - Part 1: This course provides practical information to assist in the construction of high performance slurry system projects (slurry seal and micro surfacing). This module provides an educational overview that could be used by persons possessing limited familiarity with slurry system methods.
How to Construct a High Quality Slurry Seal and Micro Surfacing Project - Part 2: This module focuses on construction best practices of both slurry seal and micro surfacing. Contractor performance along with owner agency oversight both plays an important role in the successful outcome of slurry systems projects.
How to Construct High Quality Chip Seal Treatments: This module focus on best construction practices for chip seals, Course provides an overview of chip seal treatments and why they are needed. It discusses selecting the appropriate materials for chip seals, and how to store, transport, and apply sprayed asphalt treatments. This module also explains some best equipment practices.
Register for the courses at: http://www.slurry.org/index.php/education/training-courses/web-based-courses
The National Work Zone Safety Information Clearinghouse
Comprehensive resource on work zone safety technology.
Information on the training is available at http://www.workzonesafety.org/
The Society for Protective Coatings (SSPC)
Bridge Preservation Web Based Training Courses - The Society for Protective Coatings is offering three web based training courses covering topics in bridge preservation. This training is sponsored by the Federal Highway Administration and is offered free of charge.
Safety During Bridge Preservation
Coating and Painting Bridge Superstructures
Sealing and Waterproofing Bridge Decks