Publication Number: FHWA-HRT-12-007
Date: October 2011
Printable Version (.pdf, 2 mb)
Fast 14: Accelerating Bridge Replacements in Massachusetts
Meet the "Fast 14." Using accelerated bridge construction (ABC) techniques and materials, the Massachusetts Department of Transportation (MassDOT) replaced 14 bridges on I-93 in Medford, outside of Boston, in 10 weekends between June and August 2011. With associated work such as final paving and lane striping completed by October 2011, the I-93 Rapid Bridge Replacement Project accomplished all of the bridge replacement tasks in less than a year, cutting 3 years off a conventional schedule and greatly reducing the impacts and inconvenience experienced by drivers.
ABC innovations used to speed up the project included design-build contracting, prefabricated bridge elements for the superstructure that were constructed off site and brought to the bridge location ready to install, and rapid-setting concrete. The $98 million project received a $1 million grant from the Federal Highway Administration's (FHWA) Highways for LIFE program, which aims to raise awareness in the highway community so that new technologies can be moved from the state-of-the-art to the state-of-the-practice much more quickly.
Built approximately 60 years ago, the 14 Medford bridges had reached the end of their service lives. Through the Rapid Bridge Replacement Project, MassDOT replaced the bridges' superstructures and repaired the bridge substructures, which were still in good condition. For each replacement, the roadway was closed at 8 p.m. on a Friday and traffic directed to the other side of I-93, where the opposing lanes were separated by a moveable barrier. The existing superstructure was then demolished and the new modular superstructure installed. Temporary barrier systems were erected and line striping performed before I-93 was reopened to traffic by 5 a.m. the following Monday. Additional work such as substructure repairs, barrier installation, and paving was accomplished on weekdays and weeknights, but no work was done during rush hours.
While the roads were closed for the bridge installation, MassDOT implemented local detour routes aimed at minimizing the impacts on traffic. Information on the project was widely distributed to residents, businesses, and commuters through mailings, approximately 80 community meetings and public information sessions, emails, and variable message signs, providing advice on how drivers could best avoid delays.
"Our outreach strategy featured a large social media component, including using Twitter, Flickr®, and YouTube. We also used all of our available State resources, ranging from billboards and messages at toll booths to Highway Advisory Radio and our 511 service," said Richard Davey, MassDOT Secretary and Chief Executive Officer. A project Web site (http://93fast14.dot.state.ma.us), meanwhile, was continually updated with the latest information and offered the opportunity to sign up for customized traffic and project alerts. MassDOT also coordinated with local emergency responders to ensure that emergency services could operate without interruption throughout the duration of the project.
"We achieved a high level of traffic diversion for the project," said Davey. "Our goal throughout was to give people the information they needed to make good decisions, so that they could plan alternate routes and modes of travel."
MassDOT is now conducting a user satisfaction survey for the project. To view the survey, visit www.I93fast14survey.com.
Highways for LIFE sponsored a project showcase on July 16-17, 2011, providing an opportunity for nearly 150 representatives from highway agencies across the country, industry, and academia to learn more about the innovations used in the project. Attendees visited the project site to observe the weekend work in progress and received briefings on how MassDOT successfully used innovations such as prefabricated bridge elements and design-build contracting to accelerate the bridge replacement initiative.
To learn more about the Fast 14 project, visit http://93fast14.dot.state.ma.us. Information on ABC is available at www.fhwa.dot.gov/bridge/abc/index.cfm. For details on using design-build contracting, visit www.fhwa.dot.gov/everydaycounts/projects/methods/index.cfm#design-build. For more information on the Highways for LIFE program, visit www.fhwa.dot.gov/hfl, or contact Mary Huie at FHWA, 202-366-3039 (email: mary.huie@dot.gov).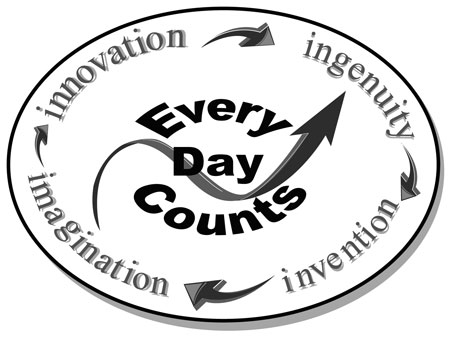 Prefabricated bridge elements and systems and design-build contracting are among the priority technologies being deployed through FHWA's Every Day Counts (EDC) initiative. The EDC initiative is designed to identify proven, ready-to-go innovation aimed at shortening project delivery, enhancing roadway safety, and protecting the environment. For more information on these and other EDC technologies, visit www.fhwa.dot.gov/everydaycounts.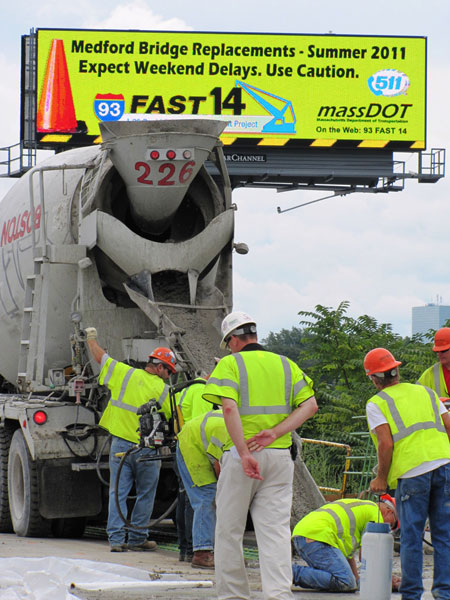 The Massachusetts Department of Transportation replaced 14 bridges on I-93 in Medford between June and August 2011. Photo Credit: © MassDOT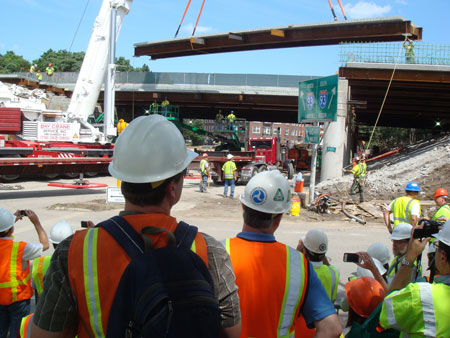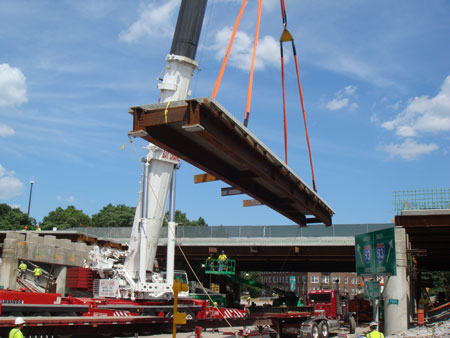 FHWA sponsored a showcase on July 16-17, 2011, providing an opportunity for nearly 150 participants to learn more about the innovations used in the Fast 14 project.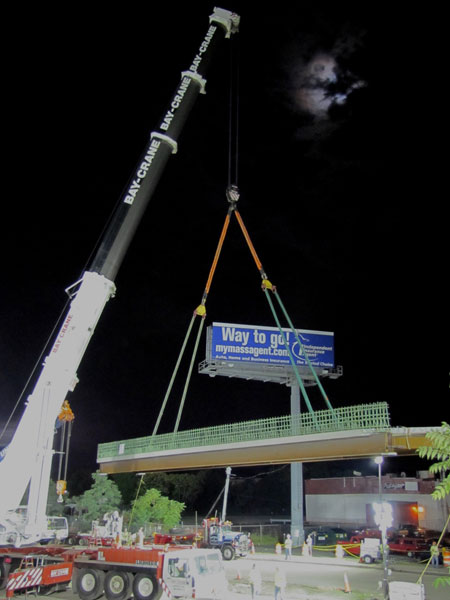 Accelerated bridge construction techniques used to speed up the project included prefabricated bridge elements and systems. Photo Credit: © MassDOT