Publication Number: FHWA-HRT-12-007
Date: October 2011
Printable Version (.pdf, 2 mb)
International Conference on Long-Life Concrete Pavements to Showcase Innovation
From advances in design and construction practices to breakthroughs in materials technology, the International Conference on Long-Life Concrete Pavements will spotlight how to make long-life concrete pavements not just attainable but a part of everyday practice. Scheduled for September 18-21, 2012, in Seattle, Washington, the conference is being organized by the Federal Highway Administration (FHWA) and the National Concrete Pavement Technology Center.
The event is a follow-up to FHWA's 2006 International Conference on Long-Life Concrete Pavements and 2010 International Conference on Sustainable Concrete Pavements.
"Many State highway agencies, in conjunction with industry, are implementing innovative features to achieve long-life concrete pavements that are both economical and sustainable," said Sam Tyson of FHWA. These innovations encompass everything from concrete mixtures and construction equipment to construction process management and testing procedures.
To achieve a long life of 40 years or more, pavements must not exhibit premature failures and must have a reduced potential for cracking, faulting, spalling, and materials-related distress. To be sustainable, concrete pavement design and construction practices must also reduce the carbon footprint resulting from initial construction, as well as future maintenance, repair, and rehabilitation activities. The life-cycle impact, including life-cycle costs and impacts on the environment and surrounding community, should be considered as well.
The conference is targeted at pavement, materials, and geotechnical engineering professionals, including Federal, State, and municipal engineers; consulting engineers; contractors; materials suppliers; and members of academia. Sessions will cover such topics as:
U.S. transportation agency practices for building long-life concrete pavements.
International practices.
Innovations in joint systems, materials, and construction.
Surface characteristic requirements for long-life concrete pavements.
Effective maintenance, repairs, and rehabilitation to extend service life.
Life-cycle cost considerations for long-life pavements.
Lessons learned from early failures of concrete pavements.
Use of precast concrete pavement technologies for longer-lasting repair and rehabilitation of existing pavements.
A mini-symposium on concrete paving durability will be held the last day of the conference. "Concrete durability under site-specific exposure conditions is a primary requirement for achieving long-life concrete pavements," said Conference Cochair Shiraz Tayabji of Fugro Consultants, Inc.
For more information on the conference, visit www.fhwa.dot.gov/pavement/concrete/2012conf.cfm. Information is also available by contacting Shiraz Tayabji at Fugro Consultants, Inc., 410-302-0831 (email: stayabji@aol.com), or Sam Tyson at FHWA, 202-366-1326 (email: sam.tyson@dot.gov).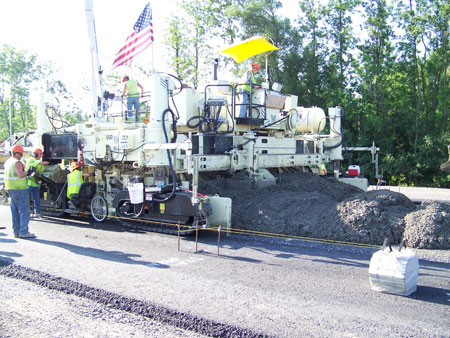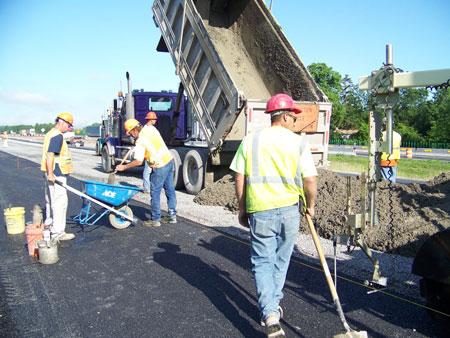 Long-life concrete pavement under construction along a section of I-90 near Syracuse, NY. Photo Credit: © Shiraz Tayabji.