Publication Number: FHWA-HRT-12-007
Date: October 2011
Printable Version (.pdf, 2 mb)
PaveSuite: Transforming Pavement Data into Informed Decisionmaking
Learn how to take the next step in using pavement data with an upcoming Webinar in the Federal Highway Administration's (FHWA) free Innovations series, "PaveSuite: Transforming Pavement Data into Informed Decisionmaking." The session is scheduled for November 17, 2011, from 2:30 to 4 p.m. (eastern standard time). The ongoing Innovations series is designed to bring representatives from State and local transportation agencies, industry, academia, and others timely information on today's highway technology advances. This series is hosted by FHWA's National Highway Institute (NHI), in conjunction with the FHWA Highways for LIFE program and the American Association of State Highway and Transportation Officials' (AASHTO) Technology Implementation Group (TIG).
Developed by the Florida Department of Transportation (FDOT), PaveSuite is a collection of advanced tools for performing faster and more comprehensive pavement analysis. The tools provide critical information to support data-driven decisionmaking and the selection of cost-effective strategies to rehabilitate and preserve existing highway infrastructure while ensuring safety. PaveSuite was selected as a 2011 focus technology by the AASHTO TIG.
The Webinar will highlight PaveSuite's four advanced pavement evaluation technologies:
Enhanced Pavement Test Data Analysis Methodology - This tool uses contour plotting - a two-dimensional representation of three-dimensional data-to provide a more comprehensive data analysis.
Automated Faulting Method -The technology uses data from a high-speed inertial profiler to detect transverse joints in concrete pavements and estimate faulting, which is the difference in elevation of these joints. Faulting has a direct impact on roadway life-cycle and vehicle operation costs. While highway agencies have traditionally measured faulting manually using a faultmeter, this method is slow and labor intensive. The automated faulting method is not only faster, but avoids traffic disruptions and is safer for both workers and motorists.
Identifying Vibration-Sensitive Work Zones -Vibrations caused by large vibratory rollers during pavement construction in urban areas can adversely affect nearby businesses, residences, and underground infrastructure. This technology uses falling weight deflectometer data to assess the potential for structural damage caused by vibratory rollers.
Automated Cross-Slope and Drainage Path Method -The tool identifies areas on roadways that are prone to water retention or have inadequate cross-slope, which can cause hazardous driving conditions. Based on cross-slope and vertical grade data, the program calculates the drainage length and generates results in tabular form, as well as two- and three-dimensional plots. The technology can also be used to evaluate the effectiveness of various corrective actions.
Featured speakers will include Hyung Lee, a Pavement Performance Engineer with FDOT, Abdenour Nazef, a Pavement Evaluation Engineer for FDOT, and N. Mike Jackson, Professor of Civil Engineering at the University of North Florida in Jacksonville, Florida.
More information on the Webinar and a link for registration is available at www.fhwa.dot.gov/hfl/commtool.cfm. To learn more about PaveSuite, visit the AASHTO TIG Web site at http://tig.transportation.org.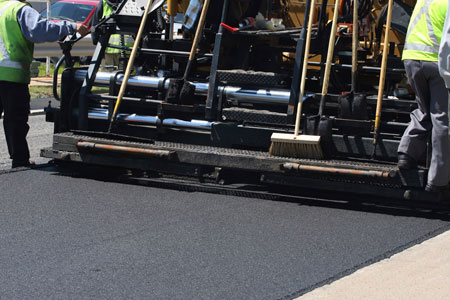 PaveSuite is a collection of advanced tools for performing faster and more comprehensive pavement analysis. Photo Credit: © www.iStockphoto.com/Mike Clarke