Publication Number: FHWA-HRT-12-007
Date: October 2011
Printable Version (.pdf, 2 mb)
Infrastructure Innovation Webinars
These free Federal Highway Administration (FHWA) Webinars provide a quick introduction to the latest infrastructure innovations and technologies.
PaveSuite: Transforming Pavement Data into Informed Decisionmaking
November 17, 2011, 2:30-4 p.m. (eastern standard time)
Developed by the Florida Department of Transportation, PaveSuite is a collection of advanced tools for performing faster and more comprehensive pavement analysis. The Webinar will highlight how the tools can be used to support data-driven decisionmaking. This session is hosted by FHWA's National Highway Institute (NHI), in conjunction with the FHWA Highways for LIFE program and the American Association of State Highway and Transportation Officials' Technology Implementation Group.
Time Is Money: Construction Project and Program Management Using Scheduling Software
December 15, 2011, 2:30-4 p.m. (eastern standard time)
Learn how scheduling software can be customized to manage most aspects of a highway construction project, including optimizing project timing and generating detailed data for performance measures. The New York State Department of Transportation will discuss its experiences in implementing a scheduling program. This Webinar is hosted by NHI, in conjunction with FHWA's Highways for LIFE program.
More information on the Webinars and a link for registration is available at www.fhwa.dot.gov/hfl/commtool.cfm.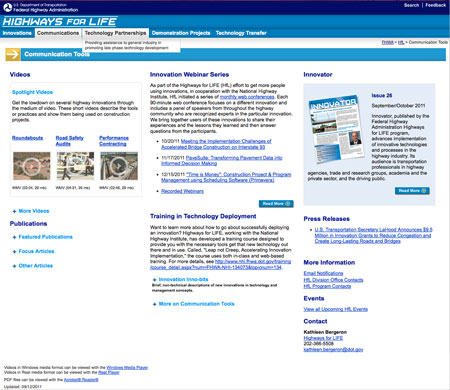 To learn more about these infrastructure innovation Webinars, visit www.fhwa.dot.gov/hfl/commtool.cfm.