Publication Number: FHWA-HRT-11-017
Date: September 2011
Printable Version (.pdf, 0.6 mb)
A Guide to Cost-Effective Bridge Preservation
With an aging bridge inventory, increases in traffic and congestion, limited funding, and rising costs for labor and materials, State and local transportation agencies face significant challenges in addressing their bridge preservation and replacement needs. More than 30 percent of the Nation's bridges have exceeded their 50-year theoretical design life and are in need of various levels of repairs, rehabilitation, or replacement. This makes it more vital than ever for agencies to adopt strategic and systematic processes for bridge preservation as an integral component of their overall management of bridge assets.
A new Bridge Preservation Guide (Pub. No. FHWA-HIF-11042) available from the Federal Highway Administration (FHWA) provides a framework for implementing a preventive maintenance (PM) program. "The objective of a good bridge preservation program is to employ cost-effective strategies and actions that are aimed at maximizing the useful life of bridges. Applying the appropriate bridge preservation treatments and activities at the appropriate time can extend the useful life of a bridge at a lower lifetime cost," said Anwar Ahmad of FHWA.
In 2008 Congress changed the name of the Highway Bridge Replacement and Rehabilitation Program to the Highway Bridge Program (HBP) and added systematic preventive maintenance as an eligible activity for Federal-aid funding. For more information on the use of Federal-aid funds for preventive maintenance, visit www.fhwa.dot.gov/preservation/100804.cfm.
A successful bridge program seeks a balanced approach that incorporates both preservation and replacement. Focusing only on replacing deficient bridges while putting off preservation needs will be inefficient and cost-prohibitive in the long term, as this will allow bridges in good condition to deteriorate. Preservation treatments often cost much less than major reconstruction or replacement activities. Delaying or foregoing warranted treatments will result in worsening condition, often leading to more extensive work and higher costs.
The FHWA guide provides definitions for terms such as bridge preservation, preventive maintenance, rehabilitation, state of good repair, and structurally deficient, along with related commentary and examples. Also featured is a framework for establishing a Systematic Preventive Maintenance (SPM) program for bridges. As the guide notes, "An SPM program for bridges can be defined as a planned strategy of cost-effective treatments to existing bridges that are intended to maintain or preserve the structural integrity and functionality of elements and/or components, and retard future deterioration, thus maintaining or extending the useful life of the bridge."
An SPM program can be implemented at the network-wide, highway system, area-wide, or regional level. Federal-aid funds may be used for SPM on highway bridges located on public roads regardless of whether a bridge is eligible for replacement or rehabilitation.
SPM programs should feature the following attributes at a minimum:
Goals and Objectives -Clearly defined objectives and measurable goals. Goals and measures can also be developed for specific PM strategies.
Inventory and Condition Assessment -Availability of tools and resources to conduct bridge inspections and evaluations.
Needs Assessment -Documented needs assessment process that outlines how PM needs are identified and prioritized.
Cost-Effective PM Activities -Ability to demonstrate that the proposed PM activities are a cost-effective means of extending the life of a bridge.
Plan for Accomplishing the Work -Availability of tools and resources to accomplish the PM work.
Reporting and Evaluation -Ability to track, evaluate, and report on the planned and completed PM work on a periodic basis. Expenditures should also be tracked over time, to ensure that the investment is providing the return expected.
Also highlighted in the guide are examples of PM treatments and activities that can extend the life of bridges when applied to the right bridge at the right time. For bridge decks, this can include installing deck overlays to seal the deck surface and reduce the impact of aging and weathering, as well as using electrochemical chloride extraction (ECE) treatments to remove chloride ions and prevent corrosion of the bridge's reinforcing steel. Treatments for bridge superstructures include retrofitting fracture-critical members or fatigue-prone details and performing spot or zone painting to target areas where paint deteriorates the fastest and protect against corrosion.
For the bridge substructure, treatment options include using ECE to protect against corrosion and installing rip rap and other countermeasures to protect against bridge scour. Treatments that can be effective for all areas of the bridge include applying concrete sealants, coatings, and membranes to protect the surface of the concrete and stop or minimize the intrusion of water and chloride through the concrete, thus protecting the reinforcing steel from corrosion.
Included in the guide's appendices are National Bridge Inventory General Condition Rating Guidance and the American Association of State Highway and Transportation Officials' Bridge Element Condition State Guidance. Also included is FHWA's 2004 Memorandum on Preventive Maintenance Eligibility, as well as a list of resources.
The Bridge Preservation Guide is available online at www.fhwa.dot.gov/bridge/preservation/guide/index.cfm. For more information on bridge preservation, contact Anwar Ahmad at FHWA, 202-366-8501 (email: anwar.ahmad@fhwa.dot.gov).
Bridge preservation will also be one of the featured topics at the National Bridge Management, Inspection, and Preservation Conference. Scheduled to be held October 31–November 4, 2011, in St. Louis, Missouri, the conference is sponsored by FHWA and the American Association of State Highway and Transportation Officials' Transportation System Preservation Technical Services Program. The event will feature separate tracks for bridge management, inspection, and preservation topics. For more information, visit www.TSP2.org/bridge.
To learn more about FHWA's structures preservation resources, including publications, memos, and other guidance, visit www.fhwa.dot.gov/bridge/preservation.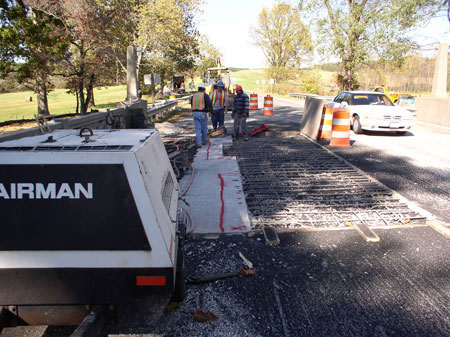 Bridge deck repairs are performed prior to installation of a deck overlay, which can reduce the impact of aging and weathering. © VDOT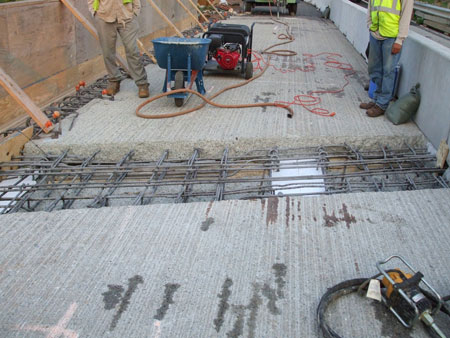 Preparations are made to permanently close a bridge deck expansion joint to eliminate deterioration caused by a leaking joint. © VDOT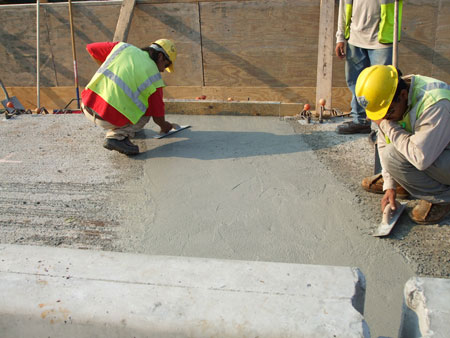 This bridge deck expansion joint has been permanently closed as a preservation measure. © VDOT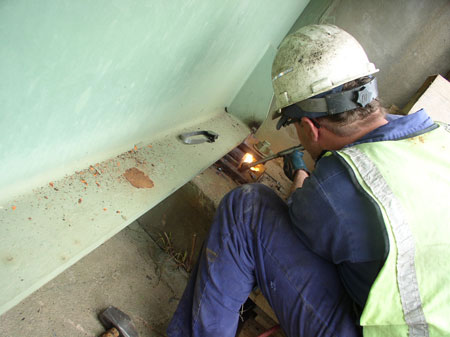 Work is done on a bearing device to facilitate the proper expansion and contraction of a bridge. © VDOT
Photo Credit for these four photos: © VDOT