Publication Number: FHWA-HRT-11-017
Date: September 2011
Printable Version (.pdf, 0.6 mb)
FHWA Launches Construction Peer Network: New Solutions for Today's Highway Infrastructure
Share your transportation construction best practices, identify proven solutions to project challenges, and learn from your peers as the Federal Highway Administration (FHWA) launches its Construction Peer Network (CPN) this fall. Using regional peer exchanges and new products such as a Program Information Tool (PI Tool), the CPN will bring States together to discuss benefits realized and lessons learned as they implement more effective construction practices.
"The information exchanged will establish a baseline of construction delivery processes and procedures, as well as highlight the state of current practices and identify state-of-the-art construction methods," said Chris Schneider of FHWA.
The CPN's goals are to:
Find and share exemplary construction processes and practices.
Provide options to State transportation agencies for maximizing limited resources.
Widely deploy proven practices and innovations across the Nation.
Promote ways to use construction funding more effectively, resulting in a positive impact on quality, cost, time, and other important project delivery metrics.
Determine national baselines for critical construction processes to guide information sharing, research, and training.
"The ultimate result is to learn what works so that advancements and proven processes can be disseminated more rapidly across the country, enhancing highway infrastructure performance and safety and decreasing costs," said Schneider.
CPN focus areas include:
Project supervision and staffing.
Construction quality.
Construction administration.
Construction safety.
Innovation.
Communications/Data/Information Sharing.
FHWA will host the first peer exchange workshop in February 2012, with more information on the event to be available later this fall. An estimated four additional regional peer exchange workshops will be held in 2012 and 2013. Prior to the workshops, FHWA and participating State agencies and contractors will gather data on construction best practices using the PI Tool, which is an electronic survey tool.
Additional expected products resulting from the CPN will include reports, case studies, and new or improved specifications and guidance.
For more information on the CPN, contact Chris Schneider at FHWA, 202-493-0551 (email: christopher.schneider@fhwa.dot.gov), or David Unkefer at the FHWA Resource Center, 404-562-3669 (email: david.unkefer@fhwa.dot.gov).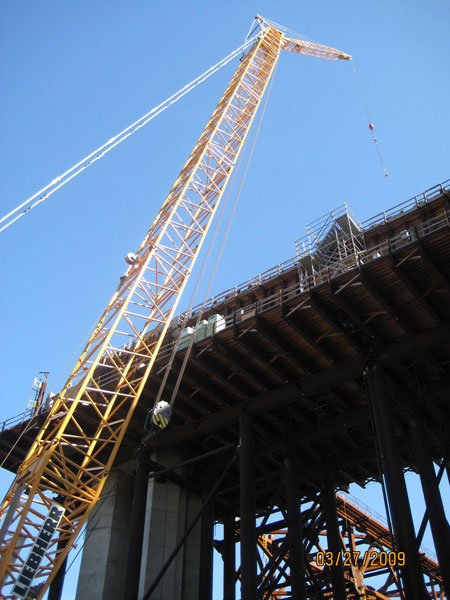 FHWA's new Construction Peer Network will identify and share transportation construction best practices.