Publication Number: FHWA-HRT-11-017
Date: September 2011
Printable Version (.pdf, 0.6 mb)
Ultra-High Performance Concrete: New Solutions for Today's Highway Infrastructure
Say hello to superior strength and durability with ultra-high performance concrete (UHPC). A new TechNote released by the Federal Highway Administration (FHWA), Ultra-High Performance Concrete (Pub. No. FHWA-HRT-11-038), provides transportation agencies with an introduction to UHPC and discusses its applications and capabilities. "The mechanical and durability properties of UHPC make it an ideal candidate for developing new solutions to pressing concerns about highway infrastructure deterioration, repair, and replacement," said Ben Graybeal of FHWA.
UHPC is an advanced cementitious composite material first developed in the 1990s and commercially available in the United States since 2000. Compared to more conventional concrete materials, UHPC exhibits superior properties such as exceptional durability, high compressive strength, usable tensile strength, and long-term stability. It generally contains high cementitious material contents, low water-to-cementitious material ratios, compressive strengths above 21.7 ksi (150 Mpa), and sustained tensile strength resulting from internal fiber reinforcement. These properties can be used to enhance bridge durability and develop new structural forms that will facilitate accelerated bridge construction.
The TechNote highlights the various applications of UHPC to date. Also covered are such topics as mixing and casting the concrete; curing procedures; testing procedures; sample preparation and extraction; structural design, analysis, and modeling; and inspection.
In the United States, UHPC has been used in both Iowa and Virginia to build prestressed concrete girder simple-span bridges. UHPC girders can allow for longer spans or shallower girder depths, and enable the enhanced durability of the structure. Researchers have also developed an optimized bridge redecking system that uses UHPC. The two-way ribbed precast slab system, known as a waffle slab, uses the mechanical and durability properties of UHPC to create a resilient, lightweight deck.
The Iowa Department of Transportation (DOT) deployed the technology this year for the construction of the Little Creek bridge in Wapello County. With a waffle slab designed to be composite with the girders, the bridge is 18-m (60-ft) long and just over 10-m (33-ft) wide. Iowa DOT will continue to conduct field testing of the bridge's performance to evaluate use of the waffle slab as a precast deck alternative for new bridges and to replace deteriorated decks on existing bridges.
In New York, meanwhile, two bridges using field-cast UHPC to create deck-level connections between precast concrete elements were constructed in 2009. An ongoing FHWA Transportation Pooled Fund project being conducted in partnership with the New York State Department of Transportation (NYSDOT) and the Iowa DOT is evaluating the performance of field-cast UHPC connections that link prefabricated bridge girders to precast concrete bridge decks. While the use of modular bridge deck components can produce higher quality, more durable bridge decks, the required connections have often been lacking in the past, diminishing the overall bridge system performance. The new UHPC connection eliminates the conflict points between the deck reinforcing bars and the girder shear connectors, allowing for easy field assembly. NYSDOT plans to use the concept in a highway interchange reconstruction project this year.
UHPC is also being investigated for use in such applications as precast concrete piles, seismic retrofit of bridge substructures, thin-bonded overlays on deteriorated bridge decks, and blast mitigation.
Buy America provisions are relevant to the steel fiber reinforcement used in UHPC. States planning to use UHPC in projects should work with their FHWA division office early in the design process to request a Buy America project waiver.
To download the TechNote, visit www.fhwa.dot.gov/publications/research/infrastructure/structures/11038/.
More details on UHPC are available in two Tech Briefs previously released by FHWA. Field-Cast UHPC Connections for Modular Bridge Deck Elements (Pub. No. FHWA-HRT-11-022) describes FHWA's ongoing Transportation Pooled Fund project. As the study has demonstrated, UHPC can exhibit an exceptional bond when cast against previously cast concrete. The use of UHPC can also significantly shorten the development length of embedded discrete steel reinforcement. These properties allow the modular component connection to be redesigned, simplifying construction and enhancing long-term system performance. The Tech Brief is available online at www.fhwa.dot.gov/publications/research/infrastructure/structures/11022.
Structural Behavior of a 2nd Generation UHPC Pi-Girder (Pub. No. FHWA-HRT-09-069) looks at FHWA's evaluation of a second generation UHPC pi-girder cross-section developed for use in short- and medium-span highway bridge applications. To download the Tech Brief, visit www.fhwa.dot.gov/publications/research/infrastructure/structures/09069.
Information on UHPC is also available by contacting Ben Graybeal at FHWA, 202-493-3122 (email: benjamin.graybeal@fhwa.dot.gov). To learn more about FHWA's structures research, visit www.fhwa.dot.gov/research/tfhrc/labs/structures/index.cfm. To download recordings from two FHWA Webinars on UHPC, visit www.nhi.fhwa.dot.gov/about/innovationseries.aspx and select the November 18, 2010, Webinar or the April 21, 2011, session.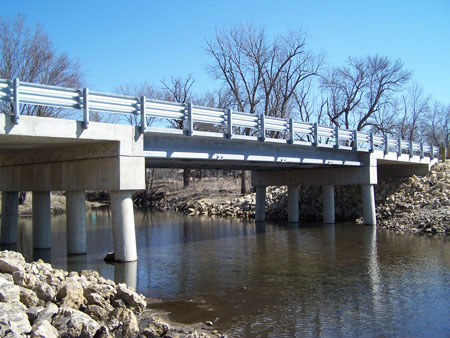 Ultra-high performance concrete pi-girders were used in the construction of the Jakway Park Bridge in Buchanan County, Iowa.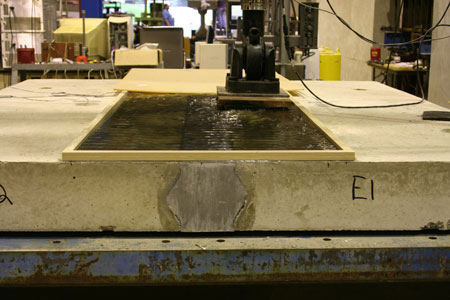 Ultra-high performance concrete connections are tested at FHWA's Turner-Fairbank Highway Research Center in McLean, VA. These connections can link prefabricated bridge girders to precast concrete bridge decks.