Publication Number: FHWA-HRT-11-017
Date: September 2011
Printable Version (.pdf, 0.6 mb)
GPS and You: Putting the Technology to Work: New Solutions for Today's Highway Infrastructure
Learn how global positioning system (GPS) technology can be used to improve transportation construction operations and quality with the Federal Highway Administration's (FHWA) free Web-based course, GPS Technology (Course No. FHWA-NHI-134078). Developed by the Transportation Curriculum Coordination Council (TCCC), the course is available through FHWA's National Highway Institute (NHI).
The 1-hour introductory course will provide participants with a general understanding of GPS, which is becoming a commonly used tool for highway construction and maintenance. GPS can be used, for example, in surveying, rough and fine grading, determination of utility locations, excavation and grading, and paving.
"Awareness of emerging GPS-based applications and equipment modifications is essential to technicians today when performing inspection and maintenance job functions," said Christopher Newman of FHWA.
Upon completion of the course, participants will be able to define GPS, describe the levels of GPS accuracy, and understand how GPS is used in highway construction today. The training is designed for representatives from FHWA, State, and local agencies, as well as industry.
Launched in 2000, the TCCC is a partnership that includes representatives from FHWA, NHI, regional State training and certification groups, several American Association of State Highway and Transportation Officials subcommittees, and industry associations. More than 100 online training courses developed by the TCCC are available from NHI. In addition to basic training for transportation workers, many of the TCCC courses can help with implementation of emerging technological advances.
For additional information on the course or to register, visit www.nhi.fhwa.dot.gov. Details on other online TCCC training opportunities can be found at www.nhi.fhwa.dot.gov/training/course_search.aspx (click on "View All Available Web-Based Training Courses"). Information on the GPS technology course is also available by contacting Douglas Townes at the FHWA Resource Center, 404-562-3914 (email: douglas.townes@fhwa.dot.gov).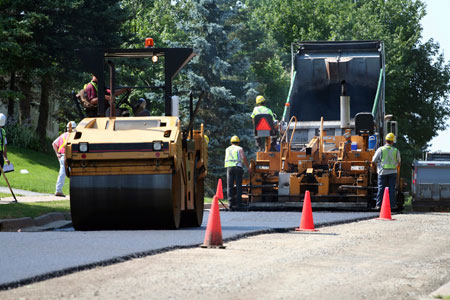 GPS technology can be used in a range of highway construction practices, including paving. © www.iStockphoto.com/Mike Clarke