Publication Number: FHWA-HRT-12-010
Date: January/February 2012
Printable Version (.pdf, 0.8 mb)
Asset Management and Safety: States Share Best Practices at Peer Exchange
How can highway safety performance be improved through better transportation asset management (TAM)? How do agencies prioritize safety asset needs?
An Asset Management and Safety Peer Exchange held on August 2, 2011, in Cheyenne, Wyoming, brought together managers from State departments of transportation to share best practices and challenges in managing safety assets. Hosted by the Federal Highway Administration (FHWA) and American Association of State Highway and Transportation Officials (AASHTO), the peer exchange drew participants from 13 State transportation agencies.
While pavement and bridge assets often receive greater attention from TAM programs, State transportation departments also maintain an extensive amount of safety hardware and roadside appurtenances. These safety-related assets can include signs, pavement markings, line striping, guardrails and traffic barriers, traffic signals, lighting, sidewalks, bike lanes, and intelligent transportation system (ITS) equipment. States also have to consider safety-related characteristics of other physical assets, such as pavement friction, shoulder widths, clear zones, and bridge clearances. Using a TAM approach, agencies can more comprehensively view the big picture and evaluate collected data before making decisions on specific safety measures or high priority safety program areas, such as intersections, pedestrian crossings, or cross-median crashes.
A new report released by FHWA, Asset Management and Safety Peer Exchange (Pub. No. FHWA-HIF-12-005), summarizes the exchange proceedings. Four sessions covered Total Asset Management, Prioritizing Programming and Budgeting, Inventory Management, and Safety Asset Management in Context. For each session, State practitioners shared best practices within their agencies, followed by group discussion and a question and answer session.
To identify priority topics of interest, representatives from 39 States filled out an online survey prior to the exchange. Most respondents indicated that efforts are underway in their agencies to create or expand safety asset inventories, although lack of resources has been an obstacle. The top uses for such inventories to date include project scoping and the planning and scheduling of maintenance work.
Neil Pedersen, former Administrator of the Maryland State Highway Administration (SHA), discussed Maryland's experience with TAM at the exchange and described five core questions that an asset management approach can help answer:
What is the current state of physical assets?
What are the required levels of service and performance delivery?
Which assets are critical to sustained performance?
What are the best investment strategies for operations, maintenance, replacements, and improvements?
What is the best long-term funding strategy?
Following a TAM strategy, the Maryland SHA recently inventoried its freeway lighting, assessed the condition of the assets, and developed a performance goal for the percentage of lights functioning. The agency found that in many cases the electrical conduits were highly deteriorated and that it would be more cost effective to replace them rather than perform rehabilitation. During the replacement, Maryland found that fewer lights were needed than were originally installed, which will result in savings in future energy costs.
Del McOmie, Chief Engineer of the Wyoming Department of Transportation (WYDOT), noted that WYDOT used information on its traffic and safety assets to identify potential safety improvements. For example, WYDOT recently used its TAM inventory data to identify roadway locations with a median width of 12 m (40 ft) or less where cable barriers could potentially be installed.
Steve Lindland of the Oregon Department of Transportation (ODOT) described how the agency launched a TAM pilot project in 2006. Through the pilot, ODOT realized it was important to gather a basic asset inventory that could be collected once and used many times, and that the maintenance of data is critical for its inventory of transportation and safety assets. To share data on its assets within the agency, ODOT developed the Features, Attributes, and Condition Survey-Statewide Transportation Improvement Program (FACS-STIP) Map Tool and the FACS-STIP Data2Go Tool. The map tool is a Web-based system that integrates roadway inventory data, bridge and culvert locations, crash data, traffic data, and information on current and planned projects. The Data2Go tool stores detailed data for a range of asset types, including pedestrian ramps compliant with the Americans with Disabilities Act (ADA), approach roads, bridges, culverts, pavements, retaining walls, sidewalks, signs, unstable slopes, tunnels, traffic barriers, and traffic signals. ODOT staff can use the tool to query more than 20 databases.
ODOT has used the improved asset data to establish a new "1R" pavement preservation program. Through the program, ODOT is planning pavement preservation work and safety improvements independently, targeting each type of action where it is most needed. In the past, traffic and safety features were addressed only at locations where pavement work was already planned.
"The asset data has been instrumental in setting up the program and helped us to lower project development costs, as we don't have to perform indepth surveys," said Steve Lindland of ODOT. "It is easier to do and takes less time, as well as providing very clear direction on what needs to be done." As part of the "1R" program, ODOT has allocated $6 million per year to upgrade traffic barrier safety features. After compiling a statewide inventory of traffic barriers, for example, ODOT has now started a 10-year program to upgrade the traffic barrier assets. ODOT also compiled an inventory of sidewalks and ADA ramps in urban areas in 2011 and is now looking at necessary upgrades.
The Virginia Department of Transportation (VDOT) has better defined its asset data needs by organizing Communities of Interest (COI). These communities feature representatives from across the agency, including staff from district offices and the traffic engineering, structures, and IT departments. As Vanloan Nguyen of VDOT highlighted, the Traffic and Safety Assets COI has reviewed the agency's asset data needs and is now developing and implementing improvements in data collection. These include defining a standard data dictionary for traffic and safety assets, building an asset "data mart," and improving data on asset age and condition.
Also highlighted at the Peer Exchange was FHWA's Model Inventory of Roadway Elements (MIRE). Featuring more than 200 data elements, MIRE can be used as a guide to improve data inventories and support the adoption of performance measures. MIRE also provides a data dictionary with definitions and attributes for each listed element. To learn more about MIRE or to download a copy of MIRE Version 1.0 (Pub. No. FHWA-SA-10-018), visit www.mireinfo.org.
For more details on State experiences with asset management and safety, download a copy of Asset Management and Safety Peer Exchange at www.fhwa.dot.gov/asset/hif12005/hif12005.pdf. To learn more about managing safety assets, contact Steve Gaj at FHWA, 202-366-1336 (email: stephen.gaj@dot.gov). For additional information on MIRE, contact Robert Pollack at FHWA, 202-366-5019 (email: robert.pollack@dot.gov).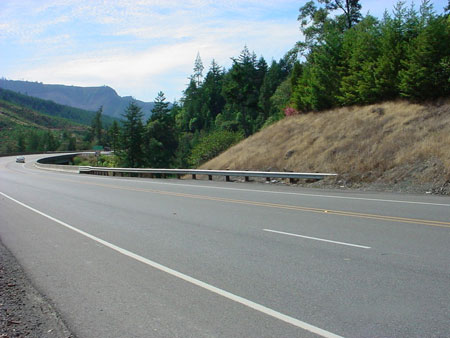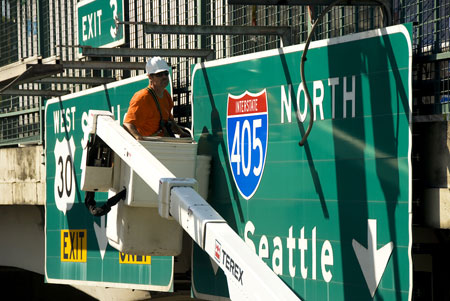 Highway safety assets can include signs, guardrails and traffic barriers, lighting, and traffic signals. (Photo © ODOT).