Publication Number: FHWA-HRT-12-010
Date: January/February 2012
Printable Version (.pdf, 0.8 mb)
FHWA Solicits Proposals for Technology Partnerships Program
The Federal Highway Administration (FHWA) is soliciting proposals for the fourth round of grants to be awarded under its Highways for LIFE Technology Partnerships Program.
Launched in 2007, the program is designed to fund proven innovations that have been developed to a late-stage prototype but require further development, testing, and evaluation in a real-world setting before they are ready for commercialization or widespread application.
The 2012 solicitation focuses on working with the highway industry to accelerate the adoption of innovations that 1) can potentially directly reduce crashes or crash severity, or 2) can significantly enhance decisionmaking about the deployment of treatments to reduce crashes and crash severity, as well as improve understanding of the treatments' effectiveness.
Technologies in the first category could include static or dynamic traffic control devices, roadside safety hardware, or pavement treatments. In the second category, innovations could include roadway surface condition monitoring tools or data mining technologies.
Since 2007, the Technology Partnerships Program has awarded eight grants to industry. Innovations funded include the All-Weather Pavement Marking System, which incorporates wet-reflective optical elements into a specially designed pavement marking paint to make it easier for drivers to see markings on wet roads. Another innovation, the Asphalt Binder Cracking Device, simulates pavement cracking to help agencies predict and prevent asphalt failure caused by cracking at low temperatures. Funding was also awarded to demonstrate the use of precast bridge bents in seismic regions.
To view the 2012 grant solicitation, visit http://apply07.grants.gov/apply/opportunities/instructions/oppDTFH61-12-RA-00002-cfda20.200-instructions.pdf. The closing date is May 3, 2012. Each grant award may range from $250,000 to $1 million for up to 2 years of work. Subject to available funding, FHWA anticipates awarding up to $5 million through this solicitation. Competition is open to all sources, including international companies.
For more information on the Technology Partnerships Program, contact Julie Zirlin at FHWA, 202-366-9105 (email: julie.zirlin@dot.gov), or visit www.fhwa.dot.gov/hfl/tech.cfm.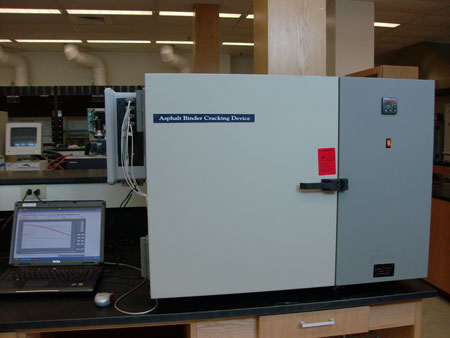 Innovations funded by FHWA's Technology Partnerships Program include the Asphalt Binder Cracking Device, which simulates pavement cracking to help agencies predict and prevent asphalt failure caused by cracking at low temperatures. (Photo © EZ Asphalt Technology)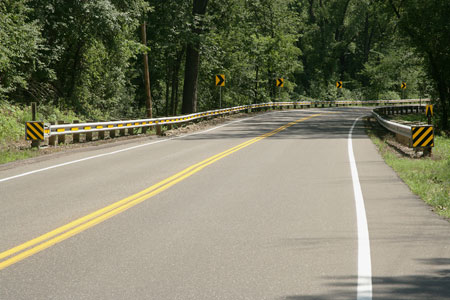 The All-Weather Pavement Marking System makes it easier for drivers to see markings on wet roads. (Photo © 3M)