Publication Number: FHWA-HRT-12-010
Date: January/February 2012
Printable Version (.pdf, 0.8 mb)
Infrastructure Innovation Webinars
These free Webinars provide 'a quick introduction to the latest infrastructure innovations and technologies.
New SHRP 2 Tools for Underground Utility Location Data Collection and Analysis
February 15, 2012, 1-3 p.m. (eastern standard time)
Conducted by the Transportation Research Board-s (TRB) second Strategic Highway Research Program (SHRP 2), in cooperation with the Federal Highway Administration (FHWA), the Webinar will explore preliminary field testing results for new tools that can be used to detect the location and characteristics of underground utilities. Topics covered by the session include how the new tools differ from the ones being used today and additional capabilities that they provide. A previous Webinar held in August 2011 provided information on the design and intended use of the new tools. To download a free recording of the August Webinar, visit www.trb.org/StrategicHighwayResearchProgram2SHRP2/RenewalWebinars.aspx. To register for the February SHRP 2 Webinar, visit www.trb.org/StrategicHighwayResearchProgram2SHRP2/Blank2.aspx. For additional information, contact Patrick Zelinski at TRB, 202-334-1916 (email: pzelinski@nas.edu).
Transportation Asset Management Guide: A Focus on Implementation Webinar Series
Hosted by the American Association of State Highway and Transportation Officials, videos and presentations from this Webinar series are posted at http://tam.transportation.org/Pages/Webinars.aspx. The series includes Applying the Guide, Guide Overview and Getting Started, the Transportation Asset Management Plan (TAMP), and Tools and Techniques for Implementing the TAMP.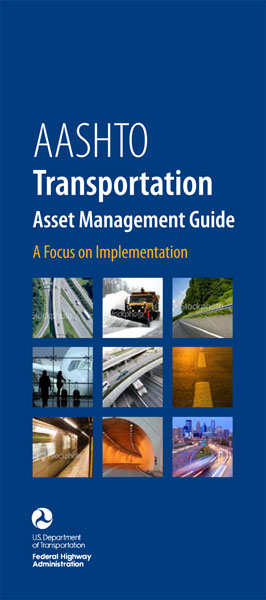 More information about the AASHTO Transportation Asset Management Guide is available at www.fhwa.dot.gov/asset/hif10023.cfm.