Publication Number: FHWA-HRT-12-015
Date: July 2012
Printable Version (.pdf, 1 mb)
Extending the Service Life of Suspension Bridge Cables: FHWA Releases New Inspection Primer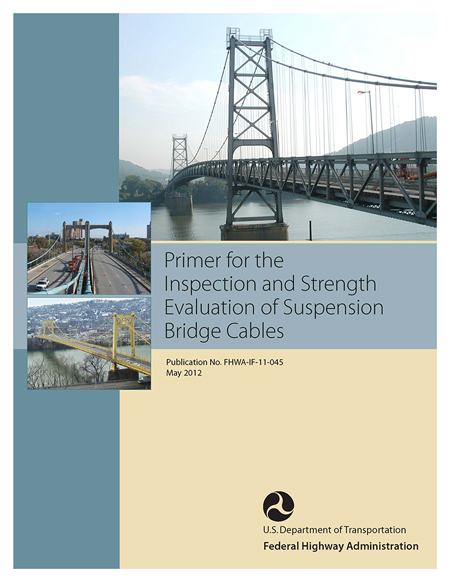 Many suspension bridges across the country are iconic design structures, but they are also essential transportation links for both communities and commerce, representing a significant investment in the Nation's infrastructure. "As these key structures age, it is vital to ensure that they have adequate load-carrying capacity and to maintain and extend their service life," said Myint Lwin, Director of the Federal Highway Administration's (FHWA) Office of Bridge Technology.
FHWA's new Primer for the Inspection and Strength Evaluation of Suspension Bridge Cables (Pub. No. FHWA-IF-11-045) offers an initial resource for agencies planning and performing inspections, metallurgical testing, and strength evaluations. The Primer is designed to supplement the 2004 National Cooperative Highway Research Program Report 534, Guidelines for Inspection and Strength Evaluation of Suspension Bridge Parallel Wire Cables, and the 1996 FHWA report, Recording and Coding Guide for the Structure Inventory and Appraisal of the Nation's Bridges (Pub. No. FHWA-PD-96-001).
The Primer provides an overview of cable bridge components, methods for protecting bridge cables, and causes of cable deterioration. Suspension bridge cable wires primarily deteriorate due to corrosion. Several factors affect a cable's susceptibility to corrosion, including environmental conditions, the amount of water penetration, installation practices, and the vulnerability of the wires to corrosion attack. Conditions inside the cable that can affect the individual wires include acid rain; carbonate or bicarbonate, nitrate, and alkaline chemistry; seawater or salt spray; and cathodic action when certain metals are placed in contact with the wires.
Inspection guidelines and laboratory testing methods are highlighted, including the levels of inspection and inspection intervals. The three levels of cable inspection are periodic routine visual inspections of the cable exterior, biennial hands-on inspections of nonredundant fracture-critical members, and thorough internal inspections beginning when the cable has been in service for 30 years. Laboratory strength testing is also essential for evaluating cable capacity. This testing process encompasses preparing specimens, conducting tensile tests, obtaining data for stress versus strain curves, examining suspect wires, and finding preexisting cracks.
An overview is provided on evaluating field and laboratory data. Topics include mapping and estimating wire deterioration, wire strength properties, and the redevelopment of force in broken wires. Also covered is how to estimate cable strength. Factors that contribute to the estimated strength include the tensile strength of the wires, distribution of the tensile strength, broken or cracked wires in the cable, and the redevelopment force in broken wires.
As noted in the Primer, the American Association of State Highway and Transportation Officials Load and Resistance Factor Rating (LRFR) method is not yet applicable to the rating of suspension bridge cables. LRFR calibrations have not been performed to date for long-span bridges, such as suspension bridges. In addition, the current LRFR calibration is designed for bridges with dead load to live load ratios that are generally not higher than about 2 to 1. In long-span bridges, the dead loads may be higher than the live loads by a factor of 5 or higher.
Guidance is also featured on inspection documentation and reporting, including necessary information for maintenance personnel, biennial, and internal cable inspection reports. The appendices include an example of a strength evaluation, flowcharts illustrating inspection and strength evaluation procedures, and sample inspection and strength evaluation forms.
To download the Primer, visit www.fhwa.dot.gov/bridge/pubs/if11045.pdf. For more information on the inspection and evaluation of suspension bridge cables, contact Myint Lwin at FHWA, 202-366-4589 (email: myint.lwin@dot.gov).