Publication Number: FHWA-HRT-12-015
Date: July 2012
Printable Version (.pdf, 1 mb)
Intelligent Compaction: The Road from Evaluation to Implementation
Implementation of intelligent compaction (IC) for paving projects in the United States continues to advance following a Federal Highway Administration (FHWA) initiative that evaluated and demonstrated the technology across the country.
In 2011, FHWA completed a 3-year transportation pooled fund study, "Accelerated Implementation of Intelligent Compaction Technology for Embankment Subgrade Soils, Aggregate Base, and Asphalt Pavement Materials" (Project No. TPF-5(128)). As part of this initiative, 16 IC demonstrations were conducted in 13 States.
Following the study, FHWA held IC Regional Workshops in 2011 and 2012 in Atlanta, Georgia; Salt Lake City, Utah; and Minneapolis, Minnesota. These workshops were supported by the National Asphalt Pavement Association and Asphalt Institute, as well as roller manufacturers and suppliers. FHWA's goals for the workshops were to:
Familiarize attendees with the fundamentals of IC.
Demonstrate the route to successful IC implementation.
Help participants become technology champions for IC in their organizations or companies.
The workshops collectively were attended by more than 200 State and local government engineers from 35 States and representatives from academia, contracting firms, and equipment manufacturers. International representatives from three continents also attended. Discussion highlights included use of generic IC specifications for both soil and asphalt materials and the implementation of a new IC data management program, Veda. "These interactive workshops also identified barriers and potential solutions for implementing IC," said Lee Gallivan of FHWA.
IC technology consists of an advanced dynamic evaluation device (accelerometer) positioned on or in roller drums to measure the response of the underlying materials to the compaction forces being applied by the drum. The accelerometer readings are then analyzed by an onboard computer that takes the readings and evaluates the compaction levels and uniformity of the materials.
The rollers are also equipped with global positioning system (GPS) technology that establishes the roller drum locations and displays data on the operation and measurements of the rollers in real time. A color-coded display assists the roller operator in achieving the needed coverage over the full pavement area in both daytime and nighttime conditions.
The technology is available on both single-drum rollers for soil and aggregate base materials and double-drum rollers for asphalt pavement materials. Some manufacturers also provide an onboard printer for on-the-spot reporting or summaries of the compaction operations, as well as wireless capabilities to remotely monitor the roller operations. For asphalt paving, onboard surface temperature measuring devices are included to assist operators in determining the optimum time for compaction.
Benefits of using the IC technology include:
Improved quality of compaction operations. For asphalt pavement materials, compaction of the materials at the optimum time and temperature is critical. For soil materials, the IC rolling capabilities allow operators to identify nonuniform or weak areas for resolution before they become a problem.
Reduced agency maintenance costs. Increased quality control during construction results in longer-lasting pavements, reducing agency costs.
Environmental sustainability. The improved rolling operations result in reduced carbon dioxide emissions.
Savings for contractors. By achieving 100 percent coverage at the required levels with no over- or under-rolling, IC technology maximizes roller productivity, ensures operations are done right the first time, and minimizes contractor pay reductions for not meeting agency requirements.
Safer operations. IC reduces the number of personnel needed to evaluate construction operations, minimizing exposure to work zone traffic.
"Including IC in the quality control of construction operations should be a no-brainer because of how it benefits the contractors as well as the agencies," said Newt Bingham of the Alaska Department of Transportation and Public Facilities.
IC technology also provides operators easy-to-read graphical information on where they have been and need to go to achieve 100 percent compaction coverage of the paving materials, instead of the limited conventional spot testing that may not be representative of the total operation. By using IC technology for both soil and asphalt pavement operations, the Minnesota Department of Transportation is aiming to reduce the frequency of its project acceptance verification testing by two-thirds.
"The last major advancement related to compaction and roller equipment occurred nearly 50 years ago with the development of the double-drum vibrator rollers. Intelligent compaction roller technology is the next big development in the construction of long-lasting asphalt pavements that will benefit not only industry and agencies but the public as well," said Chris Connolly of Bomag Americas, Inc.
To view the IC generic specifications, two Technical Briefs released by FHWA, and other information on IC, visit www.fhwa.dot.gov/pavement or www.intelligentcompaction.com. The specifications were updated following the IC workshops to better reflect project-level coordination issues. Additional details on the IC process can be found in the April 2008, April 2010, and July 2011 issues of Focus.
For more information on using IC technology, contact Lee Gallivan at FHWA, 317-226-7493 (email: victor.gallivan@dot.gov), or George Chang at the Transtec Group, 512-451-6233 (email: gkchang@thetranstecgroup.com).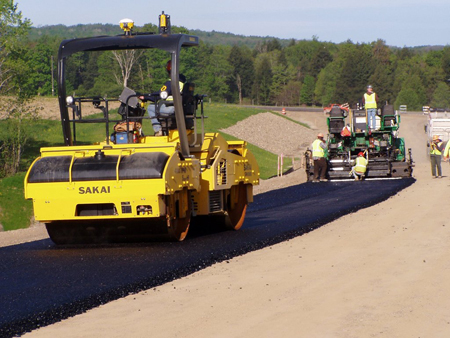 An intelligent compaction (IC) roller is used to place a hot-mix asphalt lift on U.S. 219 in Springville, NY..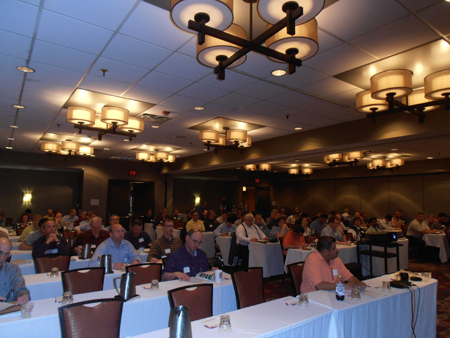 FHWA held workshops around the country to demonstrate the IC technology, including in Minneapolis, MN.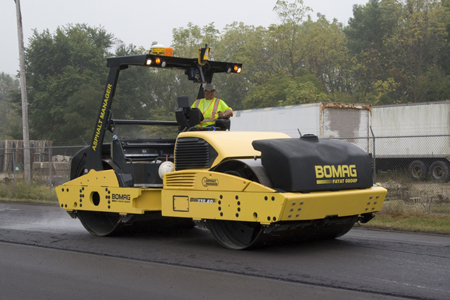 A thin lift of hot-mix asphalt is compacted with an IC roller on U.S. 52 in West Lafayette, IN.