Publication Number: FHWA-HRT-12-015
Date: July 2012
Printable Version (.pdf, 1 mb)
States Step into a Virtual World at FHWA Geotechnical Expo
For participants of the March 2012 Virtual Foundation Expo sponsored by the Federal Highway Administration (FHWA), it was a conference like no other.
Approximately 150 participants from 22 State departments of transportation (DOT) could view and listen to presentations on drilled deep foundation technology, talk to presenters, and interact with other participants, all without leaving their offices.
"Through this virtual event we were able to create a unique and successful education and networking experience for DOT engineers," said Silas Nichols of FHWA.
In FHWA's first use of a virtual world, the free online Expo was held in conjunction with the 2012 International Association of Foundation Drilling conference in San Antonio, Texas. Organized by the FHWA Office of Bridge Technology and National Highway Institute (NHI), the 2-day Expo featured panel discussions on such topics as quality in deep foundations, use of slurry in drilled foundations, and techniques for large-diameter and small-diameter hole excavation.
"It was important for us in the design of the Virtual Expo to focus it around our virtual participants and tailor it to their needs," said Meredith Perkins at NHI. "We wanted to make sure that our participants were not passively watching events taking place at the conference, but instead were actively involved in a format that was appropriate to the virtual world delivery method."
The second day of the Expo featured live presentations streamed from the conference. Topics covered included load and resistance factor design issues, anchored earth retention systems, and micropile systems. Also highlighted was the full-scale load testing and base grouting of drilled shafts in Missouri. After their session, presenters would join the Virtual Expo for an exclusive question and answer period with participants. All participants selected an avatar to represent them in the virtual world, so that they could ask questions and communicate with other participants. During the Expo, videos were also available showing demonstrations of geotechnical equipment, as well as interviews with equipment vendors.
"The Virtual Expo gave FHWA a new way to bring together geotechnical engineers and industry representatives who otherwise might not be able to participate in the conference, due to travel restrictions and budget limitations," said Louisa Ward of NHI. "The Expo was a great success, and we are now exploring other uses for this virtual technology."
Participants were enthusiastic about the opportunities provided by the new technology. "Relative to a Webinar, this platform not only creates more of a conference atmosphere, but makes it easier and promotes both individual and group interactions and discussions," noted Dhaneshwar Harnanan of the Arizona DOT.
For many agencies, several staff members were able to participate in the Expo, increasing the value and the knowledge gained. "Multiple folks in our department were able to attend and engage at a conference we would otherwise have no chance to attend," said Michael McDonnell of the Connecticut DOT.
To view videos and recordings from the Expo, visit http://vimeopro.com/adsc/virtualfoundationexpo. For more information on the Virtual Foundation Expo, contact Silas Nichols at FHWA, 202-366-1554 (email: silas.nichols@dot.gov). To learn more about FHWA's geotechnical engineering resources, visit www.fhwa.dot.gov/engineering/geotech/index.cfm.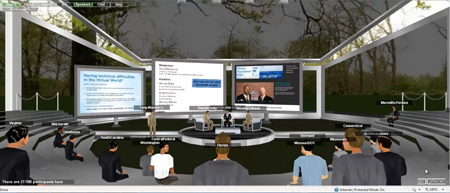 All participants in the March 2012 Virtual Foundation Expo selected an avatar to represent them in the virtual world.