Publication Number: FHWA-HRT-12-014
Date: June 2012
Printable Version (.pdf, 0.6 mb)
Ultra-High Performance Concrete Connections for Bridges: Superior Strength and Durability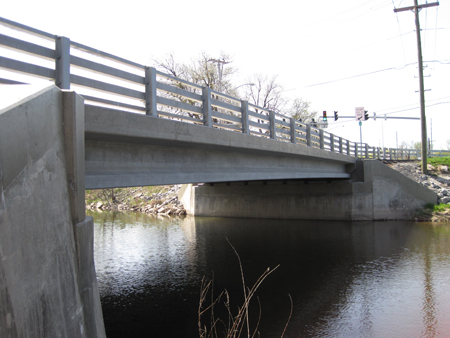 Field-cast ultra-high performance concrete (UHPC) connections were used to construct the Route 31 Bridge in Lyons, NY.
As transportation agencies look for innovative solutions to facilitate the rapid construction of highway bridges, they are turning to ultra-high performance concrete (UHPC) for superior strength and durability.
"UHPC has advanced the state of the art for construction of prefabricated bridge elements and systems," said Ben Graybeal of the Federal Highway Administration (FHWA). A new Tech Note released by FHWA, Construction of Field-Cast Ultra-High Performance Concrete Connections (Pub. No. FHWA-HRT-12-038), highlights how UHPC enables significant simplifications in the design of the field-cast connections that link prefabricated bridge components. New UHPC connection details eliminate the conflict points between the reinforcing bars and other discrete connectors, allowing for easy field assembly.
As of early 2012, field-cast UHPC connections between prefabricated bridge components have been used in 18 bridges in the United States and Canada. These bridges use a range of details to connect different precast concrete modular bridge components, including adjacent box beams, full-depth precast deck panels, and deck-bulb-tee girders. Examples include the Route 31 Bridge over the Canandaigua Outlet in Lyons, New York, and the U.S. Route 6 Bridge over Keg Creek in Pottawattamie County, Iowa. Both bridges use field-cast UHPC in longitudinal connections for pre-decked superstructure elements.
UHPC is an advanced cementitious composite material first developed in the 1990s and commercially available in the United States since 2000. It is typically acquired from a supplier in three separate components: a pre-bagged cementitious powder, steel fiber reinforcement, and chemical admixtures. Water is then added at the construction site, and the UHPC is mixed and placed into the formwork using standard construction equipment.
Compared to more conventional concrete materials, UHPC exhibits superior properties such as exceptional durability, high compressive strength, usable tensile strength, and long-term stability. It generally contains high cementitious material contents, low water-to-cementitious material ratios, compressive strengths above 21.7 ksi (150 MPa), and sustained tensile strength resulting from internal fiber reinforcement.
Buy America provisions are relevant to the steel fiber reinforcement used in UHPC. States planning to use UHPC in projects should work with their FHWA division office early in the design process to determine the availability of a domestic manufacturer, and if necessary, submit a Buy America waiver request for FHWA's consideration.
The Tech Note takes readers through the steps involved in constructing field-cast UHPC connections, including design, prefabricated component preparation, formwork, mixing and placing, initial and final curing, surface profiling, and material testing. The design of the field-cast connections, for example, is critical to the overall performance of the structural system. Designers must consider both service and ultimate limit states, as well as the practicality of construction and the long-term durability of the deployed system. Prior to completing the UHPC connections between prefabricated components, the components must be fabricated, transported, and assembled on the bridge. Critical steps include the preparation of the bonding surfaces where the precast component meets the field-cast UHPC. While UHPC can bond exceptionally well to conventional concrete, the bond strength is highly dependent on the surface of the precast concrete. As with other cementitious grouts, UHPC is not likely to form a strong bond with smooth, dry, precast concrete. An enhanced bond can be obtained by using concrete that has an exposed aggregate surface finish.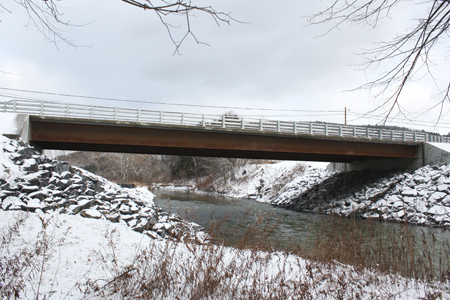 The Route 23 Bridge in Oneonta, NY, was built using precast concrete deck panels and field-cast UHPC connections.
The formwork required to contain UHPC when it is placed into a connection requires tighter control than the formwork commonly used in field-cast concrete applications, as UHPC exhibits higher pressure than conventional concrete and can easily leak between formwork that is not appropriately sealed.
Guidance is also provided on mixing and placing the concrete. UHPC is sensitive to mixing deviations, so the supplier's specifications for mix proportions and timings must be followed. Mixing UHPC requires significant energy in order to disperse the liquids uniformly within the powder matrix. Both portable concrete pan mixers and conventional concrete ready-mix trucks have been used on projects to mix UHPC. The volume of UHPC that can be mixed is approximately half that of conventional concrete that could be processed in the same mixer. Typically, either motorized or nonmotorized wheelbarrows have been used to place UHPC into field-cast connections, with connection spaces being filled consecutively. UHPC should always be placed into connection spaces so that successive placements are poured into concrete that was recently cast and remains fluid.
Although UHPC tends to exhibit long dwell times before it begins to set, once setting begins, strength gain occurs rapidly. The initial setting behavior is dependent on the temperature of the UHPC. Although cooler temperatures are beneficial for mixing and placing UHPC, warmer temperatures are better for the rapid setting of the concrete. This setting can be accelerated by supplying supplemental heat to the UHPC and surrounding prefabricated elements. Heat can be supplied externally (e.g., ground heating mats) or internally (e.g., resistance heating wires), but forced air heat should not be applied to exposed UHPC surfaces.
The Tech Note also highlights material testing for UHPC. While established testing procedures for conventional concrete are generally applicable to UHPC, procedures may need to be modified in some instances to appropriately capture the behavior of the UHPC. Modified procedures for flow testing and compression testing, for example, are discussed.
To download the Tech Note, visit www.fhwa.dot.gov/publications/research/infrastructure/structures/bridge/12038/index.cfm.
Further information on a specific type of UHPC connection can be found in FHWA's new Tech Brief, Ultra-High Performance Concrete Composite Connections for Precast Concrete Bridge Decks (Pub. No. FHWA-HRT-12-042). The Tech Brief describes a study FHWA conducted on the performance of field-cast UHPC composite connections between precast modular bridge decks and supporting girders. This evaluation is part of Transportation Pooled Fund Study TPF-5(217), which is being done in partnership with the New York State Department of Transportation.
Two full-scale test specimens were built for the study. One used conventional concrete with standard composite connection details, while the other used UHPC and novel connection details. Each specimen simulated both a steel girder connection and concrete girder connection to precast concrete deck panels. The specimens were subjected to both cyclic loads and static loading. The UHPC connections withstood loads greater than those required by the American Association of State Highway and Transportation Officials Load and Resistance Factor Design Bridge Design Specifications and surpassed the performance of the conventional test specimen.
Also featured in the Tech Brief are recommendations for using the UHPC composite connection detail. These recommendations are conceptual guidance, rather than formal design specifications. To download the Tech Brief, visit www.fhwa.dot.gov/publications/research/infrastructure/structures/hpc/12042/. The full report on the FHWA study is available through the National Technical Information Service at www.ntis.gov (search for NTIS Accession No. PB2012-107569).
For more information on UHPC, contact Ben Graybeal at FHWA, 202-493-3122 (email: benjamin.graybeal@dot.gov).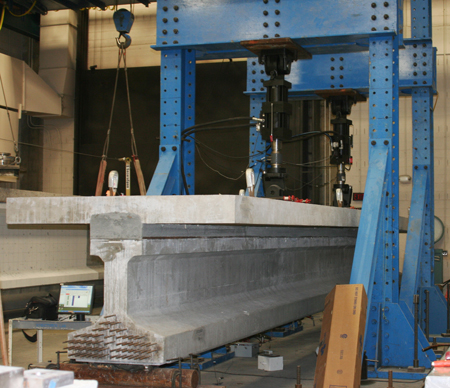 UHPC composite connection test specimens are subjected to cyclic loading.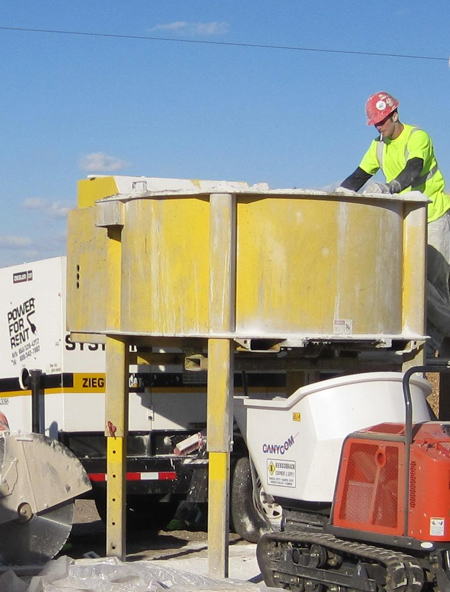 A portable concrete pan mixer is used to prepare UHPC for placement during construction of field-cast connections.