Publication Number: FHWA-HRT-12-014
Date: June 2012
Printable Version (.pdf, 0.6 mb)
FHWA Offers Online Training on Chip Seal Best Practices
Find the guidance you need to make chip seals part of your pavement preservation program with a free online course from the Federal Highway Administration (FHWA).
The 3-hour Chip Seal Best Practices course (Course No. FHWA-NHI-131132) is an on-demand training that can be scheduled at your convenience. Developed by the Transportation Curriculum Coordination Council (TCCC), the course is offered through FHWA's National Highway Institute (NHI).
Six modules cover introductory information, designing chip seal mixes, selecting the proper materials for the chip seal mix, using the right equipment, following proper construction practices, and incorporating performance measures. Topics also include common chip seal distresses.
The course will benefit entry-level construction inspectors, maintenance employees, and contractor personnel, as well as provide refresher training for more experienced staff.
Launched in 2000, the TCCC is a partnership that includes representatives from FHWA, NHI, regional State training and certification groups, several American Association of State Highway and Transportation Officials subcommittees, and industry associations. More than 70 online training courses developed by the TCCC are available from NHI. All TCCC courses are reviewed every 2 years and updated if needed. If there is a change in a specification or method used in a course, that course is updated as soon as possible.
For more information on the course content, contact Jason Harrington at FHWA, 202-366-1576 (email: jason.harrington@dot.gov). To take the Chip Seal Best Practices course, visit www.nhi.fhwa.dot.gov. Details on other online TCCC training opportunities can be found at www.nhi.fhwa.dot.gov/training/course_search.aspx (click on "View All Available Web-Based Training Courses"). For more information on the TCCC, visit www.tccc.gov.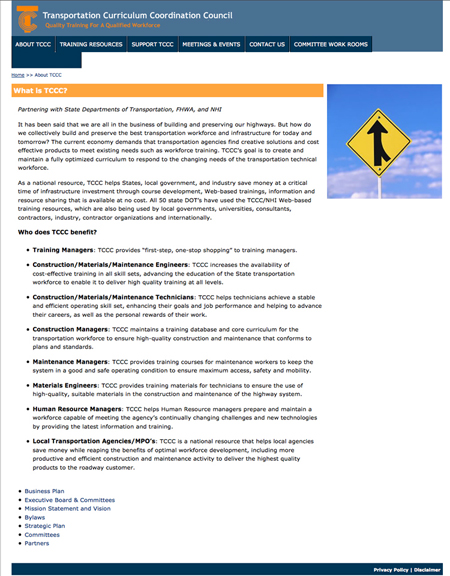 To learn more about the Chip Seal course and other training opportunities, visit www.tccc.gov.