Publication Number: FHWA-HRT-12-014
Date: June 2012
Printable Version (.pdf, 0.6 mb)
Sharing Best Practices and Project Solutions Through the Construction Peer Network
Transportation agencies and contractors are sharing construction best practices and proven solutions to project challenges through the new Construction Peer Network (CPN).
The CPN is a collaboration among the American Association of State Highway and Transportation Officials (AASHTO), American Road and Transportation Builders Association (ARTBA), Associated General Contractors of America (AGC), and Federal Highway Administration (FHWA). Using regional peer exchanges and new products such as the Program Information Tool (PI Tool), the network is bringing practitioners together to discuss more effective construction practices and learn from each other's experiences. The CPN will benefit both State agencies and contractors by:
Providing options to State transportation agencies for maximizing limited resources.
Widely deploying proven practices and innovations across the Nation.
Promoting ways to use construction funding more effectively, resulting in a positive impact on quality, cost, time, and other important project delivery metrics.
Developing or enhancing each participant's regional network of peers.
Hosted by the Rhode Island Department of Transportation, the first peer exchange was held March 6–7, 2012, in Warwick, Rhode Island. A select group of construction leaders representing State agencies, contractors, consulting firms, AASHTO, AGC, ARTBA, and FHWA participated in the session.
Participants submitted information on construction best practices using the electronic PI Tool prior to the exchange. Discussion topics for the exchange were chosen based on the information gathered with the PI Tool.
Several States presented best practices, which initiated further discussion on topics such as innovative practices and tools for inspection, project staffing levels, allowing innovations by the contractor, innovative construction methods, and performance measurement.
"The first peer exchange was a success," said David Unkefer of the FHWA Resource Center. "Participants were able to share what works for them and to learn from the advancements of others, so that proven processes and technologies can be disseminated across the country, enhancing highway infrastructure performance and safety."
Several States discussed approaches to using performance measures in construction. For example, New York and Rhode Island conduct formal evaluations to assess the cause for change orders, allowing the agencies to determine how well a project performed. Maryland, Massachusetts, Pennsylvania, and New York share performance measures transparently with the general public.
Practices shared for keeping projects moving include timely approval of change orders. Connecticut, the District of Columbia, and New Jersey, for example, have streamlined the change order approval process by authorizing mid-level approvals by the project engineer, resident engineer, and construction engineer. Vermont has also streamlined its approval process by using electronic signatures. Many participants indicated they are using prefabrication for appropriate structures and decks to accelerate projects, including in Connecticut, Delaware, Maine, Maryland, and New Jersey.
The Pennsylvania Department of Transportation, meanwhile, has improved project delivery by asking contractors to evaluate a project's design after construction is completed. Also discussed was the use of risk assessment to systematically evaluate the need for review testing and frequency. The New Hampshire Department of Transportation, for example, conducted a risk assessment of its testing processes to optimize the use of its limited testing resources.
The next peer exchange will be held July 10–11, 2012, in Detroit, Michigan. Tentative future dates include November 2012 in Salt Lake City, Utah; March 2013 in Orlando, Florida; and July 2013 in Boise, Idaho.
For more information on the CPN, contact Chris Schneider at FHWA, 202-493-0551 (email: christopher.schneider@dot.gov), or David Unkefer at the FHWA Resource Center, 404-562-3669 (email: david.unkefer@dot.gov). To download a copy of the CPN User Guide, PI Tool, and a summary report from the Rhode Island peer exchange, visit http://construction.transportation.org/Pages/ConstructionPeerNetworking.aspx.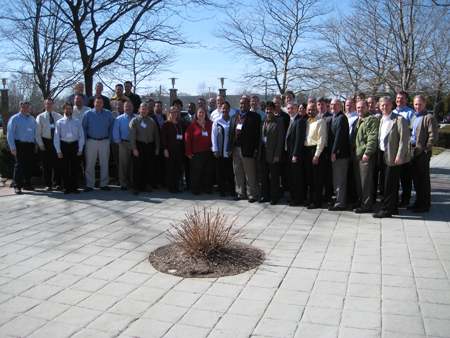 The Construction Peer Network's first peer exchange was held March 6–7, 2012, in Warwick, RI.