Publication Number: FHWA-HRT-12-014
Date: June 2012
Printable Version (.pdf, 0.6 mb)
FHWA Introduces New Asset Management Web Site
Take a fresh look at transportation asset management with the Federal Highway Administration's (FHWA) new and improved Asset Management Web site (www.fhwa.dot.gov/asset).
Asset management provides a framework to improve performance on a long-term basis. It also enables transportation agencies to preserve their assets, minimize their whole-life costs, and operate in a financially sustainable manner.
The new site features the information you need to make asset management a reality for your organization, with sections on everything from publications and training to resources and useful contacts. Also highlighted are current FHWA asset management projects.
Publication categories include general asset management, bridges, pavements, safety, operations, management systems, and case studies. Among the newly added publications are Bridge Management Practices in Idaho, Michigan, and Virginia (Pub. No. FHWA-IF-12-029) and Executive Brief: Advancing a Transportation Asset Management Approach (Pub. No. FHWA-IF-12-034).
Training options include a list of courses and workshops offered by FHWA and the FHWA National Highway Institute (NHI), including Transportation Asset Management (NHI Course No. 131106), Economic Analysis for Highway Decision Makers Workshop, Pavement Management Systems: Characteristics of an Effective Program (NHI Course No. 131116), and Fundamentals of Life-Cycle Cost Analysis. Also listed are upcoming conferences and other events.
Visitors to the Resources section can find guidance documents, recordings and presentations from asset management Webinars, videos, details on software programs, information on Transportation Asset Management Plans, and a list of frequently asked questions. Links to other useful information include Web sites for the American Association of State Highway and Transportation Officials (AASHTO) Subcommittee on Asset Management, Transportation Research Board Asset Management Committee, and State transportation agencies.
Updates on current FHWA asset management projects are posted on the site. These initiatives include establishing the Transportation Asset Management Expert Task Group as a forum to discuss changes in the way highway agencies are managing assets and identify strategies to advance asset management (see May 2012 Focus). Also in development are plans for FHWA and the AASHTO Subcommittee on Asset Management to conduct Webinars on asset management topics beginning in summer 2012, with more details to be posted as they become available.
FHWA is also preparing the first of five planned reports on risk-based transportation asset management. Expected to be released in fall 2012, the first report will provide an overview of risk management as applied to managing physical assets. Additional FHWA initiatives include enhancing the Pavement Health Track Analysis Tool, which agencies can use to determine the health of a road network in terms of remaining service life.
To use the many asset management tools and resources available, visit www.fhwa.dot.gov/asset. For more information on asset management, contact Steve Gaj at FHWA, 202-366-1336 (email: stephen.gaj@dot.gov).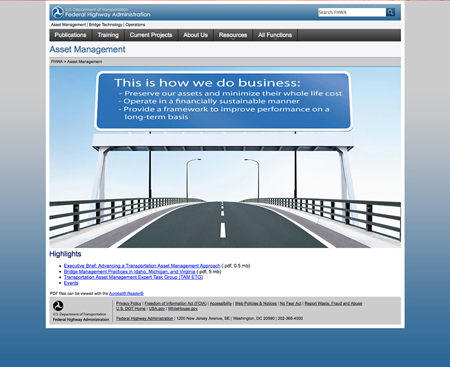 Visit FHWA's new and improved Asset Management Web site at www.fhwa.dot.gov/asset.