Publication Number: FHWA-HRT-13-016
Date: August 2013
Printable Version (.pdf, 0.3 mb)
Join the Accelerated Bridge Construction Project Exchange
Learn from other States' accelerated bridge construction (ABC) projects and explore the details of everything from specifications to contract plans by joining the free National Accelerated Bridge Construction Project Exchange.
Launched after a 2-year collaborative effort among the Federal Highway Administration (FHWA), American Association of State Highway and Transportation Officials, and State transportation agencies, "the Exchange includes detailed information on 100 projects that use prefabricated bridge elements and systems technologies along with other innovative strategies to meet the objectives of ABC," said Benjamin Beerman of the FHWA Resource Center.
For each bridge project, Exchange members can find a two- to three-page Project Summary Report that offers an overview of such information as the project name, owner, geographical coordinates, type of funding, planning, and procurement and contracting methods. Also included is a synopsis of the success stories and lessons learned from the project stakeholders. Subdirectories containing detailed information such as photos, contract plans, specifications, bid tabulations, construction schedule, and other information are also provided for each project. All posted materials can be downloaded and are approved for use.
The Exchange also offers a Microsoft Excel® spreadsheet that allows members to search the more than 1,800 project documents using key words. For example, users can search for a particular bridge element technology such as a precast deck panel, modular decked beam element, or prefabricated pier. Exchange members can also search for projects that use prefabricated systems technologies, including self-propelled modular transporters, longitudinal launching, or lateral sliding construction methods. Once a particular project or group of projects is identified, hyperlinks in the spreadsheet will take the user directly to the project directory that houses the detailed information.
A July 25, 2013, Webinar hosted by the Accelerated Bridge Construction Center at Florida International University demonstrated how to search the Exchange and obtain project information. To view presentations from the Webinar, visit www.abc.fiu.edu, select "Archive of Past Events," and click on "Webinar held on 7/25/2013." The archive also contains the ABC Project Exchange User's Guide, which provides detailed, step-by-step instructions on how to join the Exchange and search for project information.
For additional information on the ABC Project Exchange, contact Benjamin Beerman at the FHWA Resource Center, 404-562-3930 (email: benjamin.beerman@dot.gov). To learn more about ABC technologies, visit www.fhwa.dot.gov/everydaycounts/edctwo/2012/abc.cfm.
To view presentations from previous ABC Webinars hosted by Florida International University's Accelerated Bridge Construction Center, visit
www.abc.fiu.edu
and click on "Archive of Past Events." More than 28 Webinar sessions have been conducted to date. Topics include Applying ABC Concepts to Long-Span/Complex Bridges, ABC and Geosynthetic Reinforced Soil Bridge Abutments in Ohio, ABC Bridges from a County Perspective, and Work-Zone Road User Costs-Comparison Between ABC and Conventional Construction. Visitors can also select "Upcoming Webinars" to see announcements of new sessions.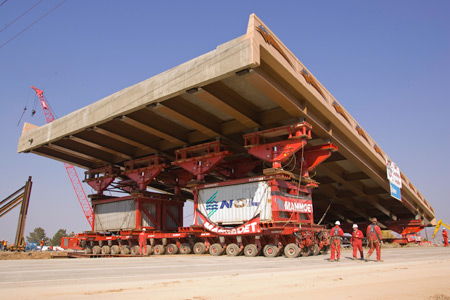 Join the National Accelerated Bridge Construction Project Exchange to find details on projects using prefabricated bridge elements and systems technologies, including self-propelled modular transporters. (Photo Credit: © UDOT)