Publication Number: FHWA-HRT-13-016
Date: August 2013
Printable Version (.pdf, 0.3 mb)
Improving Continuously Reinforced Concrete Pavements with Pavement ME Design
A new TechBrief released by the Federal Highway Administration (FHWA) introduces highway pavement engineers to use of the Pavement ME Design™ software for designing continuously reinforced concrete pavement (CRCP). Available from the American Association of State Highway and Transportation Officials' (AASHTO) AASHTOWare® line of products, Pavement ME Design is the accompanying software to the Mechanistic-Empirical Pavement Design Guide (MEPDG) adopted by AASHTO in 2008.
CRCP is reinforced with continuous steel bars throughout the length of the pavement and has no constructed transverse contraction or expansion joints except at bridges or pavement ends. The pavement's unique design means that it can extend, joint free, for many miles and has low maintenance requirements. As noted in the TechBrief, the Pavement ME Design program offers "significant advancement for the design of economical, long-life CRCP under a variety of climate conditions, traffic loadings, and local materials."
Continuously Reinforced Concrete Pavement: Design Using the AASHTO Pavement ME Design Program (Pub. No. FHWA-HIF-13-027) describes the primary data inputs needed to use the Pavement ME Design software for CRCP design. Also included are examples demonstrating the application of the software to both new CRCP design and CRCP overlays. Using the MEPDG and the software, engineers can assess how the various inputs and features selected for a particular project affect the final CRCP design. While there are approximately 150 potential data inputs for CRCP design, many default values in the software can be used. As highlighted in the TechBrief, the most important inputs for optimizing the CRCP design include slab thickness, steel content, bar depth, bar size, local climate, construction month, concrete strength, concrete elastic and thermal properties, lane width, and traffic.
The TechBrief summarizes the steps to follow in the design process when using the software and then examines the individual critical inputs. For example, a user should select the appropriate design type, such as new pavement or overlay. The program will then automatically select a portland cement concrete (PCC) surface layer with default properties. PCC thickness and material properties can be modified so that they are project-specific, including concrete thermal properties, cementitious content, and concrete strength.
Another critical input is climate. The Pavement ME Design models account for daily and seasonal variations in temperature and moisture profiles in the CRCP and soil layer through site-specific climate factors, including percentage of sunshine, air temperature, precipitation, wind, and water table depth. Users can select data from several hundred weather stations across North America or create a virtual weather station by applying local weather data to a specific project site.
To download a copy of the TechBrief, visit www.fhwa.dot.gov/pavement/pub_details.cfm?id=871. A more comprehensive Technical Summary on the topic is available at www.fhwa.dot.gov/pavement/pub_details.cfm?id=887. For more information on using CRCP, contact Sam Tyson at FHWA, 202-366-1326 (email: sam.tyson@dot.gov), or Shiraz Tayabji at Fugro Consultants, Inc., 410-707-4902 (email: stayabji@aol.com). For information on purchasing the Pavement ME Design software, visit www.darwinme.org/MEDesign/Index.html.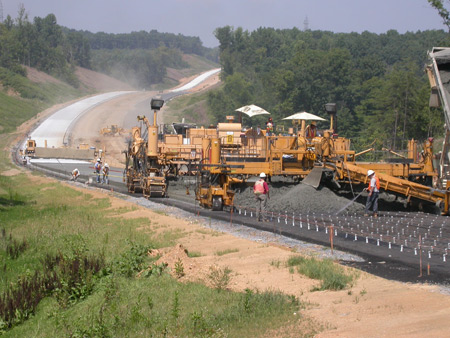 Continuously reinforced concrete pavement can extend joint free for many miles and has low maintenance requirements. (Photo Credit: © VDOT)