Publication Number: FHWA-HRT-13-016
Date: August 2013
Printable Version (.pdf, 0.3 mb)
Faster, Safer, and More Efficient:
2013 Highways for LIFE Projects Showcase Innovation
Innovative highway and bridge projects in 13 States and the District of Columbia received a boost with the award of $16.3 million in funding from the Federal Highway Administration's (FHWA) Highways for LIFE (HfL) program. The program promotes proven innovations for accelerating project completion and achieving safer and more efficient highways and bridges with longer life spans.
Several projects will use accelerated bridge construction (ABC) technologies. Iowa received $400,000 for its I-92 bridge project in Cass County. The new bridge will be built near the existing bridge using prefabricated bridge elements and then moved into position with a lateral slide, reducing the amount of time the roadway will need to be closed. In Okahoma, a $718,000 grant will also help fund state-of-the-art bridge moving technology, as the State replaces the SH-51 over Cottonwood Creek Bridge near the city of Mannford.
Kentucky will use its $120,000 grant to accelerate the replacement of the KY 70 Bridge over Stoner Creek in Taylor County. Louisiana will apply the geosynthetic reinforced soil-integrated bridge system (GRS-IBS) and prefabricated bridge elements and systems (PBES) as it uses a $376,572 grant to reconstruct the Maree Michel and Creek Bridges in Vermilion Parish. And the District of Columbia will use $104,000 in grant funding as it incorporates GRS-IBS to streamline replacement of the 27th Street, NW, Bridge over Broad Branch Stream.
A bridge replacement project on I-70 over Smith Road and the Union Pacific Railroad in Aurora, Colorado, will be the first in the country to use GRS-IBS for a multi-span bridge on an Interstate. Colorado received a $2 million grant for the groundbreaking project.
To learn more about ABC technologies, including PBES, slide-in bridge construction, and GRS-IBS, visit www.fhwa.dot.gov/everydaycounts/edctwo/2012/abc.cfm.
Along with bridge innovations, technology is improving tunnels, including Nevada's I-80 Carlin Tunnels project east of Carlin. A $1.2 million grant will fund use of a Construction Manager at Risk project that follows the principles of the Construction Manager/General Contractor (CMGC) contracting method and installation of a new tunnel lighting system. For additional information on CMGC, visit www.fhwa.dot.gov/everydaycounts/edctwo/2012/cmgc.cfm.
Innovations are also making a difference in today's paving projects. A $2 million grant to Indiana for its I-465/I-65 South Interchange project in Indianapolis will fund use of new concrete surface technology that results in a quieter and more skid-resistant highway surface. Hawaii will use a $3 million grant as it resurfaces Honolulu's Middle Street using post-tensioned, precast concrete and cast-in-place portland cement concrete pavement, minimizing inconvenience to users while providing a durable, long-lasting surface. For more information on precast concrete pavement technologies, visit www.fhwa.dot.gov/hfl/innovations/precast.cfm.
Tennessee received $1,445,600 to use intelligent compaction technology at four locations in the State (State Route 331 in Knox County, State Route 58 in Hamilton County, U.S. 64 in Lincoln County, and U.S. 412 in Crockett County). The technology will improve overall pavement density and durability and reduce maintenance costs. Vermont will also apply its $1.9 million grant to using intelligent compaction technology, as well as three-dimensional modeling, for a reclamation project on Route 107 in Stockbridge and Bethel. Additional information on intelligent compaction is available at www.fhwa.dot.gov/everydaycounts/edctwo/2012/ic.cfm or www.intelligentcompaction.com.
Illinois will incorporate three-dimensional modeling technology as it uses its $880,000 grant for an alignment project on Highway 4 near Galesburg in Knox County. The new technology will allow Illinois to complete the construction faster, while reducing the need for lane closures, increasing worker safety, and cutting costs. More information on three-dimensional modeling can be found at www.fhwa.dot.gov/everydaycounts/edctwo/2012/3d.cfm.
Missouri received $150,000 to apply a high friction surface treatment (HFST) to Highways 54 and 179 in Jefferson City and two sites on I-44 near Rolla. HFST is applied to pavements to help motorists maintain better control in both dry and wet driving conditions. To learn more about using HFST, visit www.fhwa.dot.gov/everydaycounts/edctwo/2012/friction.cfm.
In Alabama, a $2 million grant will be used to improve traffic operations and management at intersections along U.S. 280 in Birmingham, Homewood, Mountain Brook, Vestavia Hills, and Hoover. Innovations such as adaptive signal control technology will help reduce highway congestion in a critical corridor of the State. For details on adaptive signal control technology resources, visit www.fhwa.dot.gov/everydaycounts/technology/adsc.
For more information about the 2013 HfL projects and their featured innovations, visit www.fhwa.dot.gov/hfl, or contact Ewa Flom at FHWA, 202-366-2169 (email: ewa.flom@dot.gov).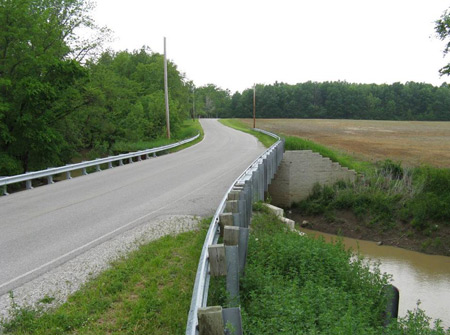 Innovations funded by the 2013 Highways for LIFE program grants include use of the geosynthetic reinforced soil-integrated bridge system (GRS-IBS). The Bowman Road Bridge in Defiance County, OH, was the first bridge in the world to use GRS-IBS.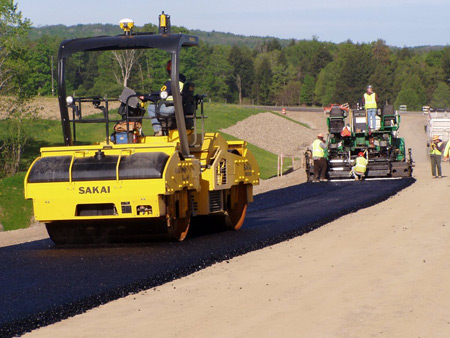 Several States will use Highways for LIFE program grants to help implement intelligent compaction technology, which improves pavement density and durability and reduces maintenance costs.