Publication Number: FHWA-HRT-13-016
Date: August 2013
Printable Version (.pdf, 0.3 mb)
FHWA and AASHTO Launch Second Round of SHRP2 Implementation Assistance
The Federal Highway Administration (FHWA) and American Association of State Highway and Transportation Officials (AASHTO) are accepting applications for the second round of the SHRP2 Implementation Assistance Program.
Research projects conducted under the second Strategic Highway Research Program (SHRP2) have resulted in an array of advanced tools and technologies for improving highway safety, renewal, reliability, and capacity. These new tools and technologies are now being released as SHRP2 Solutions products. Funding awarded through the Implementation Assistance Program helps State departments of transportation (DOT), metropolitan planning organizations, tribal agencies, local agencies, and others as they implement the new products.
Four products are featured in the second round, with assistance available for serving as a "lead adopter" for the technology or for using the new product.
Expediting Project Delivery (Product C19) -Features 24 strategies to address or avoid 16 common constraints in speeding delivery of transportation planning and environmental review projects. Five Lead Adopter and five User Incentives will be awarded.
Performance Specifications for Rapid Renewal (Product R07) -Contains sample construction performance specifications for accelerating road and bridge projects. Four Lead Adopters will be selected.
Managing Risk in Rapid Renewal Projects (Product R09) -Previously featured in the first round of Implementation Assistance opportunities, when two pilot projects were selected. FHWA and AASHTO are now seeking four Lead Adopters to use the product's tools to identify, assess, mitigate, allocate, and monitor risk on accelerated reconstruction projects.
Railroad–DOT Mitigation Strategies (Product R16) -Contains model legal agreements, recommended practices, sample contracts, and training materials agencies can use to resolve conflicts and streamline review and agreement processes. Four Lead Adopter and four User Incentives will be awarded.
For application information, visit www.fhwa.dot.gov/goSHRP2. The application deadline is September 6, 2013. Additional information is available by contacting Carin Michel at FHWA, 410-962-2530 (email: goSHRP2@dot.gov), or Pam Hutton at AASHTO, 303-263-1212 (email: phutton@aashto.org).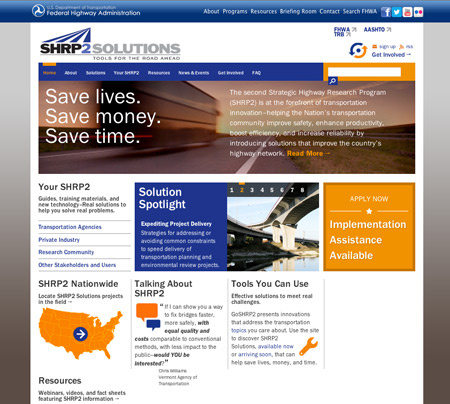 For resources and information on implementing SHRP2 technologies, visit www.fhwa.dot.gov/goSHRP2.