Publication Number: FHWA-HRT-14-010
Date: January 2014
Printable Version (.pdf, 0.3 mb)
LTPP InfoPave: Your Portal to Pavement Data
Step into a portal to the Nation's pavement data with LTPP InfoPave™, the new Web-based system available from the Federal Highway Administration (FHWA).
The system allows users to more easily tap into the wealth of pavement data available through FHWA's Long-Term Pavement Performance (LTPP) program. Launched in 1987, the LTPP program has monitored nearly 2,500 in-service pavement test sections throughout the United States and Canada. These test sections represent a range of climatic and soil conditions. The data collected now form the largest and most comprehensive pavement database in the world.
LTPP InfoPave offers a gateway to data from the LTPP test sections, as well as findings from data analyses and extensive documentation for the many aspects of LTPP experiment design, data acquisition, quality control, and data dissemination. Also available are links to LTPP products and tools, including a falling weight deflectometer calibration system and LTPPBind, a software program designed to help highway agencies select the most suitable Superpave asphalt binder performance grade for a particular site. Users can also access an LTPP reference library containing more than 700 electronic documents.
"The new system provides a powerful and flexible tool that allows users at all levels-from researchers and professionals to students-to explore, extract, and employ LTPP data," said Jane Jiang of FHWA.
Users have many different options for finding the data they need. An "LTPP Sections of Interest" feature allows visitors to narrow down the test sections that interest them. This feature also offers an overview of the various LTPP experiments and core data elements. A "Timeline" option provides the history of each LTPP test section, including the construction, maintenance, rehabilitation, and monitoring activities that occurred during the life of the test section. The "Data Selector" tool can be used to identify and select the desired data. Data files and documents can then be searched. Using the "Data Pivot" feature, users can filter data by different criteria. Data can also be mapped geographically.
Also available are tools allowing users to create their own personalized data sets, summary reports, and queries, among other options. Data selections, views, and queries can be shared with other users. "With LTPP InfoPave, the universe of LTPP data is at your fingertips," said Jiang.
To start exploring LTPP InfoPave, visit www.infopave.com. Visitors will also find information on LTPP InfoPave Mobile, a companion application for smart phones. For more information about the new system or the LTPP program, contact the LTPP Customer Support Service Center, 202-493-3035 (email: ltppinfo@dot.gov).
Participate in the 2014 LTPP International Data Analysis Contest
Make plans now to participate in the 2014 Long-Term Pavement Performance (LTPP) International Data Analysis Contest. The contest is designed to encourage university students, professors, and highway agency engineers from around the world to get involved in using the LTPP database. This year's theme is "Use LTPP InfoPave to Evaluate a Question or Concern for Your Region or State." The contest is sponsored by the Federal Highway Administration and the American Society of Civil Engineers' Transportation and Development Institute. Submissions are due by July 31, 2014. To view the contest guidelines, visit www.asce.org/tdi. Winners will be recognized at the 94th Transportation Research Board Annual Meeting in Washington, D.C., in January 2015.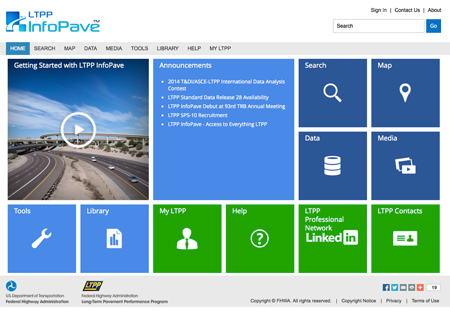 LTPP InfoPave offers a gateway to data collected from nearly 2,500 pavement test sections throughout the United States and Canada.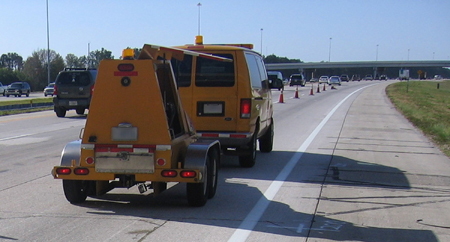 Tools and products featured on LTPP InfoPave include the falling weight deflectometer calibration system.