Publication Number: FHWA-HRT-14-010
Date: January 2014
Printable Version (.pdf, 0.3 mb)
Infrastructure Innovation Webinar
These free Webinars provide a quick introduction to the latest infrastructure innovations and technologies.
Analytic Procedures for Determining the Impacts of Reliability Mitigation Strategies
February 18, 2014, 2–4 p.m. eastern standard time (EST)
Sponsored by the Transportation Research Board (TRB), the Webinar will explore projects under the second Strategic Highway Research Program (SHRP2) that have analyzed roadway geometric design features and the use of travel time reliability prediction models for urban freeways. This SHRP2 research has identified roadway design features that improve travel time reliability. Results of the research include new prediction models, a design guide, and an Excel®-based tool for evaluating the effect of design treatments on delay, safety, travel time reliability, and lifecycle costs and benefits. The final 30 minutes of the Webinar are reserved for participant questions.
To register, visit www.trb.org/StrategicHighwayResearchProgram2SHRP2/Blurbs/170156.aspx. For additional information, contact Linda Mason at TRB, 202-334-3241 (email: lmason@nas.edu).
Application of 3D Models in the Construction Office
February 19, 2014, 1–2:30 p.m. EST
The Webinar will examine how contractors use 3D engineered models in bidding on transportation construction projects and preparing for construction work. This session is third in a Federal Highway Administration (FHWA) series on 3D Engineered Models for Construction. To view the first two Webinars in the series, Overview of 3D Engineered Models for Construction and Creating 3D Engineered Models, visit www.fhwa.dot.gov/construction/3d.
Upcoming Webinar topics will include Applications of 3D Models on the Construction Site, Managing and Sharing 3D Models for Construction, Overcoming Impediments to Using 3D Engineered Models for Construction, and Steps to Requiring 3D Engineered Models for Construction.
Registration is available at www.nhi.fhwa.dot.gov/resources/webconference/viewconference.aspx?webconfid=27113. For more information, contact Douglas Townes at the FHWA Resource Center, 404-562-3914 (email: douglas.townes@dot.gov).
To view presentations and listen to a recording from the first session of FHWA's ongoing Aerodynamics Webinar series, visit https://connectdot.connectsolutions.com/p2j4xxoqi15/. Held on November 25, 2013, the first session presented an overview of the FHWA Aerodynamics Program.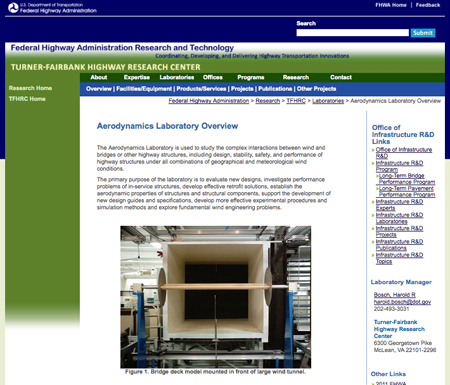 More information on the FHWA Aerodynamics Program is available at www.fhwa.dot.gov/research/tfhrc/labs/aerodynamics/index.cfm.