Publication Number: FHWA-HRT-14-010
Date: January 2014
Printable Version (.pdf, 0.3 mb)
A Streamlined Introduction to Asset Management Implementation
A new Executive Summary to the AASHTO Transportation Asset Management Guide-A Focus on Implementation offers transportation agencies and others a streamlined introduction to using asset management to meet the demands of a rapidly changing transportation business environment. These demands include greater accountability in the effective use of Federal funds; an increased relationship between performance and funding; and more sustainable transportation solutions.
Developed by the American Association of State Highway and Transportation Officials (AASHTO) and Federal Highway Administration (FHWA), the Executive Summary is a companion to the Transportation Asset Management Guide: A Focus on Implementation. Released in 2011, A Focus on Implementation followed the first Transportation Asset Management Guide issued by AASHTO in 2002. "All three documents should be read and used together, as they are complementary," said Nastaran Saadatmand of FHWA.
The 2002 Transportation Asset Management Guide provides background information about transportation asset management (TAM), the advantages of using TAM, and an approach that agencies can use to identify their current status and decide where they need to focus their asset management efforts. A Focus on Implementation, meanwhile, presents a step-by-step roadmap of the tasks required to implement asset management in a transportation agency. Part 1 focuses on organizing and leading TAM initiatives, while Part 2 looks at TAM processes, tools, systems, and data. Part 3 features the Appendices, which include examples of asset management plans and four indepth case studies of both U.S. and international agencies' experiences in implementing TAM.
The new Executive Summary is designed to reach a broader audience within transportation agencies, increasing awareness of asset management and providing a useful resource as agencies work to align their functions with asset management objectives.
Starting with "Setting the Direction for Asset Management," the Summary briefly highlights the steps to TAM implementation and points readers to the relevant chapters within the Guide for more detailed information. For example, as covered in Section 2 of the Guide, "Setting the Direction" includes determining agency goals and objectives for TAM; defining the scope of TAM in the agency, including which assets are to be managed; and performing an agency self-assessment to determine the actions needed to achieve TAM improvements.
Another important step, as highlighted in Section 3 of the Guide, is "Aligning the Organization." This includes developing a comprehensive change strategy for an agency and integrating TAM into the agency's organizational culture and business processes. The Executive Summary condenses recommendations for preparing an asset management plan from Section 4 of the Guide. The plan should document key information, including the agency's strategic objectives or outcomes, the services that the agency delivers, and the assets required to deliver the services and their current condition and performance. Other vital information to document includes planned asset improvements, how the assets will be cost-effectively managed throughout their life cycles, and the agency's long-term financial forecasts.
Also briefly highlighted are "Processes, Tools, and Data to Support Asset Management." Topics summarized that are covered in more detail in Sections 5, 6, 7, and 8 of the Guide include strategic performance measurement, risk assessment and management, life-cycle asset management, analytical tools for asset management decisionmaking, and TAM information systems.
Agencies will also find an "Additional Information" section pointing them to resources such as a TAM gap analysis spreadsheet and case studies on asset management implementation in Colorado, Missouri, Wyoming, and New Zealand.
To download a copy of the Executive Summary (Pub. No. FHWA-HIF-13-047), visit www.fhwa.dot.gov/asset/pubs/hif13047.pdf. To purchase the AASHTO Transportation Asset Management Guide-A Focus on Implementation, visit https://bookstore.transportation.org/item_details.aspx?id=1757. The Transportation Asset Management Guide can be purchased at https://bookstore.transportation.org/Item_details.aspx?id=355. For more information on asset management, visit www.fhwa.dot.gov/asset, or contact Nastaran Saadatmand at FHWA, 202-366-1337 (email: nastaran.saadatmand@dot.gov).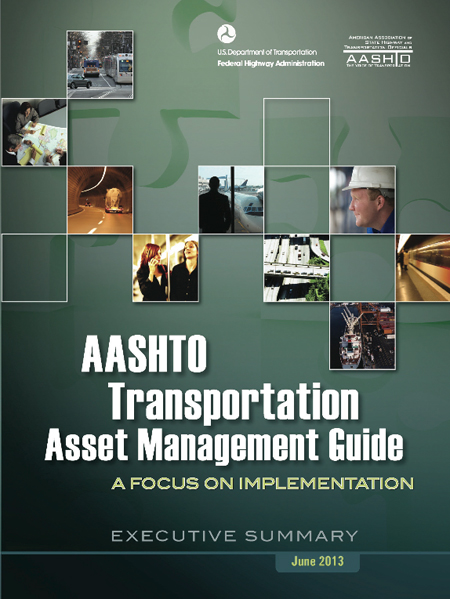 Explore a World of Asset Management

Visit the Federal Highway Administration's (FHWA) Asset Management Web site (www.fhwa.dot.gov/asset/index.cfm) to explore a world of transportation asset management resources. Available resources include information on training opportunities and Webinars, videos, guidance on developing transportation asset management plans, details on current FHWA projects, and links to software tools. Also featured are publications covering everything from bridge management to pavement infrastructure health to risk evaluation. New publications include FHWA's Practical Guide for Quality Management of Pavement Condition Data Collection. The guide examines how transportation agencies can develop and implement a quality management program for collecting pavement data, resulting in an effective pavement management system. Included are a Data Quality Management Plan Template and case studies from several transportation agencies. To download the guide, visit www.fhwa.dot.gov/pavement/management/qm/data_qm_guide.pdf. (.pdf, 5 mb)

Also available are a series of reports on Risk-Based Transportation Asset Management. Topics include evaluating threats, managing risks to critical assets, and managing external threats. For electronic versions of the reports, visit www.fhwa.dot.gov/asset/pubs.cfm?thisarea=risk.

To find additional publications and resources, as well as links to other useful information, visit www.fhwa.dot.gov/asset/index.cfm and start your asset management journey today.