Publication Number: FHWA-HRT-14-010
Date: January 2014
Printable Version (.pdf, 0.3 mb)
SHRP2: Apply Now for Round 3 Implementation Assistance
Innovative geotechnical solutions, tools for constructing precast concrete pavements, and strategies for managing utility conflicts are among the products available in the third round of the second Strategic Highway Research Program (SHRP2) Implementation Assistance Program.
The Federal Highway Administration (FHWA) and American Association of State Highway and Transportation Officials (AASHTO) are accepting applications until February 14, 2014, for funding assistance to implement the new products. Round 3 recipients will be announced in March.
More than 100 research projects conducted under SHRP2 have resulted in an array of advanced tools and technologies for improving highway safety, renewal, reliability, and capacity. These tools and technologies are now being released as SHRP2 Solutions products. Funding awarded through the Implementation Assistance Program helps State transportation agencies, metropolitan planning organizations, tribal agencies, local agencies, and others as they implement new products. Depending on the product, implementation assistance is available at three participation levels: proof of concept pilot, lead adopter incentive, and user incentive. The proof of concept level offers transportation agencies opportunities to help evaluate the readiness of a product. User incentives allow agencies to assess a product, while lead adopters take on a more prominent role in communicating their experiences with the product and potentially assisting other organizations with implementation.
Round 3 products are:
Freight Demand Modeling and Data Improvement (Product No. C20)-This organizational approach will help agencies in achieving improved freight data sets and freight modeling practices.
GeoTech Tools (Product No. R02)-These tools offer more than 40 geotechnical solutions to common embankment, cut slope, structure and foundation interface, and pavement foundation issues.
Precast Concrete Pavement (Product No. R05)-New tools for using precast concrete pavement systems will help agencies reduce the duration of construction closures on critical roadways.
Identifying and Managing Utility Conflicts (Product No. R15B)-Agencies will find strategies for improving cooperation among highway and utility agencies and speeding up project completion.
Pavement Renewal Solutions (Product No. R23)-Guidelines for using existing pavements in rapid construction will help extend pavement life and save money.
Online application forms, product details, tips on submitting an application, and other information are available at www.fhwa.dot.gov/goSHRP2. Additional information on SHRP2 is available by contacting Carin Michel at FHWA, 410-962-2530 (email: goSHRP2@dot.gov), or Pam Hutton at AASHTO, 303-263-1212 (email: phutton@aashto.org).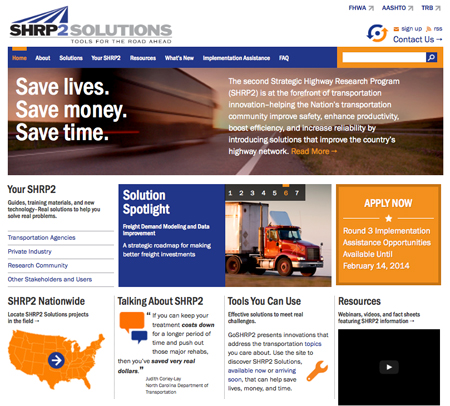 To learn more about SHRP2 Solutions products, visit www.fhwa.dot.gov/goshrp2.