The Exploratory Advanced Research Program
Novel Alternative Cementitious Materials for Development of the Next Generation of Sustainable Transportation Infrastructure
Table 4. State DOT ACM usage survey results.
MATERIAL
STATE USAGE
APPLICATIONS
ANECDOTAL MATERIAL OBSERVATIONS
CSA
California
Kentucky
Maine
Missouri
New Mexico
New York
North Carolina
Texas
Virginia
Washington
Patching
Rapid set overlays
Closure pour application with precast deck panels
Bridge joint repairs
Partial depth concrete
pavement repairs
Short-term replacement
for bridge departures/
entrances
Bridge sleeper slab
replacements
Precast deck slab closures
LMC overlays
Peer cap to deck slab
connections
Panel replacements and
DBR pour back material
"Performed well."
"Performed well in construction and service."
"Performed well so far with no issues."
"Good field performance, one large transverse
crack but no debonding."
"Worked very well for more than 5 years, even
with a profoundly under-designed and very thin
pavement."
"Excellent performance-fewer cracks and
lower permeability than concrete overlays."
"Good when mixed, placed, and cured properly."
"Field tests show good performance, after one
year, from CSA pavements."
CSA-latex mixtures
Missouri
Rapid set bridge deck
overlays
Partial depth repairs
"Some scaling issues, discoloration, and
reduction in compressive strength."
CAC
Illinois
Maryland
New York
Texas
Roadway patching

Precast deck slabs
closures

Bridge armor joint repairs

Full-depth pavement
repairs

"Material has held up well, but experienced and
well-organized contractors with topnotch
placement equipment are absolutely necessary in order to obtain good results."

"Performed well for many years after placement."

"One product showed scaling the first year and
performed well for the next 17 years, others
have had very poor durability with lots of scaling
and freeze-thaw loss."

"Have had good experiences with CAC."
MPC
Alaska
Maryland
Virginia
Bridge deck patching and
overlays
Precast panel joints
"14 years after placement, some joints have
slightly delaminated and cracking has occurred
where the material was subjected to torsion, but
overall the material seems to have worked
reasonably well."

"CSAs preferred because of cost."
AA
Georgia
Kentucky
Texas
Virginia
Full- and partial-depth
concrete slab pavements
and bridge decks, and
repairs to pavements and
bridge decks

Patching

"Getting a level finish in the short set window was
challenging, but otherwise the material
performed well."

"Performed well in construction and service."

"Had low strength issues, but activator may have
been out of date."

"Field tests show good performance, after 1 year,
from AA fly-ash pavements."

Polyester Cement
California
Bridge overlays
"Doing well so far after 1 year of placement."
Site 1: I-16 in Dublin, GA
The research team examined full-depth chemically-activated binder concrete slabs, originally placed on U.S. Interstate 16 in Dublin, GA. Images from the site are shown below in figures 2 and 3. These slabs were originally placed in early 2008 and remained in service until 2013, when a full highway section replacement was completed. Since then, the slabs have been stored at a Georgia DOT storage yard.
The research team observed that the slabs appeared to be in excellent condition, with only very minimal cracking. This cracking was likely caused by removing the slab from the roadway and transporting it via a front-end loader from the original site to a Georgia DOT storage area. The slab surface showed exposed aggregates; however, this was assumed to be a result of the paving process, and perhaps grinding of the surface to smooth it and improve rideability, rather than a durability issue, as no evidence indicated salt scaling or delamination.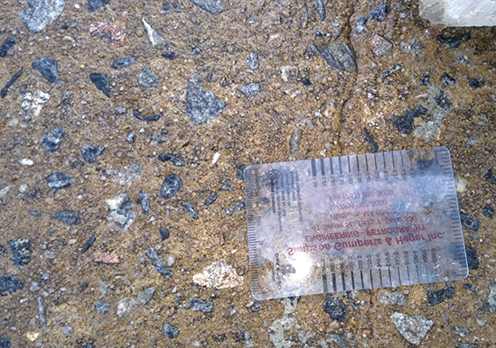 © The Georgia Institute of Technology

Figure 2. The wearing surface of the I-16 slab section in Dublin, GA, and one of the few cracks present.
(It is not known if the crack was present before slab removal.)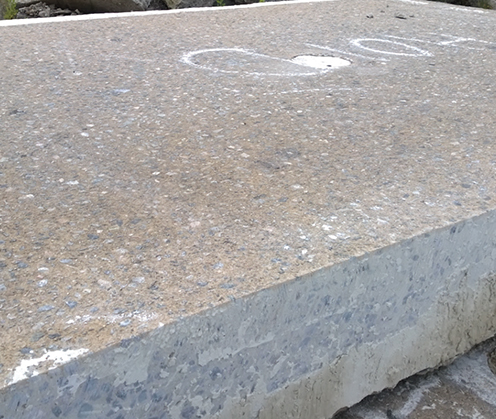 © The Georgia Institute of Technology

Figure 3. Cast surface of the slab section in Dublin, GA.