Long-Term Pavement Performance Program Highlights: Accomplishments and Benefits 1989-2009
BENEFITS of the LTPP DATABASE
Primary Data
The single most significant product of the LTPP program is the pavement database—the largest and most comprehensive collection of research-quality performance data on in-service highway pavements ever assembled. The database has supported national, State/Provincial, and local research projects, as well as a variety of international analysis efforts. With appropriate maintenance and update activities in place, the LTPP database will continue to be the primary source of information for future generations of pavement researchers.
The LTPP database is composed of 21 modules containing data categories such as climate, materials testing, traffic volumes and loads, pavement layer types and thicknesses, material properties, and pavement condition (distress, longitudinal and transverse profile, and structural response). Each module contains a number of related tables. Within each table are data elements selected by their importance to pavement engineering applications. To help users navigate the millions of records stored in the database, the LTPP Table Navigator application was developed.
An updated, comprehensive LTPP Standard Data Release is distributed each year. Also available on DVD is the comprehensive LTPP Reference Library. The primary LTPP database is maintained at the Turner-Fairbank Highway Research Center.
Ancillary Data
The LTPP Ancillary Information Management System (AIMS) data contains supplementary information that complements the LTPP database. Examples of AIMS data include the following:
Time history files collected from falling-weight deflectometers (FWDs).
Raw profile data.
Scanned distress maps and photos.
Traffic files from the central traffic database.
Test section materials stored at the FHWA Materials Reference Library in Nevada.
Data Accessibility
The LTPP Customer Support Service Center provides free access to the latest pavement performance data and related data quality information through the Customer Support Service Center's annual standard data release on DVD in Microsoft Access format and the LTPP Products Web site (www.ltpp-products.com). Users typically are from State and Provincial highway agencies, local highway agencies, academia, and pavement engineering firms. Information in the LTPP database is readily available to support user requests.
Users can submit data requests for pavement performance data as well as data from the AIMS system through LTPP's Customer Support Service Center, which has filled more than 5,000 data requests since 1997. The LTPP Products Web site has more than 3,000 registered users from 77 countries, and more than 45,000 requests have been processed online. The more than 50,000 total requests for LTPP information are a testament to the program's usefulness and its broad acceptance by the research community and State and Provincial partners.
The LTPP database supports research and product development. By the end of 2009, more than 600 research documents that utilized LTPP data had been published. Based on the steady growth in the number of publications with time, it is anticipated this number will increase significantly in the years ahead. The benefits this information has yielded are far-reaching, and those benefits and accomplishments are discussed in the following sections.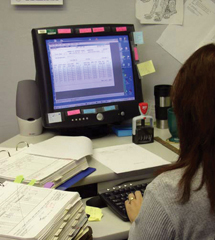 LTPP DataPave and other LTPP products are available online at www.ltppproducts.com.
Data Analysis Program
Data analysis has been a critical component of LTPP from the program's inception. Members of expert task groups and other stakeholders have expended significant effort over the years in optimizing data analysis activities. For the past decade, the Strategic Plan for LTPP Data Analysis has guided the analysis efforts using LTPP program funds.2 Testing the quality and completeness of the LTPP data has been a major activity under the program, which has funded many studies that provide a solid technical basis for understanding pavement performance.3
Seasonal Monitoring Program
Recognizing that weather and traffic loading are the two major causes of pavement deterioration, LTPP made the collection of research-quality environmental data a top priority. The Seasonal Monitoring Program (SMP) study was designed to measure the impact of daily and seasonal temperature and moisture changes on pavement structures and the response to loads. Sixty-four sites (see figure 2) were instrumented to collect climatic data and variations in parameters such as temperature and moisture content. Monitoring data were collected frequently, in many cases monthly, so that, for example, pavement deflection data could be correlated to seasonal variations of material properties.
Direct measurements at SMP projects and automated weather station locations have provided designers and researchers with an abundance of high-quality data. The further innovative step of developing virtual weather stations has already paid significant dividends, and all environmental data will support significant future savings.
Analysis using SMP data has been useful in evaluating seasonal load restrictions, defining moisture and frost penetration prediction models, and developing the LTPPBind software application that helps highway agencies select the most suitable and cost-effective SuperPave® asphalt binder performance grade for a particular site. The LTPP program has produced a set of three CD-ROMs that document the installation, monitoring, and decommissioning of SMP sites, as well as detailed information on the equipment and experimental design.
The climatic information available through the LTPP program has proved valuable in many areas. Of particular note is the LTPPBind software, which was developed to aid in the selection of performance-graded binders. This software was based on the original SHRPBind software and incorporates LTPP's revised temperature models. In many instances, the original SHRPBind models were found to be overly conservative, and implementation of LTPPBind has resulted in significant cost savings—an estimated $50 million per year.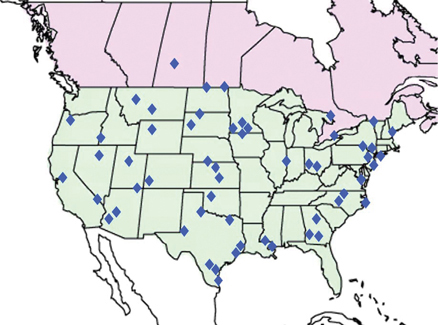 FIGURE 2. Distribution of instrumented sites in the LTPP Seasonal Monitoring Program.
LTPP climatic information can be useful in other areas of research. One study used climatic data from the LTPP program to evaluate rigid pavement design procedures for airfields.4 The research investigated the estimation of critical design edge stress, effect of finite slab width and length, effect of a second subbase layer and stress adjustment factor required due to effective temperature differential, thermal curling and moisture warping, fatigue versus thickness relationships, and alternative structural deterioration relationships.
Findings from the study were used to modify the fatigue curve used for airfield design. The new curve is more representative of actual critical edge stresses and can incorporate additional design features, such as various slab sizes, climatic effects, and multiple subbase layers, as well as innovative pavement configurations. The results from the study are currently being used to modify the stress analysis and thickness design program used for rigid pavement design in airfield applications.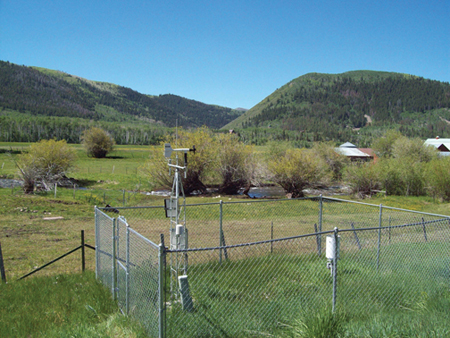 An automated weather station at an SPS-8 site in Francis, Utah.
LTPP and the Next Generation of Pavement Professionals
Familiarizing users with the LTPP database is a major program accomplishment. LTPP data are used not only in pavement research at the State/Province and national levels, but also at local and county levels and internationally. Introducing LTPP data to analysts has long been a priority, particularly so at the university level. LTPP training has been given to interested professors, and several universities have introduced curriculums involving LTPP data. Using the LTPP database allows professors to create academic problems that relate to real conditions. Students learn to process the data, determine pavement condition, and recommend rehabilitation strategies. For graduate students in pavement engineering, using the pavement data is essential to investigating how pavement systems behave.
The American Society of Civil Engineers (ASCE) jointly with FHWA sponsors a competition to encourage use of LTPP data. The ASCE-LTPP International Contest on LTPP Data Analysis has been running since 1998 and has four entry categories: undergraduate students, graduate students, partnerships, and curriculum. (Contest information is available at www.fhwa.dot.gov/pavement/ltpp/contest.cfm.) Student participation is ensuring that the next generation of pavement designers and researchers will be LTPP savvy—and spurs the development of new products and practices.
A Foundation for Advancement
The LTPP database will continue to be the single largest benefit from the LTPP program, a legacy to future pavement researchers. Providing reliable pavement performance data to thousands of requestors throughout the academic community and the public and private sectors, the database has been the foundation for fundamental and applied research and the nucleus for advancements in pavement design and management processes. With continued support supplementing the quantity, quality, and accessibility of LTPP data, the LTPP database will be the catalyst for pavement advancements over the foreseeable future.
Future benefits will be achieved primarily through the exposure of engineers and researchers to the LTPP program and database. This effort is already underway, and many universities incorporate the LTPP database as part of undergraduate curriculums. Familiarity with the program will facilitate the implementation of LTPP products, and increased exposure to LTPP products will result in applications beyond those currently envisioned.
"We see the LTPP database serving into the indefinite future as a key component of the agency's pavement research activities, and those activities will benefit substantially from the many LTPP data collection and analysis activities in FY 2010–FY 2015 that are mentioned in the FHWA document."
Victor Mendez, Chairman
Twenty-third letter report of the Transportation Research Board
Long-Term Pavement Performance Committee,
December 27, 2007
"…Kansas DOT uses LTPPBind software as an integral part of their pavement design process."
Lon Ingram
Former Chief of Materials and Research, Kansas Department of Transportation
"The best part of the database is that it allows students to 'get their hands dirty' with real data."
Susan Tighe, Ph.D.
Professor of Engineering, University of Waterloo
FHWA-HRT-10-071