Long-Term Pavement Performance Program Highlights: Accomplishments and Benefits 1989-2009
THE ROAD AHEAD
The key drivers for establishing the LTPP program still exist today, more than 20 years after the initiation of test section monitoring. High-value sections remain in the program, and there is much to be gained by continuing to monitor them. There is a rich base of information still to be harvested from LTPP studies that will aid in improving the performance of pavements. The LTPP program will provide benefits and deliver accomplishments for the foreseeable future.
As such, TRB published a report in 2009 titled Preserving and Maximizing the Utility of the Pavement Performance Database.26 This document recommends a multi-year strategy designed to leverage LTPP's strengths to deliver high-priority results. On a similar track, AASHTO has formally endorsed the LTPP program and publicly championed for enhanced funding.
In support of these endorsements, FHWA has issued a policy document, LTPP Beyond FY 2009, What Needs to Be Done,27 which describes the activities to be undertaken by the program to reap additional returns on the Nation's significant investment in LTPP. This document provides a framework of work to be done during the 2010–2015 time period and outlines the additional benefits that will accrue from these actions.
The LTPP program is an ongoing and active program. Looking forward, there are literally thousands of additional potential benefits LTPP can provide. The overarching benefits are increased service life for all types of pavements, lowered life cycle costs, and improved safety. Following are a few of the specific ways in which the LTPP program will contribute to improving pavement programs across the country:
Optimizing treatment selection.
Assessing the impact of the environment on performance.
Providing baseline data sets for agencies to evaluate performance internally.
Allowing year-to-year checks against agency pavement management system/pavement condition index data.
Calibrating new field data equipment.
Comparing the performance of new materials with conventional materials.
Evaluating the performance effects of specific design features.
Allowing local calibration and model refinement for the MEPDG.
The benefits and accomplishments of LTPP to date, as discussed in this document, have already provided a significant return on investment to the Nation. In the future, the LTPP program will yield additional information of tremendous value to pavement engineers and managers, who will translate this information into strategies and procedures for building better, safer, more cost-efficient roads for the Nation.
A Critical Role
There is no doubt that the LTPP database has played a critical role in the development and evaluation of every major pavement design methodology developed over the past 20 years. These include the 1993 and 1998 AASHTO design procedures, Superpave, and—most recently—the MEPDG, which the developers indicate will generate annual savings of $1 billion. Calibrated nationally with LTPP sections, the MEPDG has shown significant reductions in the initial cost for heavily trafficked pavement designs. Beyond overall design procedures, the LTPP data has supported and will continue to support model development and validation for a wide array of performance predictors and indicators.
The LTPP program has generated savings across a wide range of pavement management activities—from improving data collection equipment and operations and establishing data variability and reliability to providing quality data sets to be used for baseline comparisons against agency data. As one example of potential savings, the Indiana DOT has estimated that a 1-mil (0.0254 mm) error in FWD calibration will result in additional costs of $17,900 per lane-mile ($11,187 per lane-kilometer).25
Looking to the future, the largest component of highway pavement programs and budgets is likely to involve rehabilitating and maintaining existing pavements, rather than new construction. The LTPP program has many rehabilitated test sections that were monitored for several years before rehabilitation and have continued to provide service since rehabilitation. Capturing the full performance life of these projects will require continuing monitoring into the future if the benefit of future savings based on lessons learned is to be realized.
Furthermore, considering that the SPS-1 and SPS-2 experiments are most relevant to establishing the influence of specific design features on pavement performance, and many of these projects are not close to the end of their design lives, determining the influence of specific design features requires continued monitoring. Data exist to support early conclusions, but additional information is necessary to learn the true impacts of these features over a section's entire design life.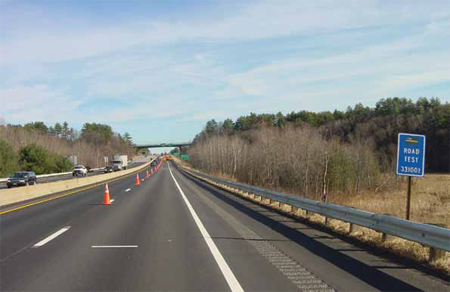 "LTPP is a major contributor toward assuring that we will have good pavements into the 21st century."
Charlie Churilla
"An Investment in the Future"
Roads & Bridges, August 2001
FHWA-HRT-10-071