Estimation of Key PCC, Base, Subbase, and Pavement Engineering Properties From Routine Tests and Physical Characteristics
PDF Version (4.44 MB)
PDF files can be viewed with the Acrobat® Reader®
CHAPTER 5. MODEL DEVELOPMENT (10)
PCC Flexural Strength Models
The first step with the development of PCC flexural strength model was to assemble the relevant data in a manner appropriate for model development, followed by the actual statistical analyses. Statistical analyses to develop prediction models for flexural strength involved the validation of existing models and model forms as well as the development of new models to predict flexural strength.
The validation of existing models was a relatively straightforward exercise that involved fitting the data assembled in this study to the most commonly referenced model forms. Flexural strength has been correlated to compressive strength in previous models. Furthermore, in the development of new models, attempts were made to provide relationships as a function of readily available information. This study therefore attempted to develop models based on the compressive strength, as well as material properties and age. This provides options on which models to use, depending on the parameters and mix design information available.
The following are key points to note about flexural strength data:
Flexural strength test results are available for SPS sections only.
Test data were collected at 14 days, 28 days, and 1 year. Compressive strength data were also present for these specific ages. The data were matched for these specific age categories.
Flexural strengths for the SPS-2 sections were predominantly at two levels. Strength results were in two distinct categories representing the two mix designs targeting low (550 psi) and high (900 psi) strengths.
Validation of Existing Models
Previous attempts have been made to correlate PCC flexural strength to the compressive strength, as discussed in chapter 2. These correlations generally have used a power model of the following form:

Figure 169. Equation. Mr.
Where:
a = 7.5 to 11.7 for b = 0.5.
a = 2 to 2.7 for b = 0.67.
The data assembled from the LTPP database was used to develop models with b = 0.5 and 0.67. Table 32 shows a summary of the models developed. The regressed constants, a and b, were found to be within the range of values reported by the other studies discussed in chapter 2. This validation not only provides feasible models, but it also confirms that the data being used in this study can reasonably represent the broad range considered in the various studies. The correlations are presented in figure 170 and figure 171 for the power models with exponents of 0.5 and 0.67, respectively.
Table 32. Power models developed for flexural strength prediction using LTPP data for validation.
Model

a

b

R2

N

10.3022

0.5

0.446

185

2.4277

0.67

0.449

185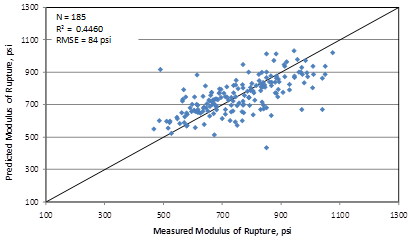 Figure 170. Graph. Predicted versus measured for validating 0.5 power flexural strength model.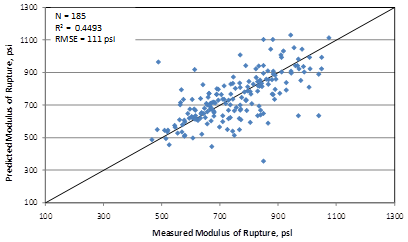 Figure 171. Graph. Predicted versus measured for validating 0.667 power flexural strength model.