Printable version (.pdf, 0.2 mb)
FHWA Intelligent Compaction National Workshop No. 2
Salt Lake City
Feb. 28, 2012
Salt Lake Plaza Hotel
122 W South Temple
Salt Lake City, UH 84101
801-521-0130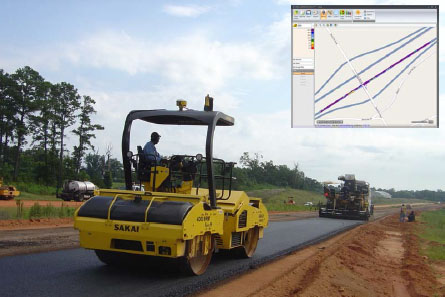 Intelligent Compaction (IC) is an equipment-based technology for better quality control that results in longer pavement lives. IC machines are vibratory rollers with accelerometers mounted on the axel of drums, global positioning system, infra-red temperature sensors (for asphalt), and on-board computers that can display color- coded maps in real-time to track roller passes, asphalt surface temperatures, and stiffness of compacted materials.
The FHWA has been leading a national effort to advance the IC technology through numerous projects since 2008 to improve compaction quality of materials that include granular soils, cohesive soils, stabilized base, and Hot Mix Asphalt (HMA) pavements. To further accelerate the implementation of IC, FHWA is con- ducting IC national workshops for technology transfer and training.
The purposes of this workshop are to:
Familiarize attendees with fundamentals of intelligent compaction;
Demonstrate the route to successful IC implementation; and
Develop attendees into technology champions of IC for their organizations or companies.
Who Should Attend
DOT Construction Engineers, QC/QA Personnel, Spec Writers
Paving Managers, Superintendent, QC Personnel
Earthworks Managers, Superintendent, QC Personnel
IC Roller Vendors
GPS Vendors
Agenda
Time
Sessions
Length (min.)
08:30 am
1 - Introduction and Overview (Lee)
20
08:50 am
2 - Fundamentals of Intelligent Compaction (George)
40
09:30 am
3 - GPS for IC (George)
30
10:00 am
break
20
10:20 am
4A - IC for HMA (Larry)
4B - IC for Soils/Subbase (Rebecca)
50
11:10 am
5A - Panel Discussion on IC for Asphalt (Lee)
5B - Panel Discussion on IC for Soils/Subbase (George)
50
12:00 pm
Lunch break
60
01:00 pm
A - IC-based QC and QA Specifications (Lee)
6B - IC-based QC and QA Specifications (George)
45
01:45 pm
7A – Panel Discussion on QC/QA HMA IC (Bob)
7B – Panel Discussion on QC/QA for Soils/Subbase IC (Rebecca)
45
02:30 pm
break
15
02:45 pm
8 - Demonstration of Veda - IC Data Management Program (Jennifer)
45
03:30 pm
9 - Panel Discussion (DOT's) on IC Implementation and Barriers-to-Overcome plus Q&As (Larry)
45
04:15 pm
10 - Conclusion and Workshop Evaluations (Lee)
15
04:30 pm
Adjourn
The workshop presenters include the former research team members of the FHWA-Transportation Pooled Fund IC Study:
Victor (Lee) Gallivan, P.E., FHWA HIPT, COTR of the FHWA/TPF IC Project
Dr. George Chang, P.E., Transtec Group, PI of the FHWA/TPF IC research team
Larry Michael, LLM Asphalt Consultant, Co-PI of the FHWA/TPF IC research team
Rebecca Embacher, Minnesota Department of Transportation, IC DOT representative
Jennifer Rutledge, Transtec Group, member of the FHWA/TPF IC research team
Registration for this workshop is free. However, only 75 seats are available at a first-come- first-serve basis.
Online registration is available from this link (http://www.intelligentcompaction.com/index.php?q=node/273) by January 30, 2011.
For further questions, please contact: Jennifer Rutledge
The Transtec Group, Inc.
6111 Balcones Drive, Austin, TX 78731 USA
Phone: (512) 451-6233 ext. 236Fax: (512) 451-6234
Jennifer@thetranstecgroup.com
Sponsored by
U.S. Department of Transportation, Federal Highway Administration
Supported by
Asphalt Institute
NAPA National Asphalt Pavement Association
Utah Department of Transportation
More information is available at: www.fhwa.dot.gov/pavement/ic/