CMAQ: Advancing Mobility and Air Quality
ARTIMIS- Cincinnati/Northern Kentucky Area
Type of Project
Traffic Flow
Project Cost
CMAQ Cost: $41 million
Total Project Cost: $57 million
Context and Background
Over the 1980s and into the 1990s, the Cincinnati region experienced rapid congestion growth. According to the Texas Transportation Institute's Urban Mobility Study, peak period travel in congestion increased from 17 percent in 1982 to 40 percent in 1990, resulting in longer commutes. Over the same period, annual personhours of delay increased from 2 million to 8 million hours.17
As freeways were becoming more congested, transportation officials in the Cincinnati area began looking at new technologies to help ease the burden on highways and lessen the frustrations of motorists. Emerging from this search were new methods of traffic technology or Intelligent Transportation Systems (ITS). In 1987, the Ohio-Kentucky-Indiana Council of Governments (OKI) started a feasibility study to determine if such as system could benefit the region's efforts to reduce traffic congestion and ozone levels. With the signing of the Intermodal Surface Transportation Efficiency Act (ISTEA) in 1991, a preliminary design effort for a system was launched and completed in early 1993.
The Project
The Advanced Regional Traffic Interactive Management and Information System (ARTIMIS) provides incident, congestion, and freeway management for 66 miles in Ohio and 22 miles in Kentucky in the Cincinnati metropolitan area. Funded by the Ohio Department of Transportation (ODOT) and the Kentucky Transportation Cabinet (KYTC), ARTIMIS was the first major ITS effort in Ohio and the second in Kentucky. With the support of CMAQ funds, the first elements of the system began operation in 1995.
The program is funded through several sources. The primary source of funds comes from the CMAQ program. Using CMAQ funds, the ODOT pays 75 percent of system-wide costs and the KYTC pays the remaining 25 percent. Components solely in Kentucky or Ohio are funded by the respective State. ARTIMIS attempts to manage congestion caused by lack of capacity, crashes, and disabled vehicles in the Cincinnati-Northern Kentucky area using modern technologies. Placed along key segments of the freeway system, more than 80 closed-circuit television cameras (consisting of full-motion color cameras, slow-scan color cameras, and fixed blackand- white cameras) relay information back to a control center via fiber optic cable and telephone lines. Information is then distributed to motorists via changeable message signs. Forty signs are located before the major freeway interchanges to advise motorists of traffic problems and potential alternate routes. Three portable changeable message signs can be towed to locations to meet a specific, short-term need.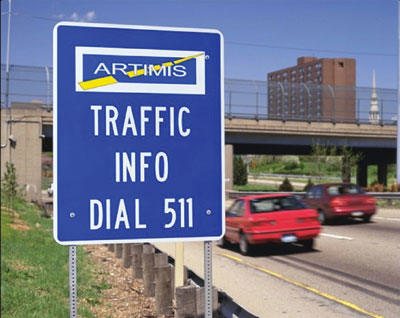 ARTIMIS- Cincinnati/Northern Kentucky Area ARTIMIS was the first
program in the nation to launch an area-wide 511 service.
ARTIMIS operates two dedicated radio channels and a traveler advisory telephone service, known as SmarTraveler®, which provides up-to-theminute,route-specific traffic information during operational hours and construction information 24 hours a day. ARTIMIS was the first system in the United States accessible from both landline and wireless phones from one three-digit number (511). Real-time traffic information is also available over the Internet at www.artimis.org.
The system also runs a free motorist assistance program with five service patrol vans, called Samaritan vans, that patrol the central 88 miles of freeways within the region. ARTIMIS provides 51 percent of the funding for the vans, and CVS Drug Stores provide the other 49 percent. Drivers of the vans are certified mechanics and trained Emergency Medical Technicians who provide a variety of services, such as assisting motorists with temporary repairs, providing fuel, calling for assistance, and removing road debris. The vans are on patrol from 6:30 a.m. to 7:00 p.m. Monday through Friday and during selected events.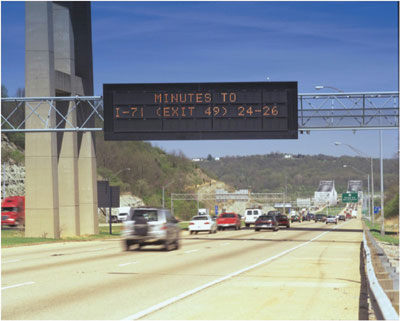 One of the ARTIMIS dynamic message signs.
Results and Status
ARTIMIS has made a significant impact on congestion and travel delays since the 1995 launch of its Traveler Advisory Telephone Service. Total savings in reduced traffic delays, fuel consumption, and crashes are estimated to be $15.9 million per year.
On January 8, 1998, after the first 23 of the 40 total changeable message signs were placed into operation, the system was immediately put to the test when a tractor-trailer carrying hazardous material overturned and ruptured on I-75. The result was a total closure of the interstate for approximately 3 hours. Motorists followed the alternate routes that were posted, and a later analysis of the incident indicated that ARTIMIS saved approximately $100,000 in motorist use costs.
Other benefits of ARTIMIS include a 10-percent reduction in interstate highway crashes and an annual savings of one million gallons of fuel. Analysis using the ITS Deployment Analysis System model for estimating the impact of ARTIMIS also determined that travelers save approximately 860 daily hours during peak travel time due to the traveler information components. In terms of reliability, motorists save about 12,000 hours of unexpected delay daily during the morning peak period, and 6,940 hours daily during the evening peak period.18
Estimated Emissions Benefits

186 kg/day VOC

Contact

George Saylor
Ohio Department of Transportation
614-752-8099
17Texas Transportation Institute. 2002 Urban Mobility Study. On-line at: mobility.tamu.edu/ums/.
18Cambridge Systematics. ARTIMIS Evaluation: Benefits of ARTIMIS. Final Report. Prepared for Ohio-Kentucky-Indiana Regional Council of Governments. June 2001.