CMAQ: Advancing Mobility and Air Quality
Metra North Central Service (NCS)-Chicago, Illinois
Type of Project
Transit
Project Cost
CMAQ Cost: $29 million
Total Project Cost: $141 million
Context and Background
Residents along the I-94 corridor in Lake County north of Chicago commute more than 50 miles to downtown Chicago. The I-94 highway is also extremely congested, and experiences some of the highest levels of traffic delay in the Chicago area and the Nation as a whole.23 Congestion on I-94 and surrounding roads presented a problem for residents of towns such as Antioch, near the Wisconsin border, commuting into the Nation's third most congested urban area.24
The Project
In 1996, Chicago's commuter rail service, Metra, with help from some $29.3 million in CMAQ funds (from fiscal years 1993, 1994, and 1995) opened its North Central Service (NCS). This train was the first new commuter rail service implemented in northeastern Illinois since 1926. It runs 53 miles between Antioch and Chicago, stopping at 14 stations. South from the Antioch coach yard, the NCS uses 40.7 miles of Canadian National Railway trackage, along which there are 10 new suburban stations in Lake and Cook Counties, plus a new transfer station at Chicago's O'Hare International Airport. South of O'Hare, the NCS joins Metra's Milwaukee District West (MD-W) line, with which it shares 12.7 miles of trackage to the Chicago Union Station terminus. The NCS trains also stop at two of the MD-W's intermediate stations. The corridor includes the two most significant hubs of employment in the six-county northeastern Illinois region: the Chicago central business district and the area surrounding O'Hare International Airport.
The NCS schedule currently consists of 10 trains each weekday between Antioch and Chicago-4 morning peak inbound and 4 evening peak outbound trains, plus 1 train in each direction in the afternoon. There is no weekend service. A run between Chicago Union and Antioch Stations takes 85 to 87 minutes. Each of the 10 new suburban NCS stations has commuter parking available for $1.50 per day.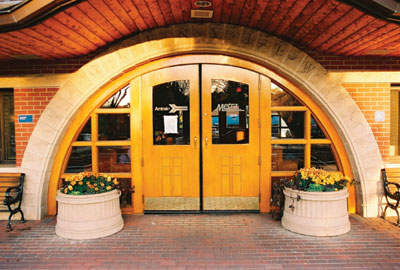 A Metra commuter rail station in suburban Chicago.
Results and Status
The additional Metra line has added another commute option for residents of Lake County and increases the mobility of others who are unable to use the Metra line. According to a 1999 study, the total number of auto trip diversions attributable to the North Central Service was estimated at between 487,000 and 670,000 vehicle trips annually. The increased mobility that this rail line brings has economic value for the region as well. The 1999 study also found that 57 percent of riders said the rail service was very important in their choice of home location, thus helping to bolster local real estate values.25
As a result of the line's success, Metra is planning to construct a second mainline track to accommodate increased service and operating speeds, as well as the construction of five new stations and parking facilities. The additional track, new stations and related improvements will allow Metra to increase its North Central Service from 5 to as many as 11 roundtrips daily.
Estimated Emissions Benefits

225 kg/day VOC, 248 kg/day NOx

Contact

Ross Patronsky
Chicago Area Transportation Study
312-793-3474
23 Cambridge Systematics. Unclogging America's Highways: Prescriptions for Healthier Highways. Washington, DC: Highway User's Alliance, November 1999.
24 Texas Transportation Institute. 2002 Urban Mobility Study. On-line at: mobility.tamu.edu/ums/.
25 Parsons Brinckerhoff Quade & Douglas, Inc. CMAQ Analysis: North Central Service Impact Evaluation-Phase II: Final Report. Chicago: Metra, June 1999.